Frozen Breakfast Sandwiches, Ranked Worst To Best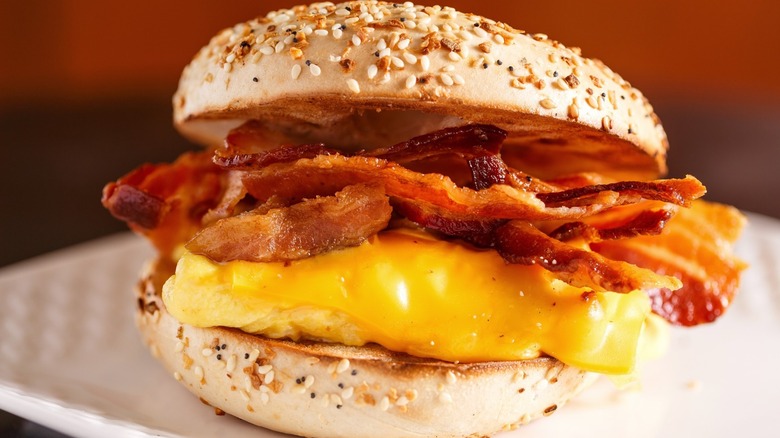 Linda Hughes Photography/Shutterstock
We may receive a commission on purchases made from links.
68% of people eat pretty much the same thing for breakfast multiple times a week, according to a study cited by Food and Wine. Because we often have limited time, we tend to see breakfast as a utilitarian meal — one where we need to quickly scarf up those important nutrients before the day starts.
What if we told you there was a way to have a quick and easy breakfast that was also a nice venture from the normal routine? Frozen breakfast sandwiches are the answer we've all been searching for. They're fast and can be absolutely delicious. There's also an impressively wide range of options. Whether you've got a gluten allergy or don't eat meat, there is a breakfast sandwich out there for you. 
We took a look at the best and worst frozen breakfast sandwiches in the grocery aisle to help sort through all the options. Grab a glass of orange juice and read on for which breakfast sandwiches you should stock up on and which you should walk right on by.
Great Value Sausage Egg & Cheese on a Croissant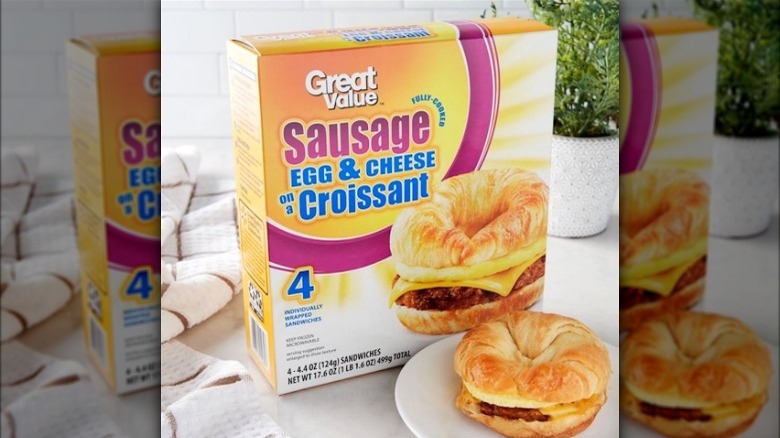 Walmart
Store brand items can be just as delicious as brand name products, but sadly, this is not one of those instances. Great Value is Walmart's own brand and while we would give these Sausage Egg & Cheese on a Croissant sandwiches an E for effort, there's not much else about this product we can justifiably praise. It is uneventful and uninspiring, with average sausage and unseasoned egg on a dry croissant. It's not exactly begging for you to dig into and that should be the first thing you want to do when you see a breakfast sandwich.
If you were stuck on a deserted island that was only stocked with Walmart items, then yes these would do in a pinch because the combination of croissant, egg and sausage is just too strong to deny, but there are some powerfully delicious contenders on this list that bring a whole lot more to the table than this sandwich. Add some ketchup or hot sauce or some kind of very flavorful homemade aioli and you might be able to forgive Great Value for putting these out.
Sweet Earth Protein Lover's Frozen Breakfast Burrito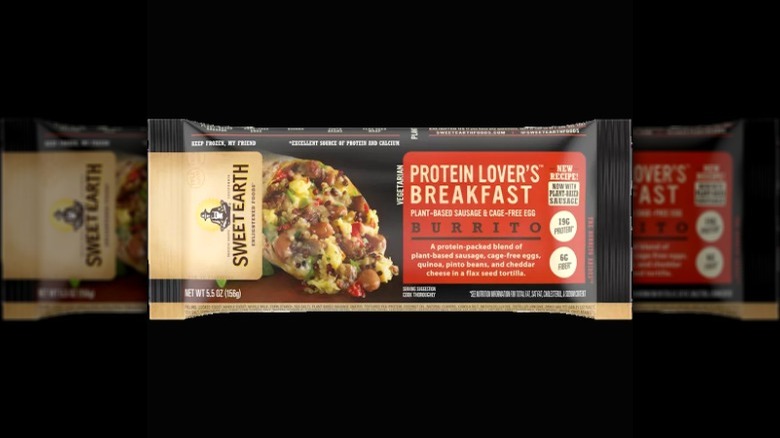 Sweet Earth
Healthier breakfast options should be a goal for us all. According to the Cleveland Clinic, a nutritious breakfast can help to fuel our bodies as well as improve our heart health. While sandwiches aren't necessarily the epitome of health food, we'd like to believe healthier versions can and do exist. We were thrilled to discover these Sweet Earth Protein Lovers Breakfast Burritos made with plant-based sausage, cage-free eggs, cheddar, pinto beans, and quinoa. The label makes this burrito sound like a protein explosion with no shortage of flavor.
While these were once tasty, according to customer reviews on the company's website, the recipe changed and now these burritos have nowhere near the level of flavor they used to have. They also have an odd texture, making many former loyal customers disappointed. It's still a viable option if you're aiming for a somewhat healthy alternative to frozen breakfast sandwiches but, trust us, you'd really be better off exploring some of the other options on the list. 
Hot Pockets Steak, Egg & Cheese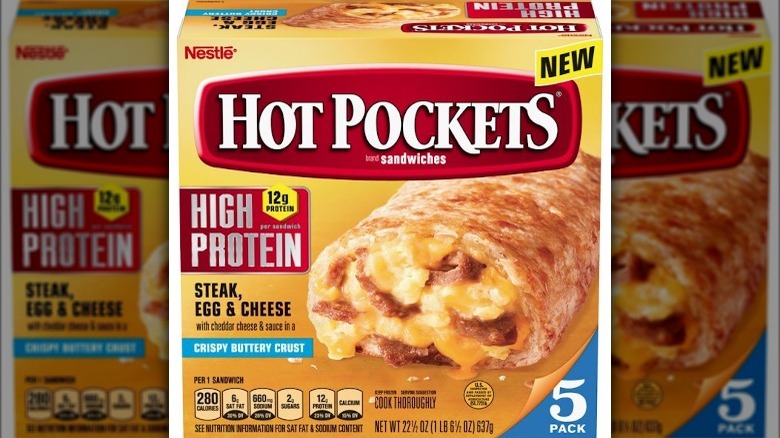 Nestle
We are all for companies getting creative. Barefoot wine and Oreos, for example? Success. But when Hot Pockets decided to make a breakfast version of their classic microwaveable meat pouch, they lost us. Normally, Hot Pockets are savory and bursting with flavors of tomato, cheese, and salty meat. It felt a bit strange to eat a hot pocket that was trying so hard to be a departure from what we know best.
That's not to say they haven't tried their best. Surprisingly, Mr. Breakfast writes that the flavors work together well, with pieces of moist egg and tender meat. However, it's not far enough of a venture from the original Hot Pocket to feel like breakfast. The pocket vehicle, which in this case is a croissant-esque buttery crust wrap, is too similar to the other Hot Pockets to make us think they tweaked it very much. Also, it's rather high in sodium and fat and feels like a bad breakfast decision masquerading as a high-protein, healthy option.
Jimmy Dean Pancakes & Sausage on a Stick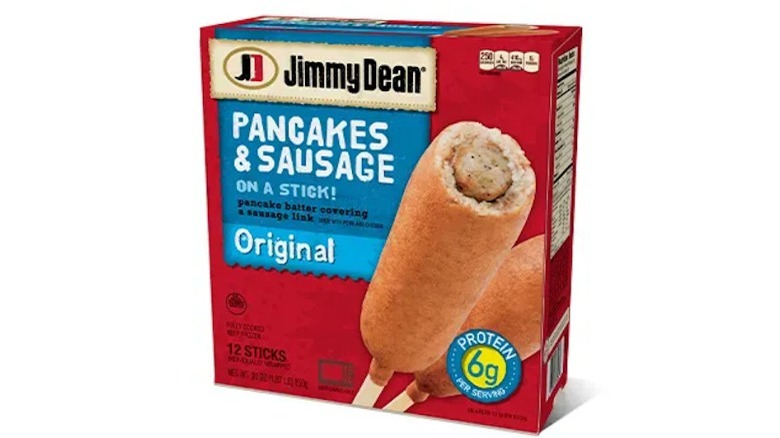 Jimmy Dean
Is this a corn dog suffering from an identity crisis or a pancake and a sausage on a stick? Both sound delicious, but Jimmy Dean designated this next item as the latter when they set out to make a portable breakfast item with a little bit of whimsy. The Jimmy Dean Pancakes & Sausage on a Stick isn't bad at all. It's actually a really nice combination of sweet from the pancake batter and salty from the sausage.
However, since it's the equivalent of one sausage wrapped in one tiny pancake, it's not very filling and probably wouldn't keep someone satisfied until lunchtime. It also seems more like junk food than breakfast. With traditional breakfast sandwiches, the egg helps to boost the protein without adding salt, but these carnival food-like snacks are missing a crucial component that would help them to feel more balanced.
Evol Breakfast Sandwich, Egg & Smoked Gouda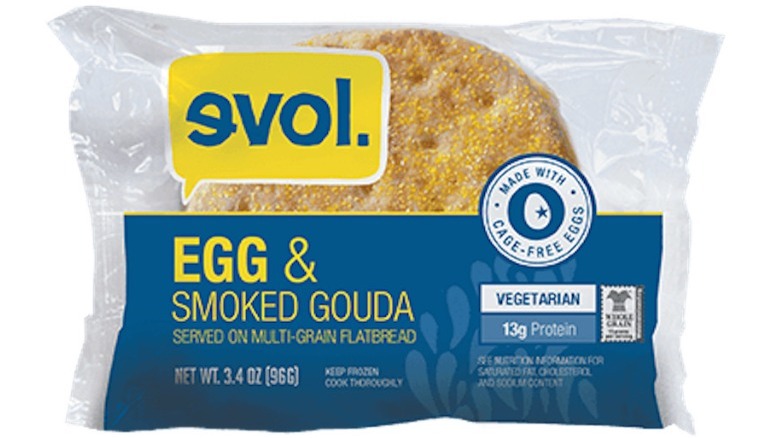 Evol Foods
EVOL's Egg & Smoked Gouda flatbread sandwiches used to be easy to find, as they were sold at Target. Lately, they've been hard to come by, which isn't the worst thing in the world because while this sandwich has so much potential, overall it's rather lackluster. The sandwich is just as simple as its name suggests. It is indeed just egg and cheese on a pretty dry, plain flatbread, which is quite sad because a breakfast sandwich can be such a glorious expression of breakfast. If you're a ketchup lover, a slathering of your favorite sauce would work wonders on this. But for those who want an easy and delicious grab-and-go option that's already packed with flavor, keep looking.
Overall the egg is fluffy and the sandwich is good. It's just that it might make a better option as an easy breakfast at home, where you can doctor it up, versus something that's a portable and complete breakfast all on its own.
Odom's Tennessee Pride Chicken and Buttermilk Biscuit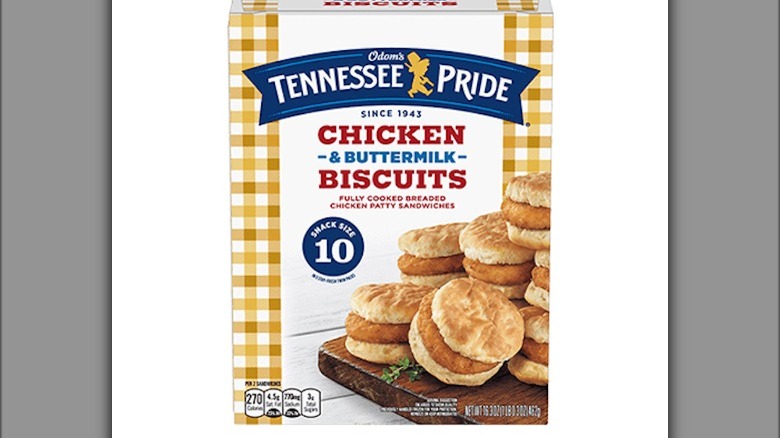 Odom's Tennessee Pride
It's been settled that microwaves are perfectly safe to use, but there's another big problem with microwaves: They have a drying effect on foods that makes some ingredients unpalatable. If you've picked up certain tricks like adding a wet paper towel to your dish as it's being microwaved, you might be fine heating up your meal. For some food items, like these Odom's Tennessee Pride Chicken & Buttermilk Biscuits, you might need to summon some trickery to get these biscuits moist enough in the microwave.
The chicken, on the other hand, is moist and extremely flavorful; it's undoubtedly the highlight of this sandwich. You might decide it's worth risking a dry biscuit. If you end up buying these, try slathering them with some honey, maple syrup, pepper sauce, ketchup, or any other flavorful condiment and you just may fall head over heels.
Realgood Foods Sausage, Egg & Cheddar Cheese Breakfast Sandwich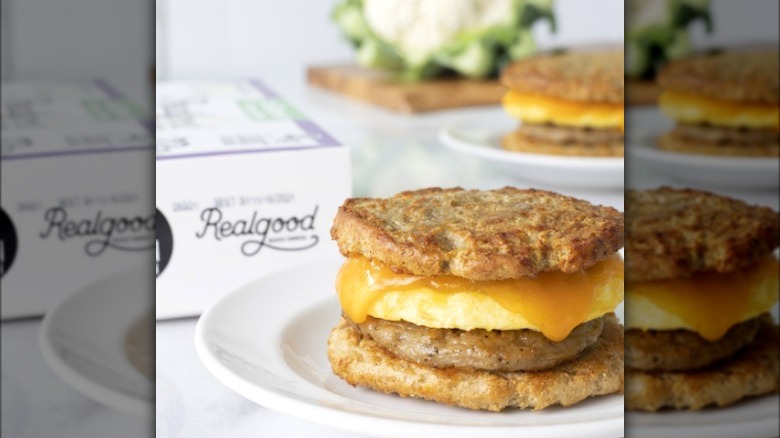 Realgood Foods
As we ease into the top half of our list, the pressure builds a bit. With so many delicious options, gets harder to narrow them down. Items like this Realgood Foods sausage breakfast sandwich, for example, didn't make it easy for us at all. This one is particularly interesting because of its many selling points; between the egg, cheese, and sausage, this sandwich packs a lot of protein. The thing that knocks it a few spots down our list is the bun, which is cauliflower-based and also includes almond flour and cheese.
This sandwich is truly a great option for those who are on keto diets or have other eating restrictions that prevent them from eating traditional bread. Unfortunately, some reviewers on Amazon have complained about the taste of the "bread," which is hard to overlook. They must have added extra salt to the cauliflower bun, because it throws off the balance in an otherwise-great sandwhich.
Just Egg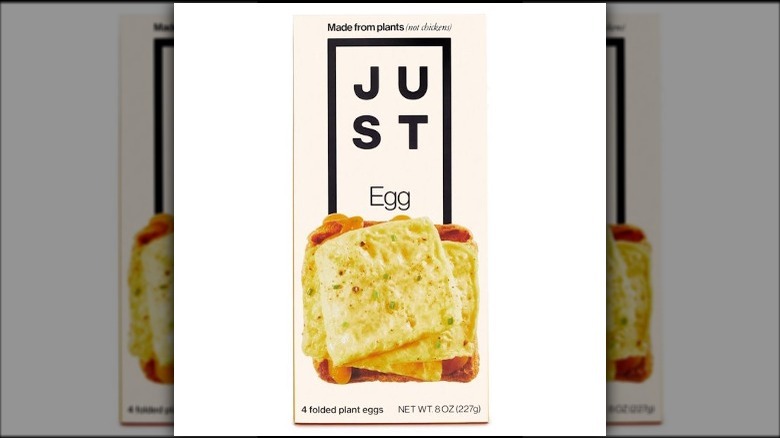 Just Foods
There's been something for the gluten-free eaters and those who follow keto diets, so we definitely couldn't leave out the vegans. this Just Egg folded plant egg is a really exciting contender for best breakfast sandwich ... component. Full disclosure — this isn't actually a breakfast sandwich, but it's so interesting that it deserves to be included. The texture of this frozen "egg" patty is pretty convincing, and shockingly close to the texture of actual eggs. It's made of water, mung bean protein isolate, canola oil, gums, and seasonings like turmeric to help give it its yellow color.
The manufacturers, Eat Just, recommend that you cook this in your toaster, but you can also cook it in a pan on the stove top. It's versatile and it's easy, but ultimately we couldn't put it any higher just because it's not actually a sandwich. If the Just Foods came out with a sandwich, they'd be in the running for the top spot.
Johnsonville Spicy Sausage Bagel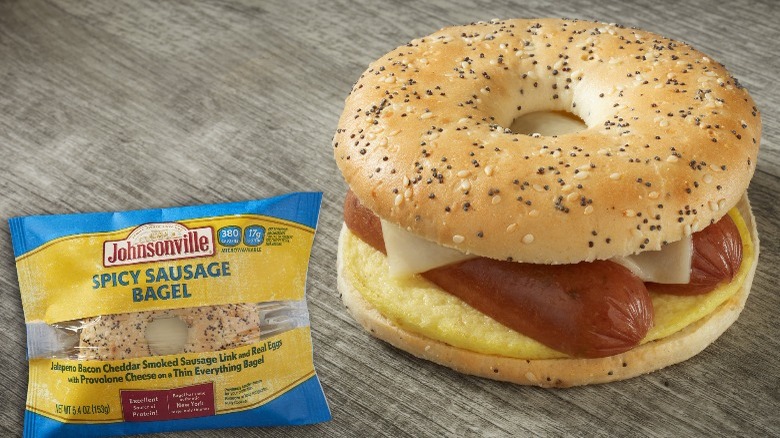 Johnsonville
Something about the sausage link on this Johnsonville Spicy Sausage Bagel just feels so rustic. Most breakfast sandwich sausage is formed into patties, so this already has a level of uniqueness that sets it apart. Aside from that, the sausage is perfectly seasoned, with jalapeño, bacon, cheddar, and smoky flavors. They did a great job moderating the heat so that spice lovers and fans of more mild flavors will both be happy.
There also aren't a lot of bagels in the breakfast sandwich lineup, which we think may be because they get a bit dry in the microwave. That's just nitpicking on our part, because this is a tasty everything bagel. The seasoning on the bagel helps distract you from noticing the minor dryness that results from microwaving. This is a really delicious take on the breakfast sandwich that is exciting enough to mix up your breakfast routine a bit.
Jimmy Dean Sausage, Egg & Cheese Biscuit Sandwiches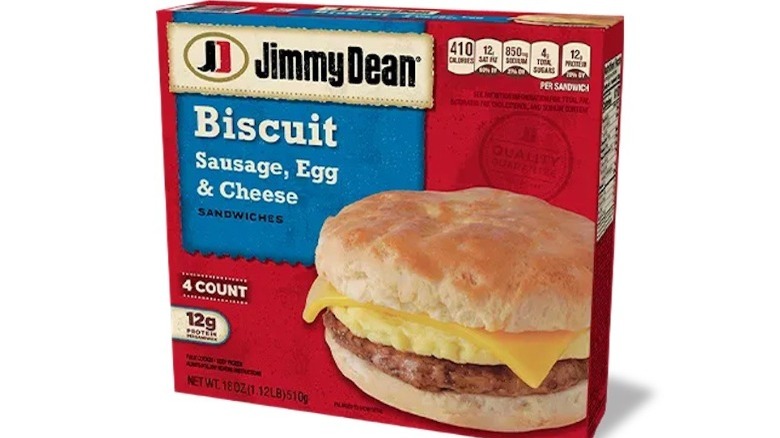 Jimmy Dean
Sometimes the classics speak for themselves. Take this Jimmy Dean Sausage, Egg and Cheese Biscuit sandwich, for instance. It's no frills, which we mean in the best way possible. There are plenty of ways to fancy up a breakfast sausage sandwich. You can add spice and different cheeses or switch up the type of bread, but where Jimmy Dean excels here is that this is just a super straightforward and delicious breakfast sandwich. When warmed up, the biscuit stays nice and soft, the egg is fluffy, and the cheese melts nicely on the sausage patty.
Some customers have had some issues with heating these in the microwave, but if you wrap it in foil and use the oven, you'll be super satisfied. This is a sandwich that you can easily jazz up with jam or butter or whatever you prefer, but if you're in a rush and need to eat it as is, it's just as delicious.
Trader Joe's Eggwich Breadless Breakfast Sandwich
There was plenty of hype around Trader Joe's Eggwich Breadless Breakfast Sandwiches, and for good reason — these low-carb sandwiches are one of the healthier options for breakfast sandwiches. The sausage patty is made of turkey, not pork. There's gooey, melty cheese and the 'buns' are two pieces of egg! If you tend to stay away from the plethora of fast food breakfast sandwich options because of the carbs, you may have found your newest obsession.
This sandwich is so delicious and so similar to a traditional breakfast sandwich that one reviewer reported that they could barely tell the bread was missing (via What's Good at Trader Joe's). Ultimately though, it's just egg, sausage, and cheese. It's delicious, but rather one-note, so if you are someone that takes breakfast sandwiches seriously and doesn't care much about carb intake, then there are better options out there for you.
Red's Egg'wich Turkey Sausage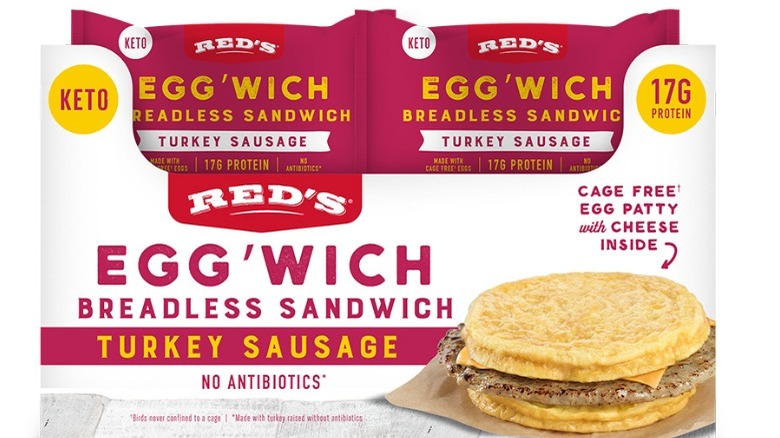 Red's
We promise you're not seeing double! This Red's Egg'Wich Breadless Sandwich is pretty similar to the last item in our list, in that it's also a bread-free, turkey sausage sandwich. That's because there's an exciting array of low-carb frozen breakfast options out there, and we really couldn't choose just one. We also don't have any kind of aversion to bread, but a low-carb option is a nice lighter alternative for that first meal of the day for those who don't want something that will weigh them down.
This bread-free option lands in third place because it has slightly more flavor than the previous egg sandwich. It also has a great proportion of egg to cheese and sausage, so it makes for a perfect little handheld bite. The sausage carries this sandwich, and it's just the lift this sandwich needs, with a perfect level of seasoning. It's topped off with American cheese, which does a great job at holding everything together, according to Freezer Meal Frenzy.
MorningStar Farms Veggie Sausage, Egg & Cheese Breakfast Sandwich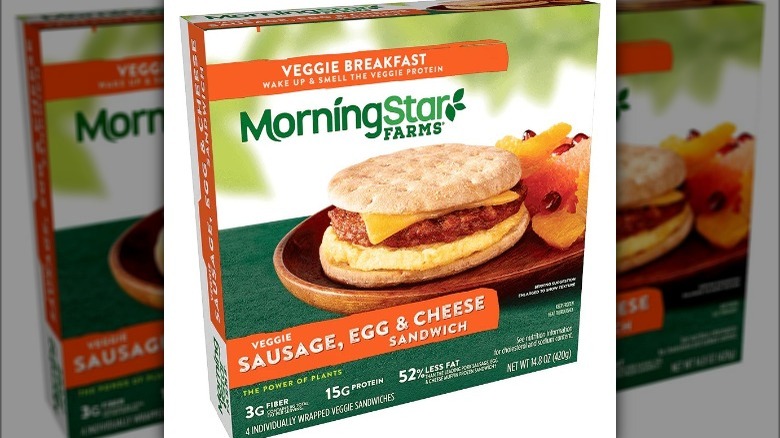 MorningStar Farms
We couldn't let this list end without including the holy grail of veggie protein options. MorningStar Farms Veggie Sausage, Egg & Cheese sandwich is a really tasty. On those days when you're starving and need something a bit more substantial, this would do well, as it's the perfect portion size. Some reviewers on Target's website have commented on the bread quality, which we chalk up to poor microwaving technique. Sure, it might get a little hard and dried out when microwaved with no cover, but if you just keep it wrapped in a paper towel, the bread's integrity will be preserved. Also, you don't need to destruct and reassemble this breakfast sandwich to cook all the parts appropriately, so this is as easy as it gets.
There aren't many vegetarian-friendly breakfast sandwiches on the market, and the great thing about this Morningstar Farms sandwich is that it's tasty enough for both vegetarians and meat-eaters alike.
Mason Dixie Cheddar Breakfast Sandwich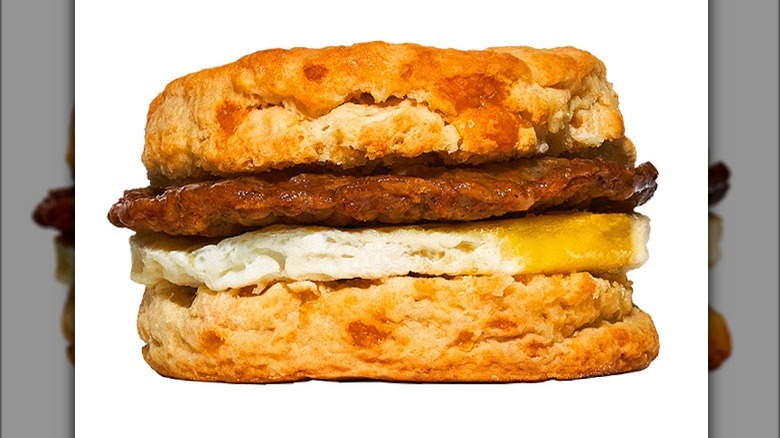 Mason Dixie
With so many trusted brands on the market, why try something new? Well, if it's this Mason Dixie Cheddar Breakfast Sandwich, it'd be well worth your time to give it a shot. 
There are a few reasons why this earned the top spot on our list, but the most important is that it's simply delicious. A breakfast sandwich should be the perfect combination of just the right proportions and just the right flavors. This sandwich fits that description to a T. And, as The Kitchn points out, the list of ingredient is easy to pronounce.
This fan favorite holds up nicely in the microwave, with flavorful sausage and a soft egg, but we'd buy this sandwich for the biscuit alone. It is somehow soft and buttery with just the right amount of flakiness, even after a minute in the microwave. A bun can make or break a breakfast sandwich, and Mason Dixie's bun takes this sandwich from delicious to excellent.