Dunkin' Fan Turned Classic Coffee Mug Into A Candle And Reddit Wants One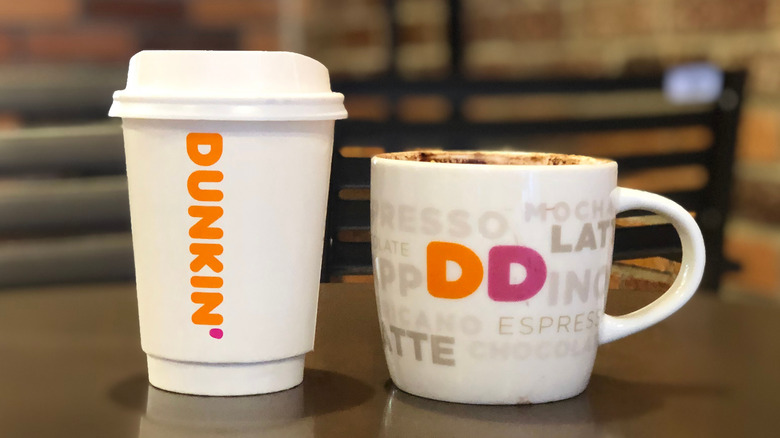 pancha.me/Shutterstock
There are plenty of great Christmas gift options out there these days. However, it's not always easy to find the perfect present for every single person on your shopping list. Gift cards are always an option, though, as Live About points out, simply giving someone a certificate to their favorite store or restaurant can seem "impersonal" and even "lazy." Instead, why not try your hand at a homemade gift for that hard-to-shop-for family member or friend? Not only will you get to avoid the chaos that comes with venturing to the mall at this time of year, but the recipient will probably appreciate the one-of-a-kind gift even more because of all the thought and time you put into it.
Recently, one creative Redditor took to the social media platform to show off a homemade Christmas present they made for the Dunkin' coffee lover in their life that some fellow user would certainly appreciate just as much as they would a gift card to the chain. "A gift I put together for my daughter. An old Dunkin' mug with a coffee candle in it," u/lmcgillicutty posted on the Dunkin' Donuts subreddit page on Monday, December 20. The Redditor also included a photo of their unique creation in the post that has caught the eye of several other Dunkin' fans, many of whom are wishing they could unwrap one for themselves.
Dunkin' coffee fans on Reddit are loving this 'adorable' homemade gift
Dunkin' has released plenty of merch for fans that want to show off their love for the coffee chain, though you won't be able to purchase this unique tchotchke online or in any Dunkin' store. The java-scented candle is a one-of-one handmade creation by Reddit user u/lmcgillicutty as a Christmas gift for their daughter, though that hasn't stopped other coffee lovers on the social media platform from expressing their desire to have one for themselves. "Oh that's adorable, I'd love one of those," one user commented in response to u/lmcgillicutty's post about their creation. "I've been trying to find a good coffee-scented candle for so long!" another Redditor said.
Others, like u/toobored4you, were particularly interested in the pre-name change Dunkin' mug that u/lmcgillicutty used to create the Christmas gift. Though the Redditor did not share any information about the cup, a listing for a similar item on Etsy says the drinkware is made of Glasbake and dates back to 1978.
Meanwhile, another user on the thread was such a fan of the candle-mug hybrid that they suggested its creator capitalize on their idea. "This would be a good business and make flavors like 'hot cocoa,' 'mocha latte,' 'hazelnut latte' etc," u/LorazLover commented. Maybe if we're lucky, u/lmcgillicutty will take their advice and we'll be able to treat ourselves to one of these cute Dunkin' mug candles by next Christmas.