The Petty Reason Someone Fired A Gun At This Taco Bell Drive-Thru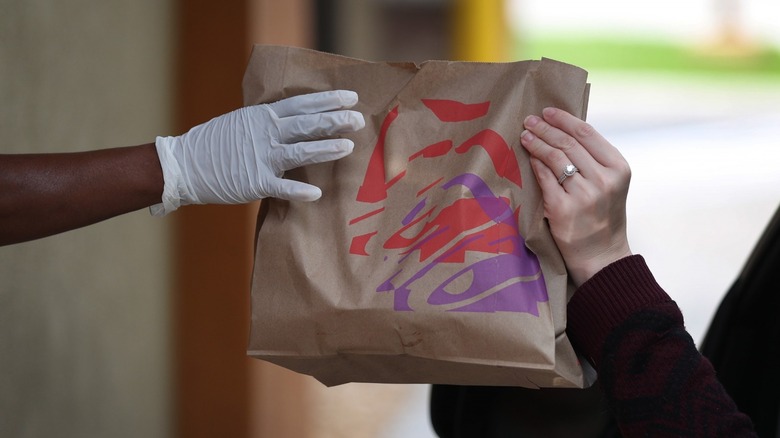 Joe Raedle/Getty
The fast food industry appears to be approaching a tipping point. Fast food restaurants do nearly $300 billion in business in this country, according to Fortune, and working for one is a gig that fewer and fewer Americans are interested in taking on. Per Business Insider, 75% of restaurant operators surveyed by the National Restaurant Association believed their biggest obstacle to overcome was finding hires. In that same survey, 78% of owners indicated that they couldn't meet the demands of their business due to a lack of employees. Why? 
According to NPR, high levels of stress caused by exhaustion, inconsistent hours, low pay, and very rude customers, are fueling astronomical quit rates that are seriously affecting foodservice chains' ability to operate. You know what else fast food workers really don't like? Having shots fired at their restaurant. Just ask the employees who hid in the kitchen of a Belleville, Illinois, Taco Bell after an unhappy customer became trigger-happy (via KMOX).
The customer got angry over their order
Why were shots fired? Apparently, a 19-year-old customer, Amy Gale, disliked something about her order. Was her Crunchwrap not crunchy enough? Nacho Cheese Doritos Loco Taco not cheesy enough? The specific reason is unclear as of this writing. But Gale got into an argument with a drive-thru worker at a Taco Bell located across the street from a high school, per KMOX. One of the employees sustained minor cuts from shattered glass, but no one else was physically injured. According to a statement received by the Belleville News-Democrat, counseling services were offered to employees by the Taco Bell franchise owner. The shooter, who fired off a few more shots at the building after shooting at the drive-thru window, was arrested on charges of aggravated battery with a firearm and aggravated discharge of a firearm.
A Taco Bell rep said in a statement that they "are saddened to hear that this happened and we're grateful to learn that no team members were harmed." Sadly, this isn't the first time drive-thru employees have been confronted by gunfire this year or even this December. Earlier this month, a customer began shooting at Wendy's drive-thru in Ohio after their behavior towards employees led to a denial of service, per the Kansas City Star.