Holiday Beers, Ranked From Worst To Best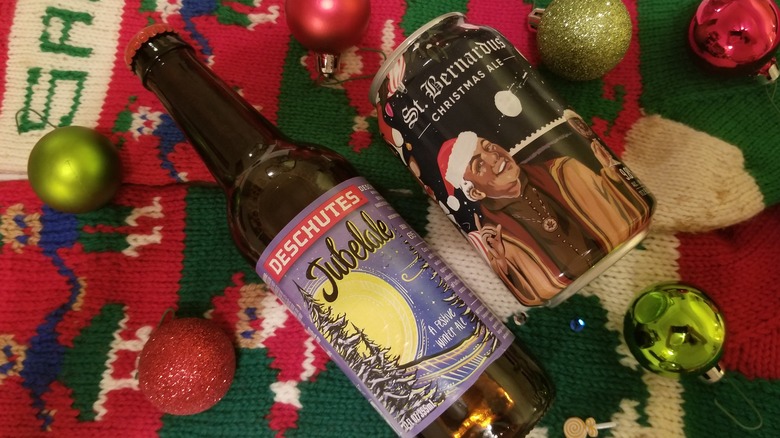 Sarah Gardner/Mashed
If eggnog and mulled wine don't exactly quench your thirst when it comes to boozy holiday refreshment, why not just opt for beer? While it may seem boring for a special occasion to stick with a beverage you already enjoy year-round, there are plenty of limited seasonal options that are sure to bring holiday cheers.
Since these beers are brewed specifically for the winter, they tend to skew heavier and sweeter (just like the big man in the red suit, himself). As a result, they generally carry a higher alcohol by volume (ABV) to help your body warm up during the cold weather season. The beers can be the result of adjustments to the malt bill or hops assortment of a brewery's standard offering, but extra ingredients are often part of the package — a blend of spices can be expected, but brewers will also toss in other additions that are on theme as well. In other words, these aren't chugging beers, but rather, they're intended to be enjoyed beside a roaring fire and sipped slowly as you converse with friends and loved ones. (If need be, they will also provide a much-needed buzz to help drown out the family holiday chaos that surrounds you.)
There are plenty of domestic and international holiday brews to choose from. That's why we've highlighted some of the most popular bottles and cans out there and ranked them from naughty to nice.
10. Deschutes Jubelale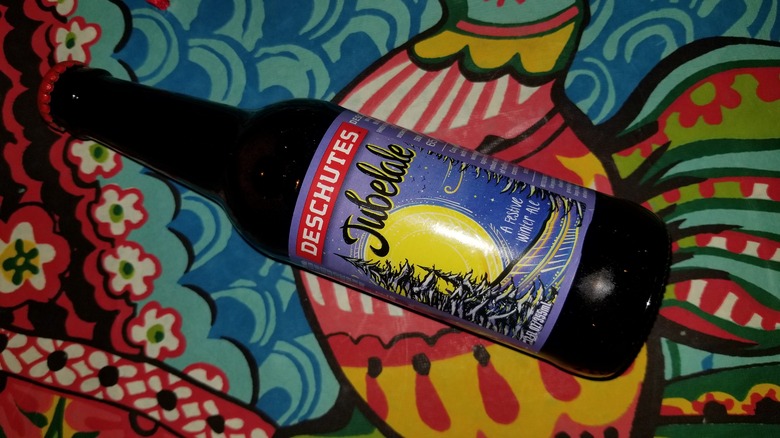 Sarah Gardner/Mashed
Few domestic craft breweries are as respected as family-owned Deschutes, which has been producing quality beers in Bend, Oregon, since 1988. Jubelale, described as a "festive winter ale," is distributed between October and December and is available from coast to coast, as well as in Alaska and Hawaii.
While we can't get enough of Deschutes classics such as the famed Black Butte porter, this one is not among our favorites. According to the brewery, Jubelale (which carries a 6.7% ABV) is "full of spice notes and a robust malt character of toffee and dusted cocoa," but we didn't pick up on those notes. An overwhelming bitterness gave way to a ho-hum brown sugar and biscuit backbone. The progression reminded us less of a winter warmer and more of an East Coast-style IPA (to be clear, the old school version a la Dogfish 90 Minute IPA, not the New England hazy stuff). We're not opposed to hoppy beers, especially when there are notes of citrus flesh or pine, but this was all wallop without much nuance.
The better option is the brand spanking new Cherries Jubelale, an oak barrel-aged imperial winter warmer with cherries and vanilla. Clocking in at 9.2% ABV, it's definitely boozier and offers more than straight-up bitterness. Cherries dominate the flavor profile, though the vanilla and barrel characteristic gets lost in the shuffle. It's worth trying but not something you should go out of your way to grab.
9. Anchor Christmas Ale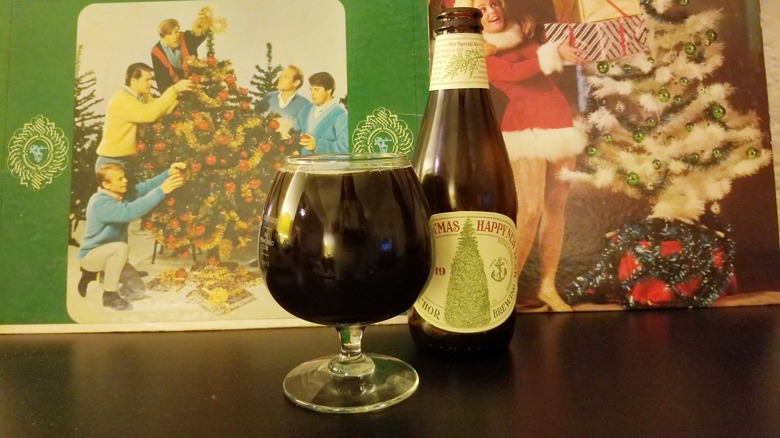 Sarah Gardner/Mashed
It wouldn't be a list of holiday beers without this longtime favorite from America's oldest craft brewery. Anchor has been, well, an anchor in the San Francisco beer scene since 1896. Nearly 80 years later (in 1975, to be exact), they unveiled the first domestic holiday beer since Prohibition, and Christmas Ale (also known as Our Special Ale) has been a winter tradition every year since. Each vintage can be distinguished by the hand-drawn tree on the label that rotates every year (the Joshua tree has the honors for 2021). The "secret recipe" is constantly tweaked, and we recommend saving a few bottles each in order to compare vintages and get a taste for how they age.
We've been saving a 2019 bottle for a special occasion and figured this would be a fitting time to crack one. (We relish any memories prior to 2020.) The beer is pretty much as we remember it. While the nose is more aggressive with a touch of blue cheese funk, the suds seemed to have mellowed out just a bit. As far as Christmas beers go, this winter warmer is about as easy drinking as it gets, with more caramel and breadiness than spice, though keep in mind that the 7% ABV is still a few ticks higher than your standard lager. If you want to play it safe, bring a six-pack of Anchor Christmas ale, or better yet, make a big impression and break out a gold-foiled magnum.
8. Peppermint Bark Yeti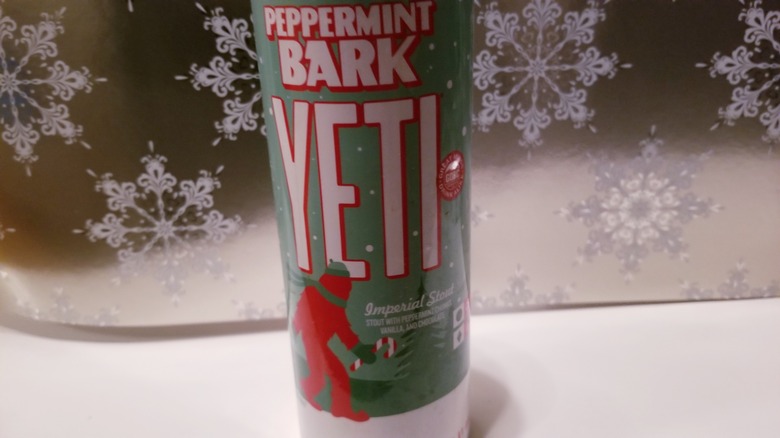 Sarah Gardner/Mashed
Yeti is the standard imperial stout from celebrated Denver craft brewery Great Divide, but this peppermint bark version, which is available from November to January, is far more elusive. Per the brewery, "The inclusion of peppermint chunks, chocolate, vanilla and lactose round out the roastiness and bitterness normally associated with Yeti making for a sweeter, holiday-themed version of our legendary imperial stout."
We were looking forward to this one since we are longtime fans of Yeti and its numerous variants (everything from peanut butter to s'mores to chocolate cherry) over the years, but, sadly, peppermint bark didn't quite reach our lofty expectations. The promise of peppermint is fulfilled, and it adds a pleasant freshness to the drinking experience. The flavor of chocolate doesn't appear to be any more present than the usual notes found in an imperial stout, and the vanilla doesn't quite come through. We also wish there was more heft to the body — a mouthfeel more akin to hot cocoa powder in milk rather than water.
Still, if you're a stout fan and you're searching for something festive, this is far from a hunk of coal. But try to enlist some help since this beer comes in an extra-large, 19.2-ounce stovepipe can.
7. Trader Joe's Vintage Spiced Ale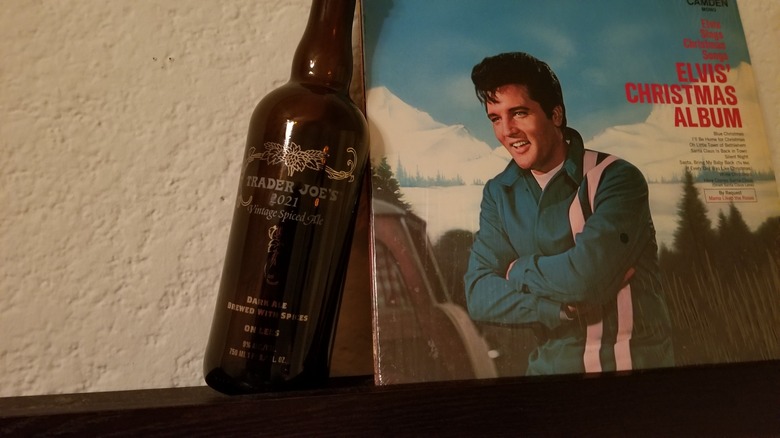 Sarah Gardner/Mashed
Many of us have had the misfortune of scanning the Trader Joe's beer aisle, noticing the low, low price of the Simpler Times six-pack and deciding to roll the dice ... only to discover upon sipping the wretched brew that you've completely crapped out. Perhaps you've also given TJ's standards like Boatswain or Josephsbrau beers a shot as well, only to face similar disappointment. But don't let that dissuade you from Trader Joe's Vintage Spiced Ale, which is nothing like that other swill. For one, the annual release is packaged in a fancy corked and caged bottle. More importantly, it comes courtesy of highly regarded French-Canadian brewery Unibroue (unlike most other Trader Joe's items, its point of origin is clearly indicated directly on the product).
Once poured, the beer exhibits a sandy-colored head and a dark body that leans toward stout territory. The spice is evident but not overpowering, while hints of plum and dark cacao join in the action. While we especially appreciate the creamy mouthfeel, overall, we would have preferred another layer of flavor to help take Vintage Spiced Ale to the next level.
6. Prairie Seasick Crocodile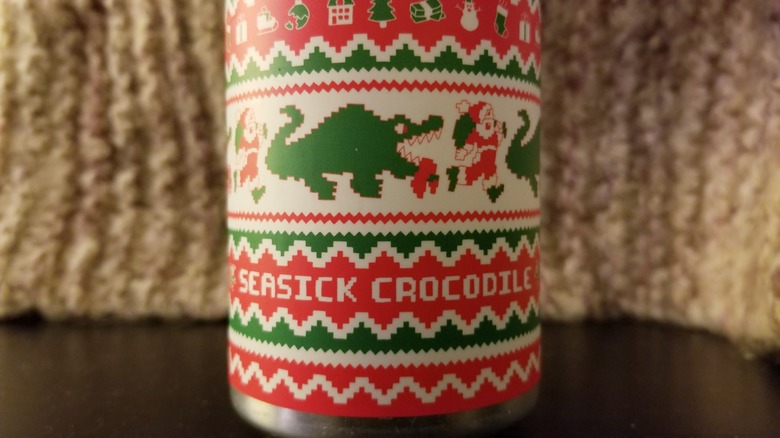 Sarah Gardner/Mashed
Since opening nearly a decade ago, Prairie Artisan Ales in Oklahoma City firmly established itself as the best craft brewery in the Sooner State. They do it all, from big bold barrel-aged stouts to smoothie hard seltzers. Seaside Crocodile is one of their sour offerings, but before we dive into the specifics of the beer, we should probably address the name first. If "You're a Mean One, Mr. Grinch" is on your holiday playlist, then it might ring a bell (the full lyric is "you have all the tenderness of a seasick crocodile"), otherwise, now you know.
Though the Grinch himself isn't on the can, it does feature an eight-bit croc chasing Santa Claus set in an ugly sweater motif, so far as labels go, it's tops on this list. It's also tops when it comes to providing a distinctively Christmas aroma, with the additions of cranberries, ginger, cinnamon, and nutmeg all obviously present. Flavor-wise, it's reminiscent of a chilled wassail, which makes a particularly great option for people who aren't generally fans of beer. Our main issue is that it lacks the deep funkiness that we prefer in a sour, but for a refreshing change of pace, we're happy to add this to our holiday beer roster anytime.
5. Samuel Smith's Winter Welcome Ale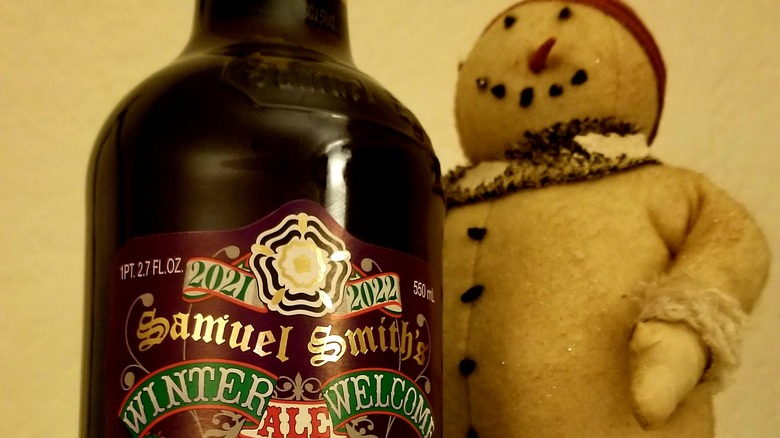 Sarah Gardner/Mashed
When you drink a bottle from Samuel Smith's, you're imbibing a taste of British history. It was the first brewery to set up shop in Yorkshire (all the way back in 1758), and the yeast strain currently used dates back to the 1800s. Like many of its other beers, Samuel Smith's Winter Welcome Ale is fermented in the brewery's rustic slate "Yorkshire squares." The whole dried-hops additions are Golding and Fuggle, which sound like they belongs in Harry Potter butterbeer.
According to Samuel Smith's, Winter Welcome Ale is "brewed for the short days and long nights of winter," and this beer definitely warmed the cockles of our hearts. The beer is heavy on the orange marmalade (alternating between sweet and sour), making it an ideal stocking stuffer for Paddington Bear. The hops kick in on the finish, but, on the whole, there's nothing particularly aggressive about this beer (the ABV sits at a relatively modest 6%). Pair with figgy pudding or a slice of panettone.
Our 550-milliliter bottle cost only $2.99, making this by far the best value on our list.
4. De Dolle Stille Nacht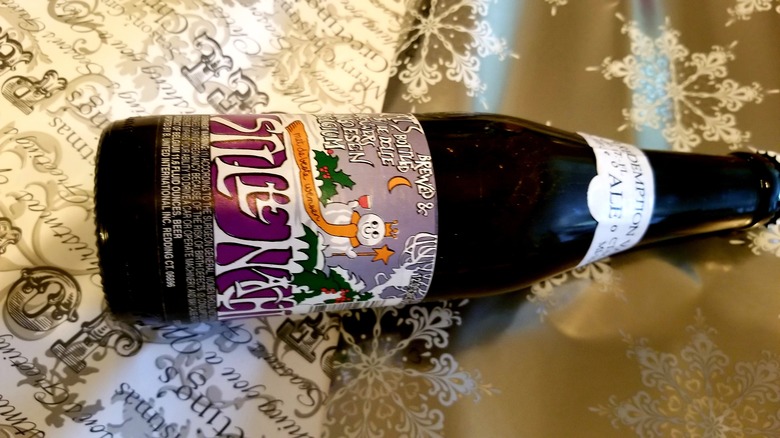 Sarah Gardner/Mashed
We've arrived at the first Belgian offering on this list. According to De Dolle, Stille Nacht "has been boiling for many hours, brewed with pale malt with white candy sugar in the kettle. The Nugget hops gives an extra bitterness to balance the extreme sweetness due to the density. The taste triangle is completed with some acidity of the fermentation."
The appearance of the beer is strawberry blonde, and the head (appropriately) is snow white, matching the smiling, imbibing fellow on the label. Don't let the Belgian Pale distinction fool you because this high-density beer offers plenty of intensity with mulled cider on the nose and a flavor profile highlighted by fruit cake and poached pear. Partner these sweet suds with a sharp cheese for a festive pairing.
Also keep in mind that Stille Nacht has the highest ABV (an impressive 12%) of any beer on this list. So, be careful if you decide to tackle a full bottle on your own because you might soon find yourself sleeping in heavenly peace.
3. St. Bernardus Christmas Ale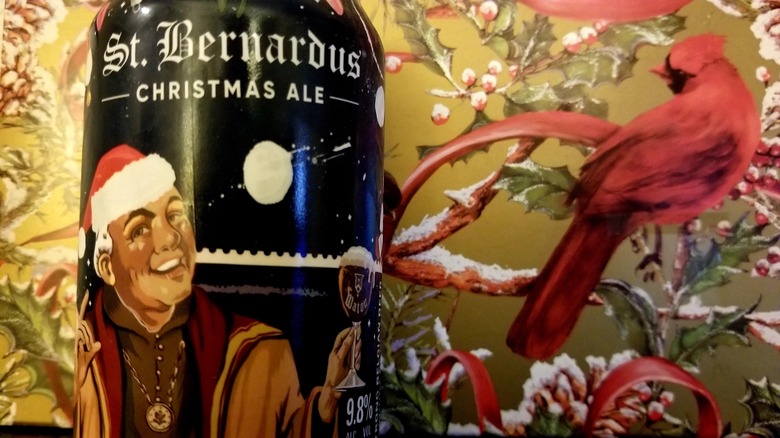 Sarah Gardner/Mashed
Our next Belgian ale skews quite a bit darker than Stille Nacht. The Christmas Ale from St. Bernardus is a longtime holiday tradition that is brewed with a yeast strain that dates back to 1946. Though the legendary brewery had Trappist origins, that is no longer officially the case since the beer isn't brewed at an abbey. Still, St. Bernardus produces some of the best Belgian quads in the biz, and Christmas Ale is evident of that. The beer is similar to its year-round sibling, the highly esteemed Abt 12.
Though St. Bernardus doesn't specify what specifically makes the two beers different, the Christmas Ale offers a bit more spice to complement the dried fruit and caramel that is evident in both beers. Plus, a monk wearing a Santa hat is always more enjoyable than a bald head.
For solo consumption, grab a can of this big, bold beauty, but go for a bottle if you want to share with others (which is always preferred) or give the beer as a gift.
2. The Bruery Two Turtle Doves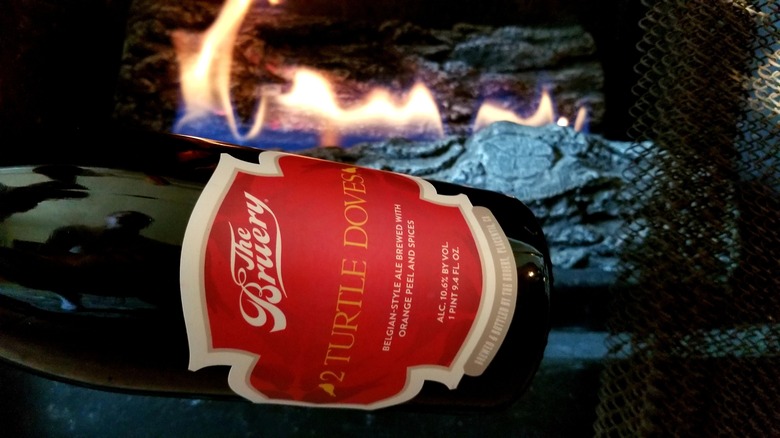 Sarah Gardner/Mashed
The Bruery is constantly churning out new weird and wild beer creations, but it's also not opposed to keep playing the hits. The pride of Placentia, California, introduced its 12 Beers of Christmas years ago, with a new release each year inspired by a day from the all-time biggest travesty of a Christmas song. (For the record, we're unabashed fans of "Simply Having a Wonderful Christmas Time," so take that for what it's worth.) The second release, as you might suspect, was 2 Turtle Doves, and it turned out to be the best of the dozen, not counting the various barrel-aged versions of the beers that were brewed over the years.
When the series ended in 2019, The Bruery re-released the whole set in a pricey package, but this year, 2 Turtles Doves is back again on its own. This 10.6% ABV Belgian dark ale with an appearance black drip coffee works so well because of the terrific balance of flavors — slight cola, some nuttiness, and a cocoa and spice pairing reminiscent of Mexican hot chocolate. There is no doubt that this is a holiday beer, but it doesn't smack you over the head with that notion.
We're as happy as Kevin McCallister in Duncan's Toy Chest to have 2 Turtles Doves in our life. And The Bruery, if you're reading this, we're putting barrel-aged Partridge in a Pear Tree at the top of our holiday wish list next year.
1. De Struise Tsjeeses Reserva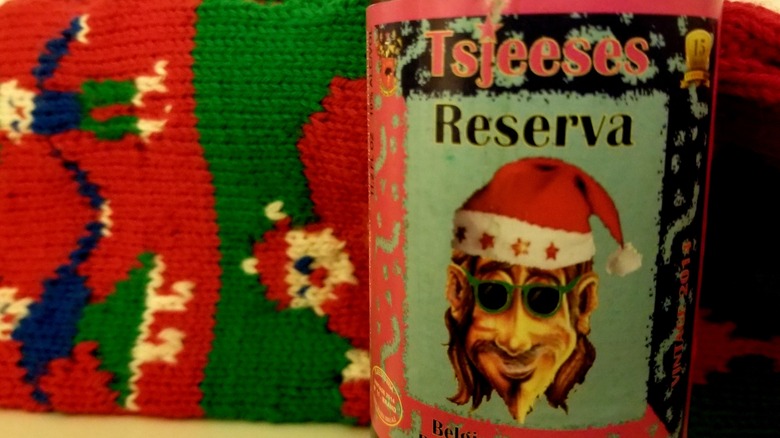 Sarah Gardner/Mashed
If you want to end your holiday celebration on a high note, break out a bottle of Tsjeeses Reserva from cult Belgian brewery Struise. There are a few different varieties of this beer, and since it is suitable for aging, you may come across some older vintages on store shelves. We happen to have picked up the 2014 version, which was aged in bourbon barrels, and boy did Christmas come early. We can't tell you how the beer has evolved over the years, but right now, it's spectacular.
Syrupy and packed with flavors of honey cake, rock candy, figs, and dates, Tsjeeses Reserva might just be the perfect bottle to pop open for Hanukkah. It's beer's answer to Sauternes, so if you're a fan of dessert wine, this is essential drinking. It's no wonder that the elfy-looking dude in shades on the label has a big smile across his face.
As for how the beer got its name, well, we'll let the good folks at Struise give you the skinny: "Tsjeeses was brewed for the first time in 2004 but not under that name because we didn't find a name yet. Different code names like 'Dangerous Blonde,' 'New Years Blond' were used in 2004 and 2005. While brewing the same beer in 2006, our team got so hit by the beer, at a certain point, somebody said: 'Tsjeeses what a great beer.'" Truth be told, that was basically our reaction too.