Bar Louie Is Doing Well Despite Old Rumors Of Closing Forever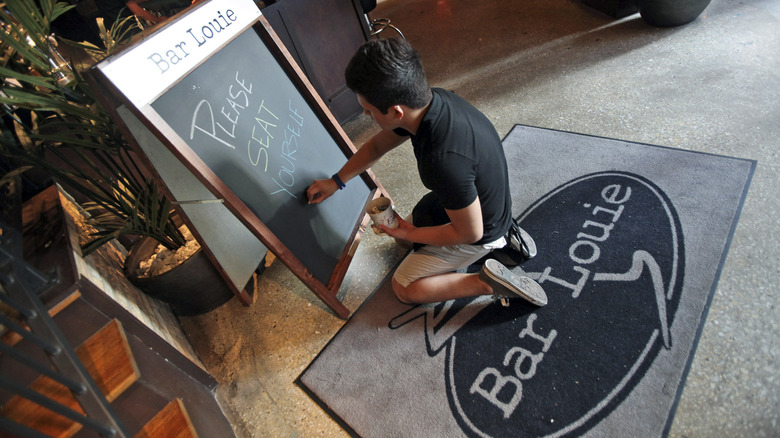 Bloomberg/Getty Images
As a brand, Bar Louie does promote a cool concept. Its goal is simple: to be the preferred watering hole for its fans in different locations. A description on the website reads, "With Bar Louie, no two bars are going to be exactly the same. We listen to our neighborhoods​ and let them shape us, not the other way around." The brand also claims to focus on serving delicious food to its customers along with a large variety of drinks and cocktails. Also, the bar has an impressive list of food options such as burgers, appetizers, flatbreads, sandwiches, desserts, and more. 
However, much to the dismay of Bar Louie fans, the brand seemed like it was struggling last year. In January 2020, it was announced that the brand had shut down 38 outlets and filed for bankruptcy (via Restaurant Business). A statement from the bankruptcy filing read, "The inconsistent brand experience coupled with increased competition and the general decline in customer traffic visiting traditional shopping locations and malls, resulted in less traffic." 
Fans were quick to notice that something was amiss. Redditors even put up posts on the topic and discussed it among themselves. A fan wrote, "It was great while it lasted. I thought they were making lots of money. Apparently not!" Another astute Reddit user said that they had spotted lease signs on the windows of the restaurant's outlets.
The brand is here to stay
While it's true that times have been tough, Bar Louie isn't going to disappear anytime soon. 
The bad news is that it has closed 60 outlets so far. However, according to FSR Magazine, it has started bouncing back from bankruptcy. Basically, Bar Louie is still a profitable enterprise — it just had to figure out a way to tackle the massive debt that it was under. Its new owner is Antares Capital LP, a company that took over its operations and acquired about $82.5 million worth of debt.
The brand has stepped up its game, though. It decided to rework its strategy during the COVID-19 pandemic and modified a few things. For example, it became more flexible and began working with third-party delivery platforms, even diving into the world of ghost kitchens. It has also been improving its marketing approach on social media platforms, reaching out to more customers online and making its presence felt. Additionally, by getting rid of the locations that weren't doing well, the company has given itself the opportunity to focus once more on increasing its profits and ensuring its longevity.