Why Duff Goldman's Raisin Tart Is Perfect For Your Holiday Spread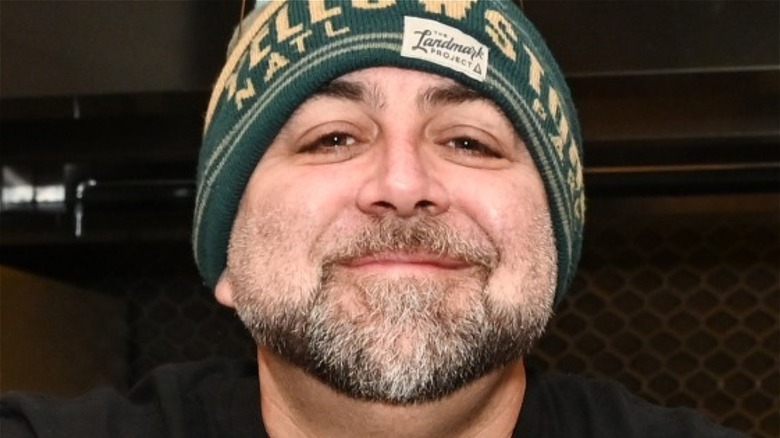 Daniel Zuchnik/Getty
For many, the holidays truly are the most wonderful time of the year. From curling up in front of the fire and baking sugar cookies to enjoying outdoor activities from skiing to snowball fights, what's not to love? While the holidays are certainly merry and joyful, they can also be a time of intense stress. Between attending holiday parties, getting Christmas shopping done, and catching up on work, it can be hard to squeeze in a minute for yourself. And let's not forget about the dreaded family dinners that you've volunteered to host. The thought of preparing delicious mains, ample Christmas sides, and decadent desserts for a huge party of people is enough to send anyone into a tailspin.
But holiday dinners don't need to be panic-inducing or overly complicated. By planning ahead, asking for a little help, and sticking to simple recipes, you can make the daunting process a whole lot easier for yourself. Renowned pastry-chef Duff Goldman, who's been there and done that, chatted with Forbes about his tips and tricks for tackling holiday baking and Christmas dinners. The "Duff Takes the Cake Star" also shared his recipe for an easy custard raisin tart that perfectly finishes off any festive feast.
Duff Goldman's raisin tart is stress-free and healthy
If you are looking for an easy and stress-free holiday dessert to round-off your family dinner, Duff Goldman has got the solution for you. The Michigan-native, who recently partnered with Sun-Maid to create this sweet treat, gets into what makes this dessert superior to others with Forbes. "It's delicious and hard to over bake, as opposed to cookies and cakes," he explained. "You can even make it with your kids — they'll have fun baking with raisins and will be more willing to step outside their comfort zone." Not only is this dessert approachable for amateur home bakers, but it's also a relatively healthy confection due to the raisins. "Raisins are a versatile ingredient. They add a lot of flavor without adding a bunch of added sugars," shared the chef.
Goldman elevates this traditional dessert by rehydrating the raisins in a warm port wine with nutmeg and cinnamon. The mastermind baker also recommends rehydrating the raisins in grape juice, apple juice, or milk if port isn't your cup of tea. For those interested in whipping up this festive creation, Goldman shared the recipe with Forbes. If you are an ambitious baker and are interested in taking on a more challenging recipe, Goldman has a slew of other holiday desserts in his repertoire from Snowball Cookies (via Food 52) to Rompope-Filled Churros (via Duff).