The Best Side Dish To Serve For Christmas Dinner According To 47% Of People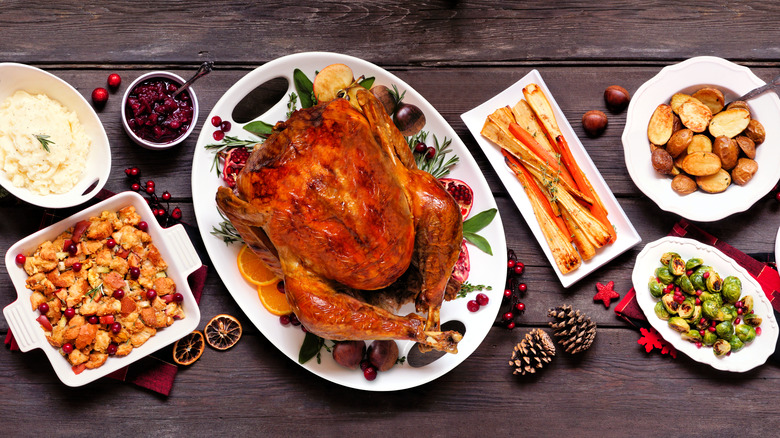 JeniFoto/Shutterstock
With Christmas only a week away, those of us planning to celebrate have likely been scouring our favorite cookbooks, food blogs, and YouTube channels for what to serve at the big feast. Here at Mashed, we've tossed more than a few contenders into the ring, from holiday roasted nuts to Christmas deviled eggs to sweet Christmas kringle pastry. So you've got some good snack and dessert ideas — that's good. What about a main dish? Well, there's Christmas ham, of course, which a majority of respondents to a recent Mashed survey ranked as their favorite Christmas dinner centerpiece, as well as prime rib and roast chicken. But what if you're still searching for a show-stopping Christmas side?
When gathering a mix of family and friends around the holiday table, it can be difficult to choose dishes that please all palates. So it's worth considering which Christmas side dishes are popular choices, ones that all of your guests will want to dig into. In a survey, we asked 613 U.S. respondents just that — here's what they said.
Mashed potatoes take the cake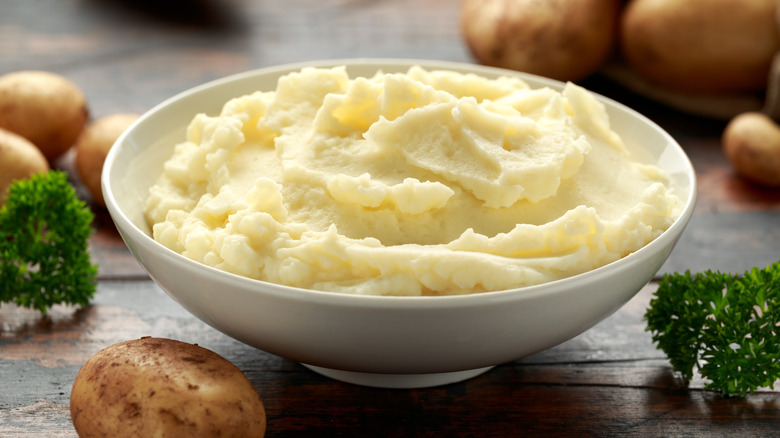 DronG/Shutterstock
In a recent Mashed survey asking 613 U.S. participants what the best side dish to serve for Christmas dinner is, the winner by a landslide comes as no surprise: According to 47% of respondents, it's mashed potatoes. A creamy, dreamy, relatively neutral base for sopping up the rich sauces you might pair with your prime rib or roast turkey centerpieces, we'd have to agree that these spuds are a holiday meal classic. Best of all, they can be prepared in a variety of ways, from in the slow cooker to in the Instant Pot to sous vide-style.
So which Christmas side dish ranked in second place? Nearly 14% of respondents agreed that roasted vegetables are another excellent choice — we like a mix of broccoli, carrots, bell peppers, and onions. Sweet potato casserole came in third with 12% of votes, and its cousin green bean casserole came in fourth with nearly 11% of votes, followed by runners-up Brussels sprouts and dinner rolls. So there you have it: a plethora of choices for your holiday dinner. May you, and your guests, be well fed.