Essential Workers Won't Want To Miss This Insomnia Cookies Freebie
Insomnia Cookies began in 2003 with a cookie craving on the part of a business-minded Ivy League undergraduate by the name of Seth Berkowitz. Since then, the flex-hours, super-fast cookie delivery service has spawned multiple brick and mortar locations (there are at least 200 at present, via PR Newswire) not to mention a cookie-shipping business that can get Insomnia's delicious warm home-baked-style cookies into the hands of people outside of the company's instant delivery zones. What many may not know about this unique brand is that "charity is deeply rooted" in the company and its values (via Insomnia Cookies). And it puts its money where its mouth is, demonstrating its commitment to social activism through such initiatives as celebrating teachers and nurses with free six-packs of cookies (via Instagram) and donating $25,000 to the NAACP along with $2 for every 12-pack sold online and in-store during a two-day period  (via Insomnia Cookies Newsroom). 
Now, "just in time for the holidays," Insomnia Cookies has announced on its Facebook page that it is "saying thank you to those who work every day to keep spirits bright with a special in-store deal," and by that, they are referring to a deal honoring all essential workers with free cookies between December 20, 2021 and January 2, 2022. If you're an essential worker, you won't want to miss this freebie, so do read on for all the details.
Free cookies for essential workers at Insomnia Cookies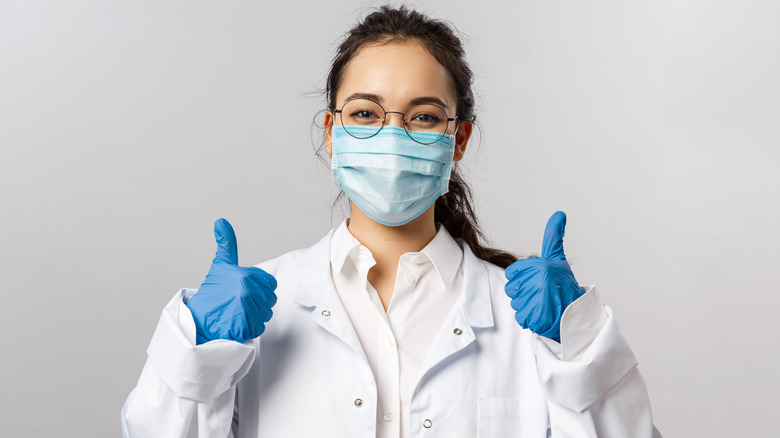 Mix and Match Studio/Shutterstock
Insomnia Cookies, which just finished celebrating its new holiday lineup with a seriously tempting BOGO deal, is doing its part to reward essential workers for the role they now play in our pandemic-transformed lives by offering them free cookies. In an announcement shared to their website, the company wrote, "The holiday season is one of the busiest times of year for all, but even more so for essential workers, who continue to work day-in and day-out to keep our spirits bright while making sure we are safe and cared for. To show our thanks for all that they do during the holidays and beyond, Insomnia Cookies is running a very special in-store promotion to give these champions of cheer the gift of a warm cookie."
What that promotion consists of is a free cookie, with no purchase necessary or a free six-pack with any $5 purchase, and it is applicable to al healthcare workers, first responders, civic employees, and UPS/FedEx/USPS/Amazon delivery drivers, who turn up in person at an Insomnia Cookies location, either wearing their uniform or with an official I.D. as such. You can search for your nearest Insomnia Cookies location on the company's website.