This Classic Was Julia Child's Favorite Soup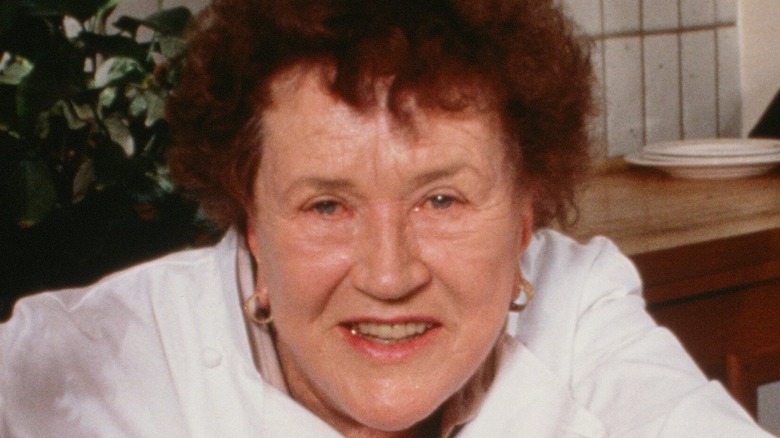 George Rose/Getty Images
Julia Child was a beloved chef and television personality known for her intricate yet approachable recipes and cooking methods. She stole the hearts of millions of fans over the course of her culinary career, which skyrocketed in the 1960s when she published her first cookbook, "Mastering the Art of French Cooking," according to The Julia Child Foundation. Aside from her charm, humility, and towering 6-foot-3-inch stature, her legacy has been celebrated by pros and home cooks around the world for generations.
Child had a knack for teaching everyday audience members how to create amazingly delicious meals with confidence and ease. Of course, the Cordon Bleu grad had a diverse palate and infused a number of cuisines into her cookbooks and shows. Some of her dishes, like beef Wellington and coq au vin, were more advanced than others and required plenty of patience. One of her favorite meals of all time calls for just a few common ingredients and can be whipped up in mere minutes.
Julia Child loved vichyssoise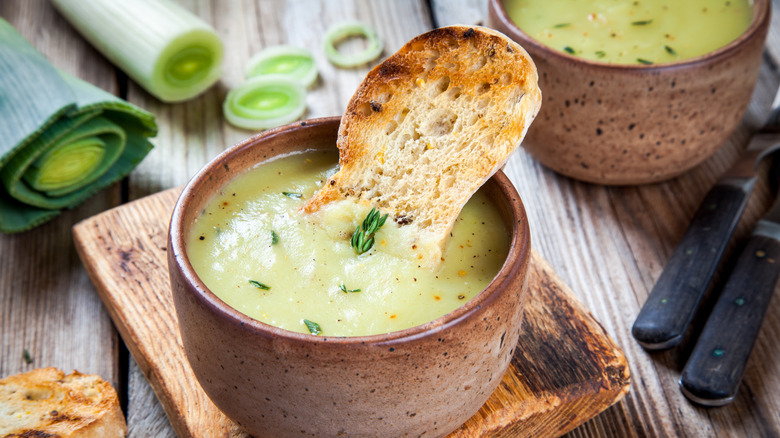 Ekaterina Kondratova/Shutterstock
There were very few foods Julia Child didn't love, but she was particularly fond of vichyssoise, a thick, potato-based soup that is traditionally served chilled. The legend even said herself, "Leek and potato soup smells good, tastes good, and is simplicity itself to make" (per Taste of Home). Originally made in 1917 by Louis Diat, a French-American chef living and working in New York City, vichyssoise is a fragrant, allium-forward soup with a bold flavor and hearty texture (per Cook's Info). The aromatic bowl of goodness can be enjoyed year-round and served as a tasty appetizer before entrées or all on its own with a side of crusty bread.
To make your own batch of vichyssoise at home, the recipe calls for shallots, leeks, onions, chives, dry white wine, chicken or vegetable stock, vegetable oil, red potatoes, milk, light cream, and salt and pepper to taste. According to Food & Wine, Child claimed that cream adds a "nourishing touch" if you prefer a more velvety, richer mouthfeel. Truly, the most challenging part of making heartwarming vichyssoise is gathering and preparing the ingredients.