Padma Lakshmi's Relatable Dog Meme Has Instagram Laughing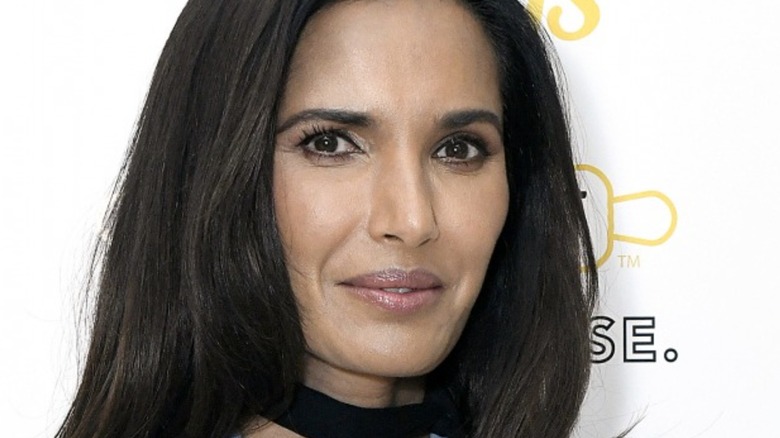 Eugene Gologursky/Getty
Padma Lakshmi is probably most well-known for being the host of Bravo's "Top Chef," but she's also a cookbook author, and is the creator and host of her own food and travel show, "Taste the Nation," on Hulu. Luckily for fans of her work, she's also pretty active on social media. She's a frequent poster on Instagram, and she often shares recipe videos and personal photos. But what fans really seem to eat up are her meme posts, and the most recent one had her followers in stitches.
In the post that Lakshmi shared on Instagram, you can see her dog, Divina, a rescue chihuahua who she adopted during the pandemic in 2020. Divina is wearing a bright orange hooded dog sweatshirt and is reclining in bed with a silly squinted-eye, bared lower teeth facial expression. Over the image, Lakshmi added a series of four captions, starting with "When you have 100 tabs open and you're not sure where the music is coming from" and ending with "When you get a really thoughtful Christmas present for your brother and he gets you socks." The Instagram caption she added said, "Divina is NOT having it," along with the rolling on the floor laughing emoji, and fans were loving it.
Fans thought this picture of Padma Lakshmi's pup was hilarious
So far, Lakshmi's dog meme has more than 6,350 likes, including some from other celebrities, like "Queer Eye" star Tan France. Fans seemed to relate to the image of Divina and the captions that Lakshmi included. "Me when 'Top Chef' left Charleston for Mexico," chimed one fan, while another said, "I can relate to the socks meme by getting men's size 12 socks from my boyfriend's daughters in the past."
It wasn't just the humorous aspect of the post that people seemed to like. Many were just happy to see a picture of a cute dog. "Divina is adorable," said one commenter, while another noted that "Divina posts are the best posts." Because no matter how funny the memes Lakshmi created are, the real spirit of the post is that Divina has become a fixture in her life, or, as one fan put it, "Love how you got Divina on a trial basis for your daughter and how she overtook your heart and home." Here's hoping we'll get more funny Divina memes from Lakshmi in the future.