This TikToker Tried Every Cheesecake Factory Cheesecake In One Sitting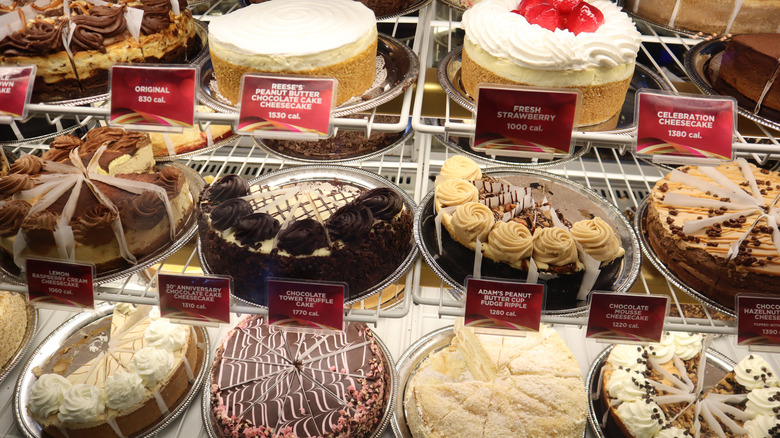 Eric Glenn/Shutterstock
Given the incredible importance of cheesecake eating, it's surprising that the art doesn't get more recognition. Although the mere act of baking the treat is obviously very significant, there would be no need for the creamy delights to be so beautifully crafted if no one had the desire to eat them.
Cheesecake eaters are therefore undervalued heroes — perhaps there should be a national holiday for everyone to appreciate the excellence of these baked goods and those who eat them. This would certainly be good news for The Cheesecake Factory, which is undoubtedly one of the biggest backers of the cause.
This is clearly shown by the company's website, which boasts more than 30 different flavors and designs of cheesecake — an unbelievable quantity. There is a major problem with all of this, however: Which one do you choose? To overcome this issue, TikTok user @squarecutpizza bravely decided to try out every single one of them in one go.
Many of the cheesecakes received positive reviews - but came at a great cost
Despite the undeniable deliciousness of cheesecake, eating more than 30 of them in a single sitting is a courageous act that can be performed by only the most dedicated of dessert lovers. Which is exactly what @squarecutpizza did and then documented it on TikTok. Although the video doesn't clarify whether the cheesecakes were eaten in full or not, even small spoonfuls of each would be enough to permanently overwhelm mere novices.
The video begins with a quick look at all of the cheesecakes laid out on a giant table — as big as one of those ridiculously long wooden ones seen in medieval castles. The slices are shown lined up in two massive rows, proving just how many there were to taste (33 in total).
Although not all of the cheesecakes were reviewed, we learn from the video that the poster thinks the salted caramel flavor has a "perfect hint of salt" (but a chewy base), while the legendary original cheesecake is found to be "sweet and simple." The video also piles praise on the blow-torched lemon meringue and pineapple cheesecakes. But what about that critical factor — cost? Overall, the 33 cheesecakes totaled up to just over $316.