How A Viral Video Allowed This TikTok Star To Quit Her Job At McDonald's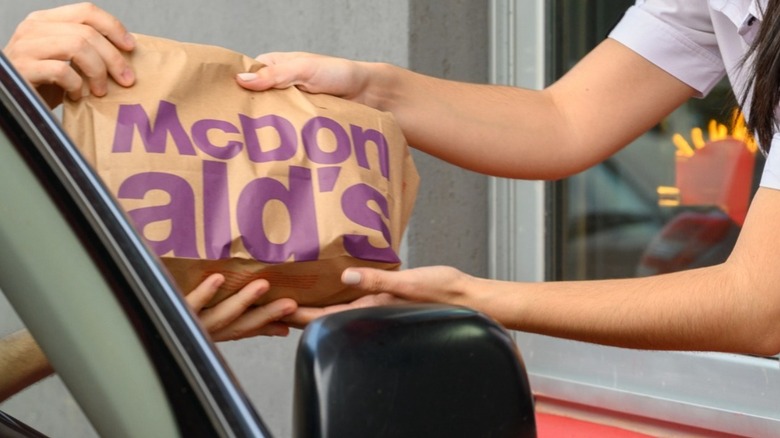 Orlando Arce/Shutterstock
Though the app found its footing around 2016, per Tech Crunch, TikTok really found major successes in 2020 when the pandemic forced people into their homes and encouraged them to be even more on social media platforms, becoming a dominant presence in everyday life. The appeal of TikTok is simple — it's easy to create content and even go viral, helping many an unknown teenager and adult alike rise out of obscurity and earn more than most hard-working people will make in one lifetime. 
One teenager went viral simply for making lunches for her parents while quarantined. The trend of these viral recipes even sparked TikTok to recently announce an upcoming launch of a delivery service. While, for some, these jumps into virality are fun projects that somehow turned into something bigger — there are some people have been gifted with much more for their content. Like this story of a Kentucky McDonald's worker who was able to quit her job and focus on TikTok full-time.
From McDonald's to a TikTok sensation making up to $10,000 per month
Maddison Peel is a young girl from Kentucky who prospered from the boost TikTok has afforded the masses. While the 22-year-old once worked for minimum wage (earning $12/hour) at a Kentucky McDonald's, Insider reported that a video she once posted to her account, @MaddisonsKitchen, garnered enough attention to help her make the money she needed to quit. The video featured her simply roasting a chicken to the background music of the song "Up" by Cardi B. Within a week, she gave her two-week notice, telling Insider, "I saw a promising future with TikTok and had a lot of brands reaching out already from that video."
She is now solicited for work by the likes of brands including Heinz and Weber Grills and stores including Walmart and Kroger to create and post food recipe videos, making in the range of $5,000-$10,000 per month, says the article. With 365,000 followers and 11.8 million likes as of publication, Peel's star continues to rise, affording her more and more opportunities which she sees as an opening to "a promising future" using the app as her main source of income. If only we could all be so lucky!