Aldi Shoppers Are Freaking Out Over These Shark Tank NYC Bagels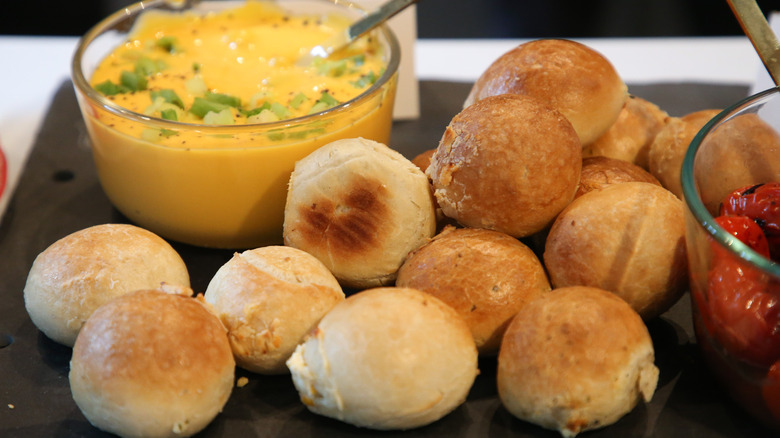 Rob Kim/Getty Images
Fans of the reality show "Shark Tank" can really get a rush when they recognize a product that was once featured on the show — especially when the product is really good. Such excitement took over when the popular Instagram account @AdventuresinAldi shared their latest find at the store: Bantam Bagels.
The post features two boxes of the brand's mini-bagel holes, one the plain flavor with cream cheese stuffed inside, and the other offering mini-everything bagels with veggie cream cheese in the center. "These are soooo good & Aldi has them now in the Aldi Finds freezer section! You can't beat the 'everybody's favorite' flavor," the original poster wrote, also noting that each box contains six bites and retails for $4.89.
As of publication, the post has more than 700 likes and a good dose of enthusiastic comments. "THESE ARE THE BEST!!!" one person wrote, followed by, "Need these!!" One negative point was brought up, however; namely, that for $4.89, you're paying about 83 cents per mini-bagel, which can become quite expensive when compared to buying regular-sized ones. According to ABC, four Bantam Bagels bites equals about one bagel.
Bantam Bagels are a 'Shark Tank' success
Mini-sized Bantam Bagels are synonymous with the television show "Shark Tank," in which investors listen to and decide on whether to back various pitches from innovators and at-home makers. According to Shark Tank Success, a fan blog detailing the companies that successfully receive investments from the show, Bantam Bagels was the idea of couple Nick and Elyse Oleksak, who had been working corporate jobs in finance before settling on the idea to make mini-bagel bites that could possibly take off just like mini-donut holes had done in years prior. And so they did, with the company able to open up their own retail shop in New York City a couple years prior to appearing on "Shark Tank," per ABC, and landing on Oprah's famed "favorite things" list. According to Shark Tank Blog, when the Oleksaks did appear on the reality show in 2015, they received an offer of $275,000 from investor Lori — and have been riding a wave of success ever since.
Also per the blog, the couple did end up selling the business for $34 million to a division of the Lancaster Colony Food company, though Nick and Elyse are still able to oversee things and keep their store in NYC. It's also said that Bantam Bagels brings in $20 million annually, and as of November this year, the goods are in 9,000 Starbucks locations and other retailers. Though their success could be very well be tied to the fact that the company was already successfully selling mini-bagel holes in New York City, the hardest bagel market there is — what they gained from appearing on the show is a great branding opportunity. Now "Shark Tank" badges appear on Bantam Bagel boxes and new customers already have a buy-in thanks to recognizing the food from television — and judging by how excited people are that the bites are at Aldi, there's lots of room to grow still.