Easy Chicken Brine Recipe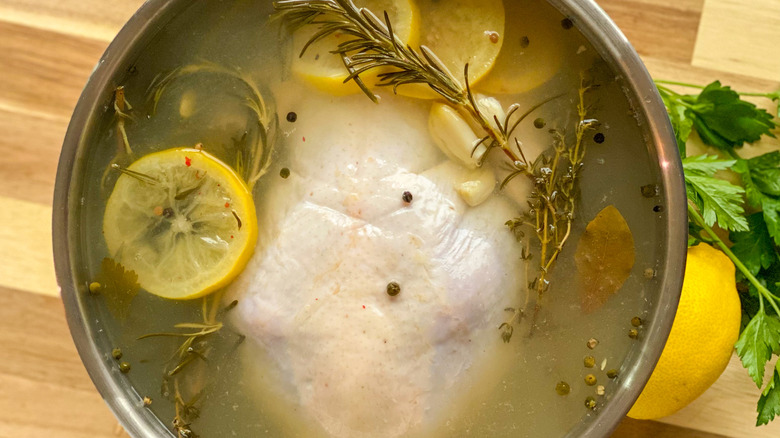 Hayley MacLean/Mashed
Some dishes, like roast chicken, are absolute classics that live comfortably in people's cooking repertoires. However, just because it's regularly prepared, it doesn't mean that roast chicken is necessarily a foolproof meal to make. The bird is often cooked to dryness and other times it simply lacks flavor. Thankfully, there are some easy steps to prevent a bland chicken dish, and nutritionist and recipe developer Hayley MacLean shares her favorite.
This chicken brine recipe can be the prelude to many poultry-based meals, since it's a basic way to pack in lots of seasoning with little effort. "What I like most about this recipe is how easy it is to put together, and how absolutely delicious it makes the chicken," MacLean raves. While you'll need to leave the chicken in the brine for a number of hours, the majority of the active work takes place in about 10 minutes, making for easy prep. If you're tired of cooking boring chicken dishes, you'll want to follow MacLean's preparation which she remarks, "is so full of flavor and results in the most moist, tender, perfect bird!" Read on for her step by step instructions on how to brine your chicken for guaranteed flavor.
Gather the ingredients for this chicken brine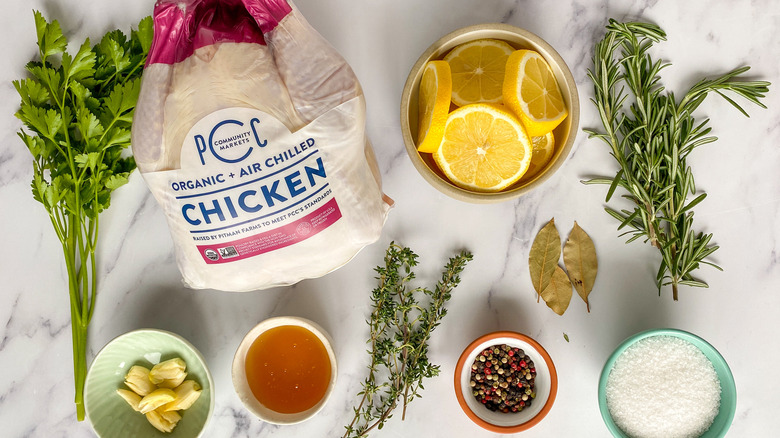 Hayley MacLean/Mashed
First off, you'll want to gather up all of the ingredients required for this recipe. MacLean remarks, "I chose this combination of seasonings based on flavors that are classically paired with chicken." You'll need plenty of water since you'll actually be covering the chicken in the brine. Next, you'll want a bit of honey and coarse sea salt. MacLean explains that "adding a good amount of salt and honey finishes it off with the perfect balance." 
If you're fond of garlic like MacLean, then you'll be glad to see plenty of it in the recipe which she uses for "its wonderfully pungent flavor." Be sure to smash the cloves so that the flavor can properly release. Moving on, a combination of fresh herbs are incorporated (rosemary, thyme, and parsley), as well as bay leaves and mixed peppercorns. Finally, MacLean notes that sliced lemon "adds a bit of acidity and brightness." Don't forget to have a whole chicken on hand if you're making this brine to use immediately — a four to five pound bird should do the trick.
Add all of the brine ingredients to a saucepan, bring to a boil, then simmer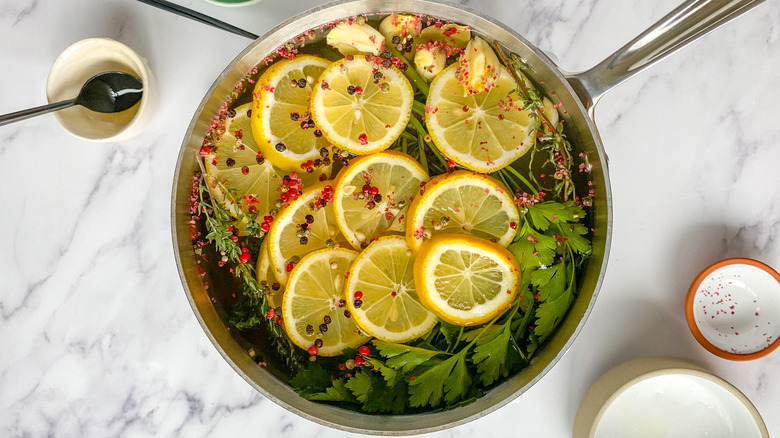 Hayley MacLean/Mashed
You're going to need a fairly large pot for this brine, so pick out a stockpot and set it on a burner. Pour in eight cups of water, then add the honey, coarse sea salt, smashed garlic cloves, rosemary, thyme, and parsley sprigs, bay leaves, mixed peppercorns, and the sliced lemons. Bring the contents of the pot to a boil, then reduce it to a simmer and allow everything to cook for four to five minutes. When the salt has completely dissolved, remove the pot from the heat.
Let the brine cool down then pour it over a whole chicken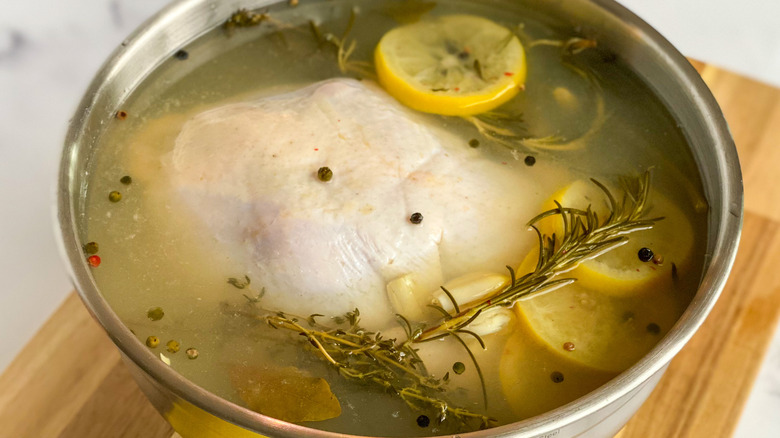 Hayley MacLean/Mashed
To avoid accidentally boiling the chicken, set your brine aside until it has completely cooled down. If you're not ready to brine your chicken just yet, MacLean notes that "this brine can definitely be made a day or two in advance," adding that "this can make [the] cooking day much easier without having to wait for the brine to cool!"
If you're ready to brine the chicken now, then go ahead and place the whole bird into a large mixing bowl or stockpot and carefully pour the brine to submerge it entirely. MacLean warns, "The number one thing to watch out for here is making sure to keep a [clean] workspace and handle the raw chicken very carefully to make sure there is no cross-contamination of bad bacteria!"
Leave the chicken in the brine, then rinse before cooking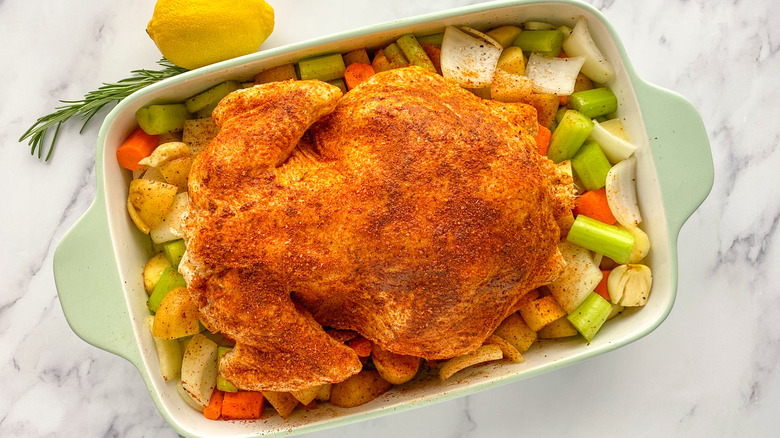 Hayley MacLean/Mashed
Cover the chicken with a lid or plastic wrap and transfer the container to the refrigerator for eight to 24 hours. When you're ready, remove the chicken from the brine and rinse it off with cool water. Using paper towels, pat the chicken dry before moving on to the cooking stage. 
At this point, the ball is in your court regarding how you want to prepare the chicken. MacLean shares her favorite idea for inspiration: "I like to generously season the chicken with a dry rub mixture and lots of butter, and roast it on top of a medley of vegetables which soak up all the delicious cooking juices!" Even a simple oven-roasted chicken will taste fantastic with this advance preparation.
Easy Chicken Brine Recipe
This chicken brine recipe is loaded with flavor and is sure to make your next roast chicken a succulent, delicious success.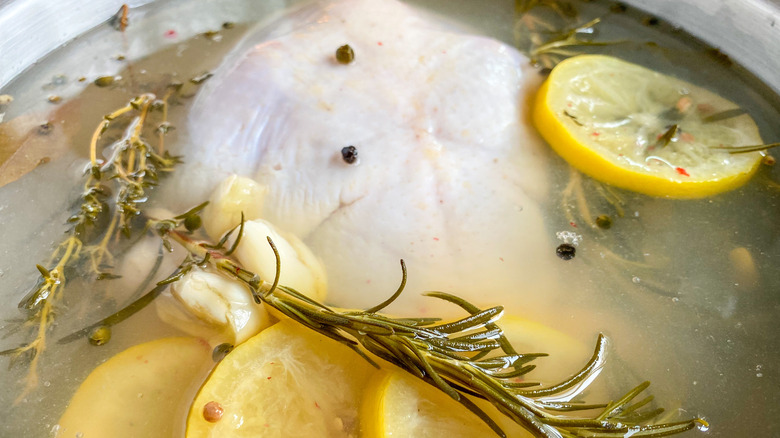 Ingredients
8 cups water
¼ cup honey
½ cup coarse sea salt
5 garlic cloves, smashed
3 sprigs rosemary
3 sprigs thyme
3 sprigs fresh parsley
3 bay leaves
1 tablespoon mixed peppercorns
2 lemons, sliced
1 (5 pounds) whole chicken
Directions
Add the water, honey, salt, garlic, rosemary, thyme, parsley, bay leaves, peppercorns, and lemons to a large pot. Bring the contents to a boil.
Reduce the brine to a simmer and cook for 4 to 5 minutes, until the salt has dissolved.
Remove the brine from the heat and let it cool completely.
Place the chicken in a large mixing bowl or stockpot.
Pour the cooled brine mixture over the chicken, ensuring that it is completely submerged.
Cover the dish with a lid or plastic wrap and place in the refrigerator for 8 to 24 hours.
Remove the chicken from the brine, rinse with cool water, and pay dry before proceeding to cook.
Nutrition
| | |
| --- | --- |
| Calories per Serving | 263 |
| Total Fat | 16.7 g |
| Saturated Fat | 4.8 g |
| Trans Fat | 0.1 g |
| Cholesterol | 82.6 mg |
| | |
| --- | --- |
| Total Carbohydrates | 6.9 g |
| Dietary Fiber | 0.7 g |
| Total Sugars | 5.2 g |
| Sodium | 733.4 mg |
| Protein | 20.8 g |