M&M's New Valentine's 2022 Flavor Is Inspired By This Decadent Cake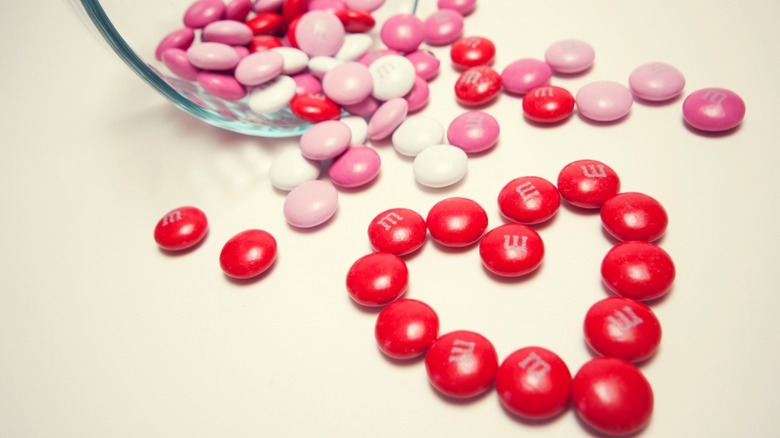 LHPhoto/Shutterstock
If you're a milk chocolate fan, chances are you're familiar with Mars' extensive line of sweets. The company makes popular chocolate bars like Snickers, Milky Way, and Twix (via the Mars website). And of course we can't forget the brand's poppable candy-coated treat, M&M's, which came into Americans' lives in 1941 and has been a top-selling treat ever since. (Believe it or not, the signature "m" printed on each chocolate was added in 1950 to distinguish the candy from knockoffs, according to M&M's history).
A basic M&M is an orb of milk chocolate enrobed in a colorful candy shell, but over the years Mars has released an almost uncountable number of M&M's flavors, from Coffee Nut to White Chocolate Key Lime Pie to Hazlenut Spread. But that's not all — as is the case with plenty of other candy brands, Mars typically releases seasonal M&M's flavors to celebrate different holidays, like 2021's White Chocolate Pretzel Snowballs. Recently, fans spotted M&M's Valentine's Day 2022 product, which is flavored like a popular cake.
The 2022 M&M's Valentine's flavor combines chocolate and cherry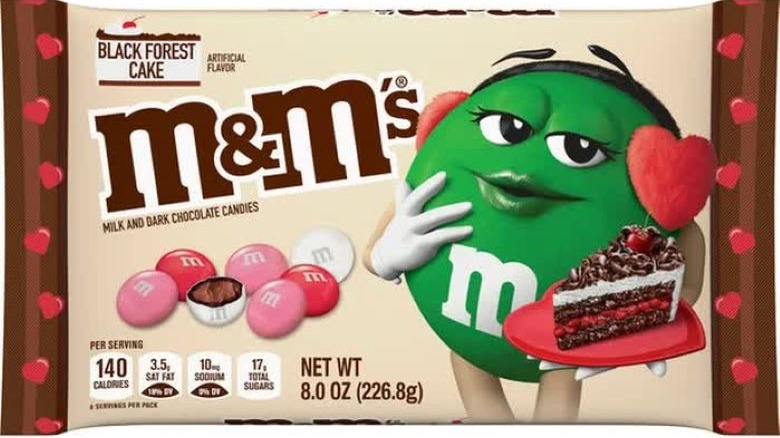 M&M's
If you've ever tucked into a rich slice of Black Forest cake, then you know what this decadent dessert is all about: moist slices of intensely chocolatey cake layered with icing and dark sweet cherries, all finished with white frosting and a generous sprinkle of chocolate shavings. Making this dessert — and sometimes, frankly, eating it — can be quite the endeavor, which is why Black Forest fans will be thrilled to discover that M&M's special Valentine's Day release for 2022 will concentrate this chocolate classic into a poppable treat.
M&M's recently released the special holiday offering, which has been spotted by Instagram account Junkpickers. From the packaging, it appears the Black Forest-flavored M&M's come in shades of red, pink, and white, are a mix of both dark and milk chocolate. Judging from the comments on the Instagram photo, candy fans are pumped about the new flavor. "Nice! These sound awesome" wrote one Instagram user, while another simply left the word "NEED!!" Many others chimed in to share how excited they are to try the seasonal offering.
If you're interested in trying this cake-inspired flavor, you may want to move fast. While the packaging doesn't specify that the M&M's Black Forest cake flavor will only be available for a limited time, most holiday-themed products don't stick around forever.