Dill Onion Dip Recipe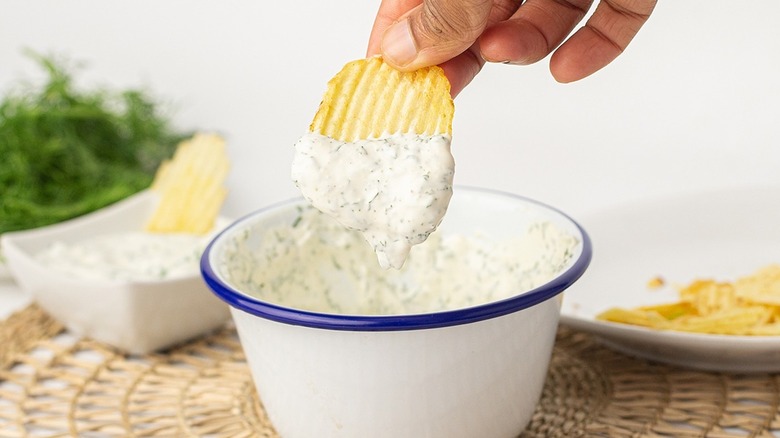 Susan Olayinka/Mashed
Whether you're having a party at your home, watching a big game, or simply hanging out with family, it's always a good time for dill onion dip. There's no doubt that this dip is a classic, and it pairs perfectly with a crunchy potato chip. If you want to keep things on the lighter side, you can serve this with veggies — trust us when we tell you that you simply cannot go wrong with different pairing ideas!
Recipe developer Susan Olayinka of The Flexible Fridge knows a thing or two about whipping up tasty appetizers, and this one is no exception. Olayinka says she loves "the simplicity of [this dip] and how it can be used fir a multitude of things, for chips, salad dressing, spread etc." Another great thing about this recipe is that it takes only five minutes to make, and you don't need to mess with an oven or anything else. If you're looking for the perfect snack, this dill onion dip will become a go-to!
Gather the ingredients to make dill onion dip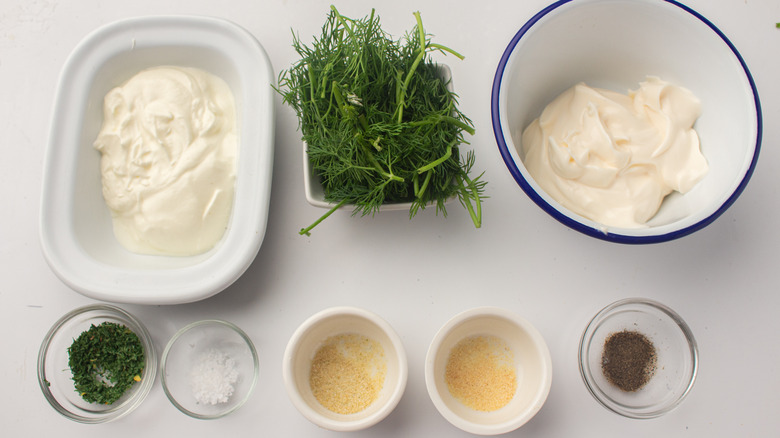 Susan Olayinka/Mashed
You will only need a few things to whip up this dish, and all of the items are pretty basic. Start with a little bit of fresh dill, followed by a cup of mayo and some sour cream. The mayo and sour cream base are common in several dip recipes, and it brings such a great texture. The only other things that you will need are spices, so it's worth mentioning that you should probably check your spice cabinet at home before you decide to buy anything.
Start with some dried parsley, and then add onion powder and garlic powder to your cart. You will also need a little bit of salt, and then you're ready to start!
Take the dill of the stalks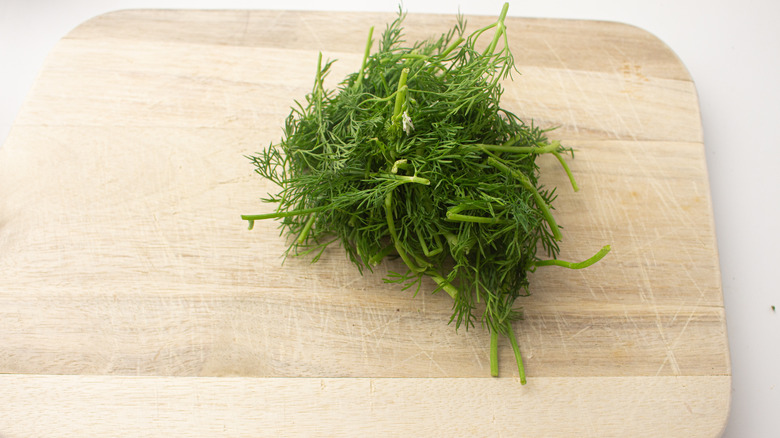 Susan Olayinka/Mashed
Once you have all of the ingredients gathered in front of you, that means you can begin cooking. In this case, you are pretty much just chopping and mixing and if you have kiddos at home, this would be a great recipe for them to help you with if they want the big job of stirring. 
Grab the dill first, and be sure to wash it ahead of time. Then, take the dill off the stalks. Olayinka says that "this step is really important as the stalk can be quite tough" Olayinka shares, but notes that you "can pick from the stems one by one" to make the process nice and easy. Once you've removed all the dill from the stems, you can get ready to chop it up.
Chop the dill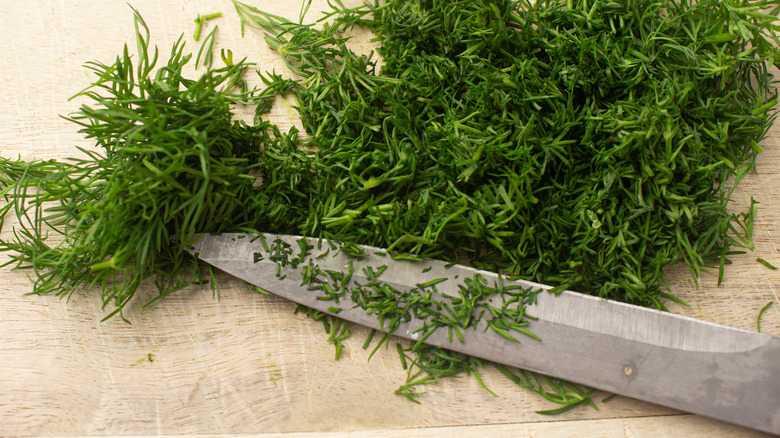 Susan Olayinka/Mashed
Now, grab a chopping board and your favorite knife. Using the dill you just removed from the stalks, place it on the cutting board and chopped it finely. "Regular blade would do," Olayinka said when asked if readers should use a serrated knife or a regular one. Then, place the dill in a bowl and set the dish to the side. You will need the dill in the next step, so make sure to keep it somewhere close. 
Mix the ingredients to make the dip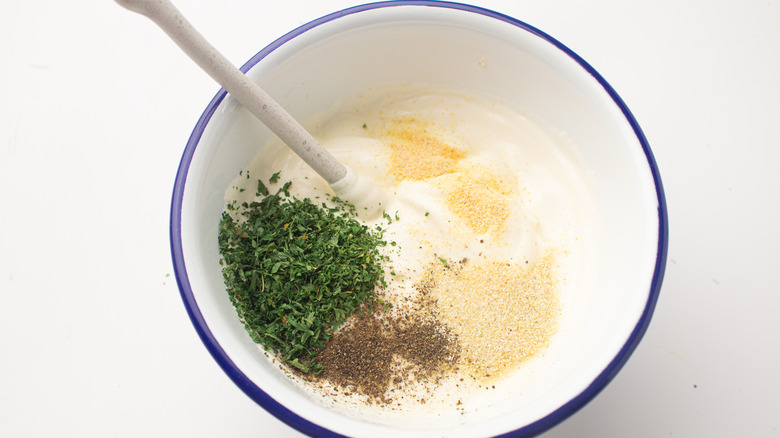 Susan Olayinka/Mashed
Grab a small mixing bowl that's big enough to fit all of the ingredients. You can either use a mixing bowl or, if you'd like to cut down on the dishes, just use the same bowl that you plan to serve the dip in.
First, pour in the mayo and the sour cream. These two creamy ingredients mixed together are indeed a match made in heaven. Next, you will want to add your spices. Start with the dried parsley, then throw in the onion and garlic powder. Then, you can add a little bit of table salt and, finally, your finely chopped dill. Stir well to combine. Olayinka says you can simply use a regular spoon to stir. 
Serve and enjoy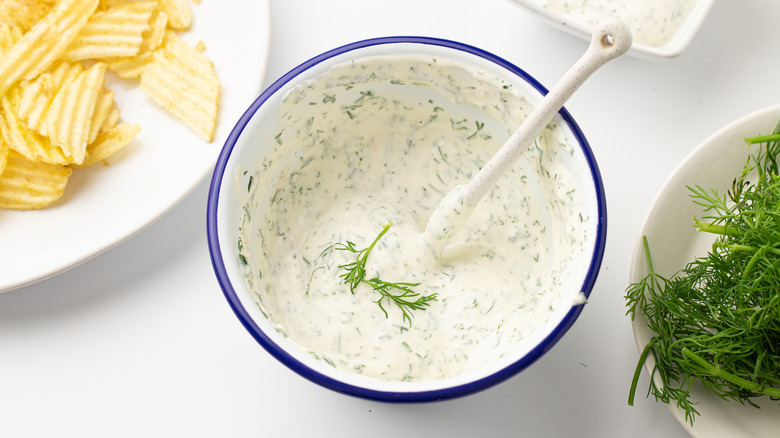 Susan Olayinka/Mashed
Once you mix the dip together, you can transfer it to another bowl to serve, or you can keep things casual and serve it in the same bowl you used to mix it. There are plenty of items that go well with this dip, including potato chips, carrots, celery, and it even works as an addition to a sandwich. Olayinka also shares a few other serving suggestions that are sure to knock your socks off. "Salad dressing, over red meat, dip for chips or raw veggies," she notes. We hope you enjoyed this perfect dip as much as we did!
Dill Onion Dip Recipe
Perfect for a snack or appetizer at a party, this dill onion dip comes together easily and is packed with flavor.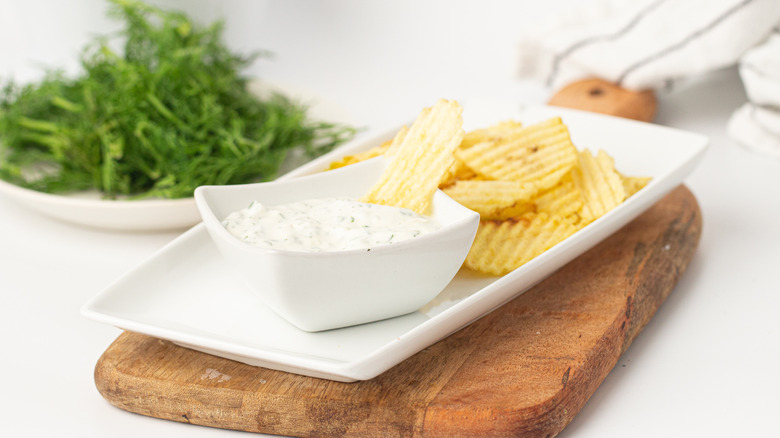 Ingredients
1 ounce fresh dill
¾ cup mayo
½ cup sour cream
2 tablespoons dried parsley
¼ teaspoon onion powder
⅛ teaspoon garlic powder
½ teaspoon salt
Directions
Begin the recipe by taking the dill off of the stalks.
Get a chopping board and finely chop the dill, then set it aside.
Get a small mixing bowl and add in the mayonnaise, sour cream, dried parsley, onion powder, garlic powder, salt, and finely chopped dill.
Mix everything together, then serve the dip with chips and vegetables.
Nutrition
| | |
| --- | --- |
| Calories per Serving | 723 |
| Total Fat | 78.3 g |
| Saturated Fat | 16.6 g |
| Trans Fat | 0.0 g |
| Cholesterol | 63.7 mg |
| | |
| --- | --- |
| Total Carbohydrates | 3.8 g |
| Dietary Fiber | 0.8 g |
| Total Sugars | 1.8 g |
| Sodium | 543.1 mg |
| Protein | 2.2 g |