TikTok Is Loving This Dancing Whataburger Drive-Thru Employee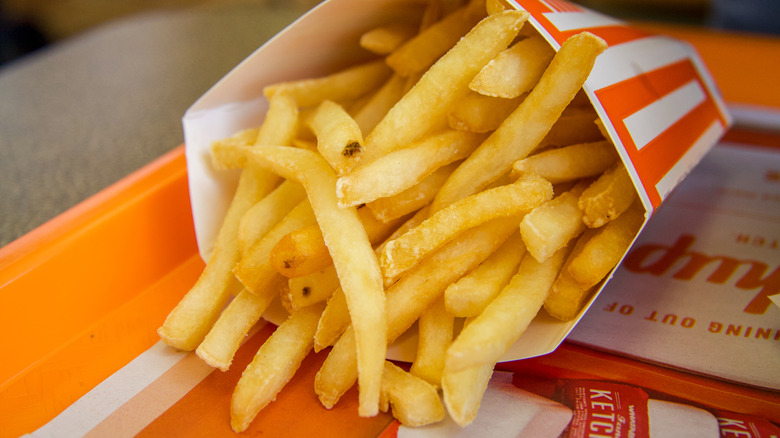 Anastasiia Shadrina/Shutterstock
You've heard of making lemonade out of lemons. Well, one Whataburger employee saw an opportunity to "break it down" at her often backbreaking job, and the world is here for it.
A TikTok video posted earlier in December by the whimsically named user s_carr_go shows an exuberant drive-thru employee dancing to the tune of "We Are Family." Captioned, "Whataburger is the finest," the video has more than 222,000 likes, and is just about the best advertising Whatabuger could (not) pay for. After all, who doesn't want to buy a burger from a person like this? So, if you're local to a Dallas, Texas location, pull up to the drive-through and crank some tunes. Maybe you'll get lucky and come face-to-face with this energetic employee.
During a seemingly never-ending pandemic that kept millions of people (once again) from celebrating the holidays with their loved ones, this video has brought a lot of much-needed joy. This joy is absolutely reflected in the TikTok comments section.
Reaction to dancing Whataburger employee
Whataburger has long been known for its delicious, customizable burger menu, as well as other viral TikToks. Now, it's also known for sweet dance moves. "This is what the world needs," said user Carsonkm. Fellow commentator Lisa Abraham940 said, "Give this woman a raise."
User itsme04080 likely wishes that more employees displayed such spirit, noting that it's the, "Best customer service I've ever seen." user9474145239646 would like to request, "a large order of her energy!" Something tells us that if Whataburger could bottle and sell her animated personality, they definitely would.
The featured employee/dancer, whose name was revealed in the comment thread to be Monica, is thrilled by the worldwide reaction. "Thank you everyone for all the love. I'm so grateful to share my joy and happiness with the world," she said under her handle, Ms. Momo. To which the original poster S. Carr replied, "Your love and joy are contagious, Monica." That's a kind of contagiousness we can get behind!