Arby's Just Brought Back This Popular Fish Sandwich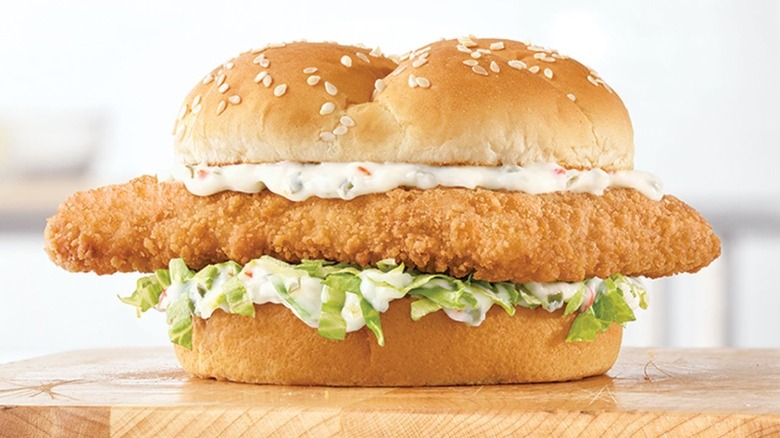 Arby's
Arby's aims to knock it out of the park each year with its Crispy Fish Sandwich. A review by Fast Food Menu Prices, rated the item highly in terms of texture, taste, and value and said the sandwich served as a solid fast food meat alternative. The fish has been touted as "crispy-fried to golden-brown perfection" and came with a price tag of $2.99 last year, per Inspire Brands.
The fish sandwich has once again returned and it looks pretty similar to previous incarnations of the meal. Arby's website gives a full breakdown, and the latest Crispy Fish Sandwich comes with everything fans have probably become familiar with. Diners can expect the same fried Alaskan Pollock fillet, shredded iceberg lettuce, tartar sauce, and a sesame seed bun. One sandwich comes with 570 calories, 25 grams of fat, 990 milligrams of sodium, 9 grams of sugar, and 20 grams of protein. If this sandwich sounds tempting, get ready to enjoy it whenever the mood strikes ... as long as it series while the iron is hot.
The return of an Arby's staple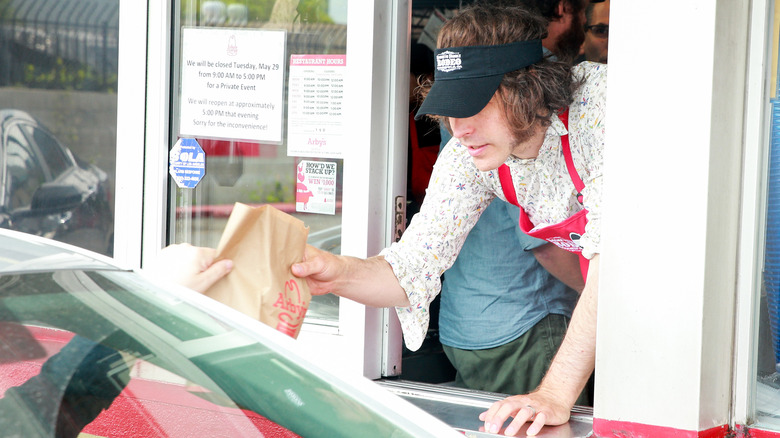 Rich Fury/Getty Images
Anyone who wants to grab the Crispy Fish Sandwich can do so for a limited time. According to Brand Eating, based on previous releases, the meal should hit menus between late December and early January and generally will remain on menus until mid-to-late April to correspond with Lent, when many Christians are known to up their fish intake. While the price might depend on your location, the sandwich by itself could set you back by $4.19. You can also get it as part of Arby's two for $6 Everyday Value mix-and-match deal.
If you've never tried the item before, a three-person review on YouTube by The Trips concluded that despite the simple ingredients, the Crispy Fish Sandwich is worth making a stop at Arby's. It even got a thumbs-up from a reviewer who doesn't typically like fish. And If you have loved the Crispy Fish Sandwich in the past, get ready to enjoy it once again because Arby's not only has the meats but the meat alternatives.