Arby's New Sandwich Includes 3 Different Meats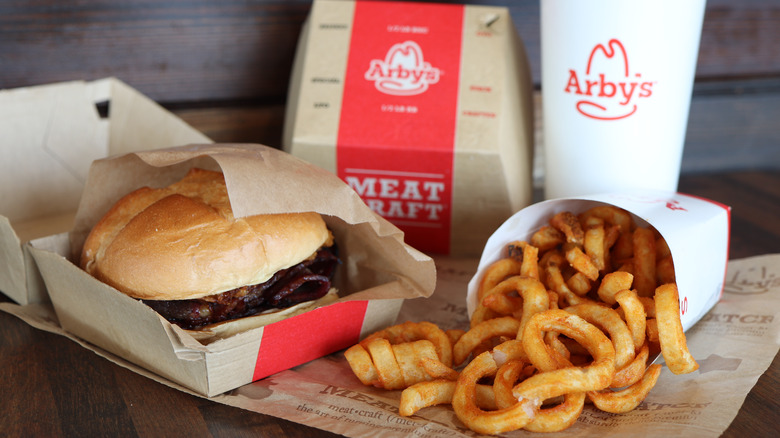 Deutschlandreform/Shutterstock
If you enjoy large, meat-based sandwiches and deep-fried sides, you'll want to head over to your local Arby's. This fast food chain with the famous slogan, "We have the meats," is revered for its roast beef sandwiches, but you can find a bounty of other meat-heavy choices on the menu.
Brothers Leroy and Forrest Raffell founded Arby's in 1964 and per Eat This, Not That!, the chain was originally set to be an upscale dining establishment. Although that dream didn't take off, the chain has seen massive success through the years and now has over 3400 locations worldwide, making it the second-largest sandwich-based restaurant globally (per Arby's). 
Through the years, the fast food chain has continued to keep its menu items enticing — all while maintaining its standard pricing. You'll find sandwiches including roast beef, corned beef, roast turkey, and crispy chicken, as well as novelty and limited-menu items, like its controversial
Arby's introduces the Brisket Bacon N' Beef Dip sandwich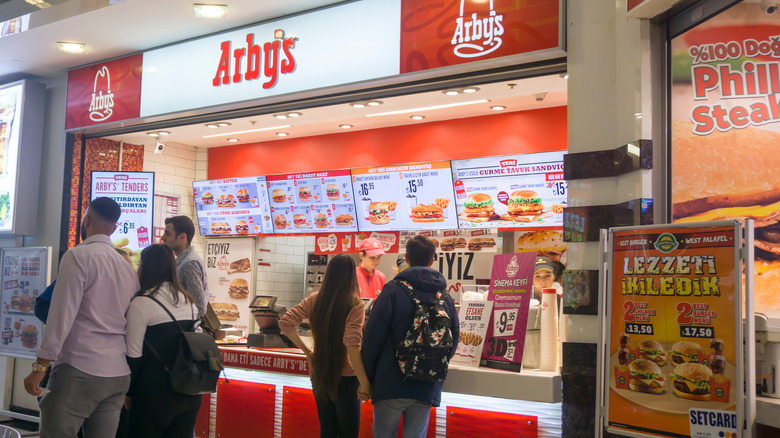 Akin Ozcan/Shutterstock
Arby's has launched a limited-time-only sandwich packed with three different kinds of meat. The Brisket Bacon N' Beef Dip sandwich is a sub roll layered with smoky, sliced roast beef, smoked brisket, bacon strips, and melted Swiss cheese (via Chew boom). To complement the flavors of the sandwich, it's served with a side of au jus, which you can use for dipping or dousing. If you're a meat lover, chances are your mouth is watering over this delectable combination.
Like most of their sandwich options, you can make the Brisket Bacon N' Beef Dip into a meal, which includes a side of fries and a beverage. Before you head for the nearest Arby's, it's worth noting that this triple meat sandwich, per Chew boom, has an astounding 540 calories, 22 grams of fat, 51 grams of carbs, and 2550 milligrams of sodium.
If this sandwich is on your radar, make sure you get in line quickly because it's only offered for a limited time.