Aldi Fans Are Psyched For These Multi-Flavored Bonbons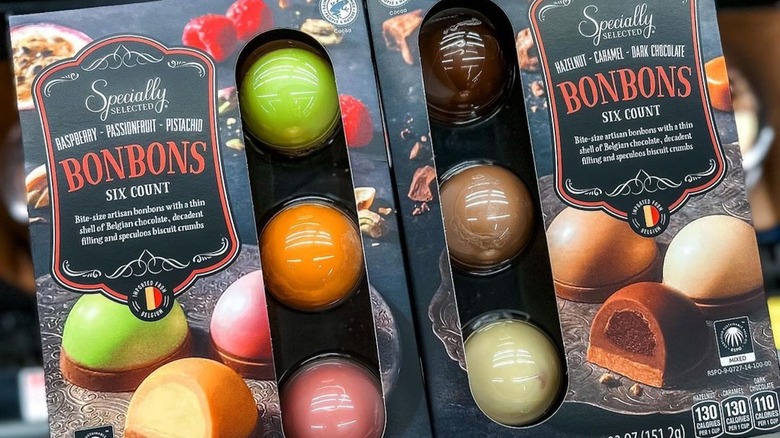 stockcreations/Shutterstock
The Aldi fan pages are blowing up, and there is only one bomb to blame: the bonbon bomb. Aldi fan accounts on Instagram like @aldifavoritefinds and @adventuresinaldi have been positively swooning this holiday season, with new treats like Aldi's new mini ice cream sandwiches keeping everyone's sugar levels high. The latest crowd-pleaser in the lineup? The humble yet delicious bonbon. Don't be fooled by non-bons (and certainly don't be taken in by a con-bon), these are the real deal, and you're going to want to get to Aldi before they're gone-bon.
The Oxford Companion to Sugar and Sweets, a veritable confectionary encyclopedia, says that the term "bonbon" probably originated in France, and was coined to describe small, fruity candies or sugar-covered almonds. Bonbon translates as "good good" in English, and these little candies are great great for anyone who wants a bite-sized sweet, as they come in as many shapes, flavors, and ingredients as the human mind can conceive. If @aldifavoritefinds' Instagram post is to be believed, these bonbons are imported from Belgium and come in two different packs: one has hazelnut, caramel, and dark chocolate flavors, and the other has raspberry, passionfruit, and pistachio.
Aldi's bonbons are the bomb dot com
Though every Aldi is different, and you should check your local store for product information and availability, @adventuresinaldi posted on Instagram that they found a "cute & fun" pack of Belgian bonbons in the Aldi Finds freezer section, so you'd be wise to begin your hunt there. Stay alert on your bonbon quest, and don't be disheartened if the tiny candies elude you. "These were due on shelves over a week ago," @aldifavoritefinds posted on Instagram, next to a picture of the treasured bonbons, "but I just found them tonight." At that particular Aldi branch, the bonbon boxes reflect Aldi's usual low prices, ringing in at just under a fiver each... but the return on your investment may be priceless.
"MUST. HAVE. THESE." one myopic follower of @adventuresinaldi commented on the bonbon photo. "omg I want to get the one with the passion fruit," said another, tagging a friend who is undoubtedly their first choice for a bonbon quest companion. If you, dear reader, also want to snag some of Aldi's multi-flavored bonbons, you better throw on some Sean Johns and get your game face on-bon — the popularity of these little candies indicate that they may not last long-bon.