Aldi Shoppers Can't Wait To Try These Chocolate Quinoa Bites
Most shoppers wouldn't dream of combining quinoa and chocolate. Quinoa, an ancient seed that originated in the Andes, has a nutty taste that resembles an earthy version of brown rice, per Intentional Hospitality. It has a fluffy texture when it gets prepared, so anyone expecting the crunch of Rice Krispies has another thing coming. However, someone at Aldi had the ingenious idea of combining this seed with chocolate to form a sweet snack, and so far, fans can't wait to swipe up these treats.
Instagrammer @aldifavoritefinds discovered these treats in addition to another notable offering: boxes of assorted bonbons. They posted a picture of the quinoa bites, writing "Finally found the BonBons and the Quinoa Bites! ... The quinoa bites come in coconut and hazelnut and are $3.49 each and delicious! I absolutely loved the coconut ones last year. Which of these treats will you be trying? Have you found these at your ALDI?" They also acknowledged that the sweets "were due on shelves over a week ago but I just found them tonight." Fans couldn't hold back their excitement!
Aldi shoppers love the quinoa bites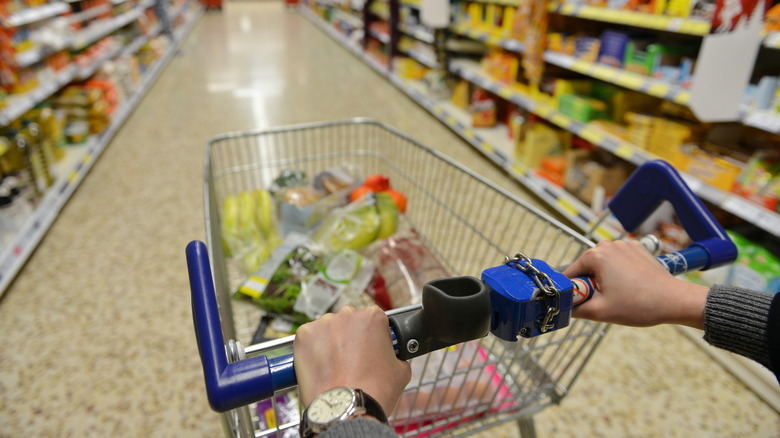 1000 Words/Shutterstock
Some shoppers felt tempted by the combination of quinoa and chocolate. "I nvr had the quinoa bites but it doesnt hurt to try them," one curious Instagram commenter said. Others celebrated the snacks, replying with, "Ooooohhh my those quinoa bites are my fave!!! I was at @aldiusa today and didn't see them!!" and "we should try the quinoa bites!" According to the post, the pictured products cost $3.49 per bag and come in two flavors: coconut and hazelnut.
Next time you hit up an Aldi, keep your eyes peeled for this quinoa chocolate snack and see if it can live up to Instagram's expectations. With any luck, you might just discover a great new blend of flavors that seemed unlikely to work together. At the very least, you can discover what quinoa tastes like when paired with chocolate and decide if the snack lives up to the hype.