Krispy Kreme Fans Won't Want To Miss This New Year's Deal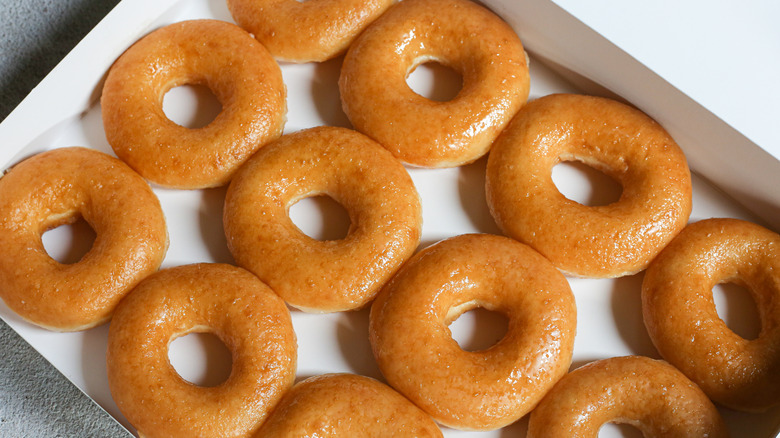 Pong Stocker/Shutterstock
When it comes to the doughnut-verse, Krispy Kreme's sweet treats undeniably standout above the rest. Founded in Winston-Salem, North Carolina in 1937, Krispy Kreme has been luring customers to their stores with their melt-in-your mouth doughnuts and their iconic neon red hot light for 84 years (via Wide Open Eats). In fact, this beloved chain has such a devoted cult following that some can (and do) order Krispy Kreme wedding cakes, which double as extraordinary doughnut towers (via Mental Floss). Because nothing screams celebration quite like a steeple of deep fried deliciousness — right?
Whether you like your circles of happiness coated in chocolate and sprinkles or filled with a rich creamy center, Krispy Kreme truly has it all. But nothing beats sinking your teeth into one of their original glazed doughnuts. This Southern-based chain nailed down their no-frills glazed doughnut in the 30s, and to this day, the recipe remains the exact same. 
A secret tip? Showing up with a dozen of these glazed goodies is guaranteed to win you one (or 12) new friends. That being said, if you are attending a New Year's gathering this year, whether it's with friends or at home with your family, we've got some good news for you. Hint hint: It involves two dozen boxes of Krispy Kreme original glazed doughnuts.
Krispy Kreme is helping the holidays taste extra sweet
It's no secret that the holidays have been a tough time for many individuals across the country. According to Time, almost 1,800 flights were cancelled on the weekend of Christmas, meaning that many Americans were not able to celebrate the holidays with their loved ones. As people reel from having their Christmas plans upended for the second year in a row, Krispy Kreme is helping make the last week of December a little sweeter with a delicious new deal. 
According to a press release from Krispy Kreme, this supreme doughnut-chain is planning to "Raise a Glazed" to 2022 by offering a discount on two dozen original glazed doughnuts. Between December 30, 2021 and January 2, 2022, customers can purchase two dozen glazed doughnuts for just $12. For all you doughnut aficionados out there, take note: Customers can make the most of this sweet deal once per day for all four days, if they so please. 
The "Raise a Glazed" offer will be available at participating locations across the country either online, in drive-thrus, or in Krispy Kreme stores. Who said you need to go out to have a rockin' New Year's Eve? Not Krispy Kreme. Enjoy the midnight countdown from the comfort of your own home with a bottle of bubbly and two dozen doughnuts. It truly doesn't get much sweeter than that.