Trader Joe's Fans Are Loving This Raclette Cheese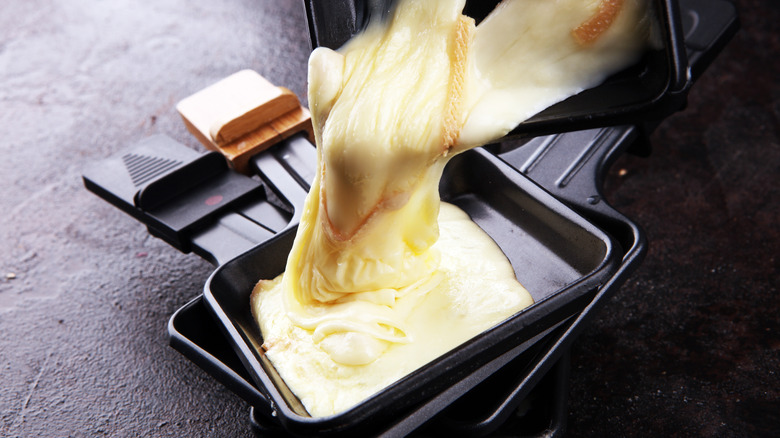 beats1/Shutterstock
If anyone in the world can claim to be an authority on cheese, it's the Swiss, who literally have a cheese named after them. Switzerland has long had a vibrant and sustainable dairy industry (via The Guardian), which has resulted in the creation of many a delicious option, from the lacy Emmenthal cheese more commonly known as "Swiss" (per The Spruce Eats) to nutty Gruyère to mild Tilsit (via Taste Atlas).
Another cheese beloved by the Swiss is raclette, a melty cow's milk variety that is used to make the famous dish of the same name. Raclette means "to scrape" in French, and the dish, which is also very popular in nearby France, is made by melting a bunch of this type of cheese on a special pan and then scraping it onto a variety of roasted potatoes, pickled vegetables, and cured meats (via Emmi). 
In some great news, according to the Instagram Trader Joe's fan account @traderjoesfoodreviews, the beloved grocery chain is currently offering a sliced version of this specialty cheese that's ready to melt and serve — and shoppers seem to be loving it already!
Trader Joe's fans are chowing down on this melted cheese
If you've ever enjoyed the Swiss dish known as raclette, then you might be pumped to find out that Trader Joe's sells a conveniently sliced version of the cheese used to make it. The new item was recently called out by @traderjoesfoodreviews, who enjoyed the flavor but commented that they found the cheese didn't stay very melty once cooled. "It was packed full of flavor and the rind had even more of the salty flavor to it," their caption read. "While it melted easily, it didn't hold its heat well and didn't stay melty over my potatoes like I had hoped."
Commenters on the post were for the most part super enthused by the new cheese, saying, "It's amazing on pickles, bread, pears, apples!" and another person said, "Delish in an omelette." Meanwhile, a few Instagram users suggested that the original poster should purchase a special raclette pan in order to be able to enjoy the cheese at its hot, melty best. "You should invest in a raclette machine," wrote one follower. "They aren't very expensive and the hot plates will keep the cheese melty, especially on potatoes." Hot, melty cheese and potatoes? Sign us up!