Padma Lakshmi Says These Candied Nuts Pair Perfectly With Champagne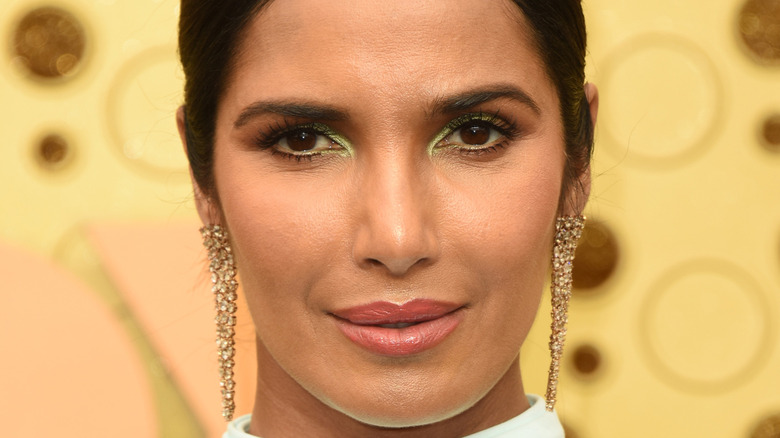 Kathy Hutchins/Shutterstock
With the new year right around the corner, the time has come to stock up on party refreshments and no celebration comes complete without the right champagne. According to Town & Country, anyone looking to ring in the New Year in style should try to snag a bottle of Moët & Chandon Impérial Brut, Dom Pérignon P2 2003, or a Veuve Clicquot La Grande Dame among others. Once you have your Champagne picked out for the evening, you now have to find the right snack to accompany your bubbly.
Luckily, Padma Lakshmi has a nut recommendation that can help you and your guests celebrate in style. Over on Twitter, Lakshmi tweeted, "I made Spiced Candied Pecans! These nuts are sweet, spicy, crunchy, & go perfectly with an icy glass of Champagne. This recipe is from Tangy, Tart, Hot & Sweet, but that's for one cup so I ALWAYS double it. Hope you enjoy! Happy holidays!" She also posted a video demonstrating how to make spiced candied pecans using said nuts, maple syrup, salt, and cayenne powder. She demonstrated how to mix everything together, bake the coated nuts, and the best ways to let them cool. Here's what makes these the perfect nuts for any holiday.
The perfect nuts for the holidays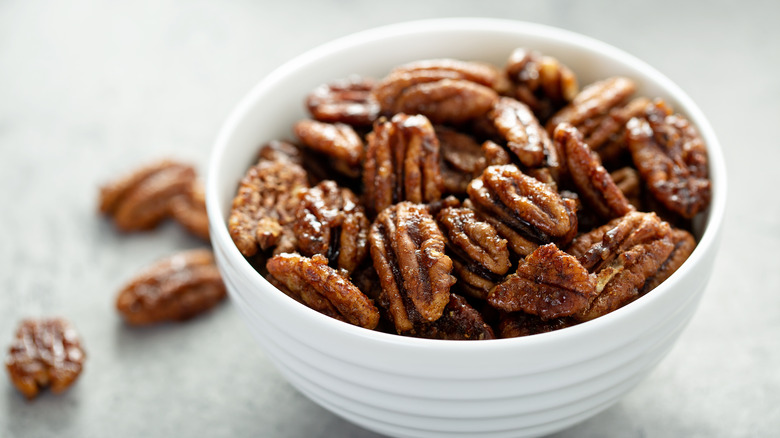 Elena Veselova/Shutterstock
Candied pecans have won diners over for years and a ton of recipes for these nuts have popped up online. Other chefs have blended the flavors of these nuts with cinnamon, brown sugar, vanilla extract, and orange zest, per Inspired Taste. Fans also jumped into the Twitter thread to share their favorite takes on this festive snack. Replies ranged from, "Wow! Can't believe our food likes match so much. My family is nuts about nuts, both sweet and salty but spicy hot it has to be. I mix the nuts in beaten egg white and leave for few mins, spices stick better says my niece. Festive and just right for the holidays.Mine are ready," and "Awesome, I used to make something similar with hua jiao and black vinegar for my Chinese friends."
Others simply responded with, "Hi Padma, my father and mine's favorite go to snack. I dont have to go to Trader Joes. Have a Happy and Healthy New Year." If you need a finger food for your New Year's celebrations, give these candied nuts a shot and see if they can live up to the hype.