The Worst Starbucks Frappuccino According To 32% Of People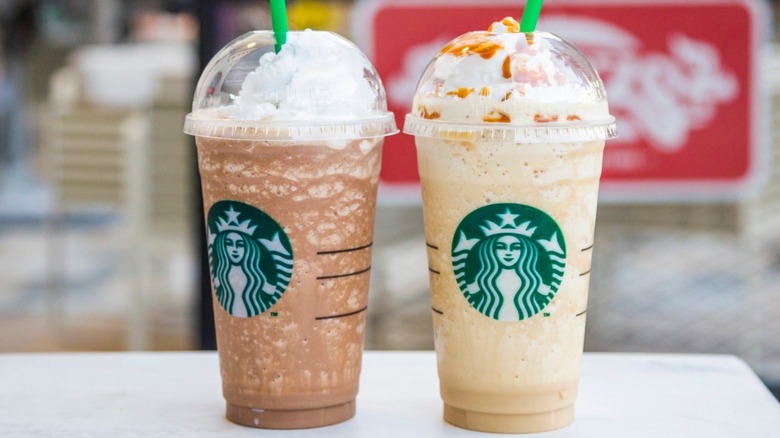 xalien/Shutterstock
There are drinks you can get at Starbucks, and then there are drinks you can only get at Starbucks. One of the chain's most iconic — and most ordered — beverages is the Frappuccino. If you've never had one, the best way to describe it is a frozen, sometimes coffee-based blended drink with a consistency somewhere between a smoothie and a milkshake. It was first created as a test by a Starbucks employee in 1995, and it quickly became a hit (via Taste of Home). While the first two flavors were simple — coffee and mocha — there are now thousands of Frappuccino flavors and customizations available, from year-round flavors like Caramel and Vanilla Bean Creme to seasonal selects like Strawberry Funnel Cake in the summer and Sugar Cookie in the winter.
With so many options on the menu, however, which one should you choose? It turns out that not all Frappuccinos are created equal. To find out which one you shouldn't order, Mashed polled more than 600 people across the country on their least favorite one. Here's the flavor that nearly a third of Starbucks customers named the worst Frappuccino, which seems to not be worth the nearly $5 price tag.
Customers aren't big fans of the Pumpkin Spice Frappuccino
While the Pumpkin Spice Latte is arguably Starbucks' most popular fall drink — the retailer sold more than 200 million PSLs during the first decade it existed, starting in 2003 (via Forbes) — the similar flavored Pumpkin Spice Frappuccino hasn't been as well-received by customers. In fact, according to Mashed's poll results, it's the worst Frappuccino on the Starbucks menu. More than 32% of respondents said it's their least favorite — 32.18% to be exact. "It's pretty cloying and sweet, good for the first 10 or so sips, but then might get a little excessive after that," a blogger at Never Turn Down A Cupcake said in their review. That said, there are plenty of people who say it's just as good as the PSL, so it's something you might consider ordering if you're a big fan of the flavor.
How did some of the other popular Frappuccinos stack up? Apple Crisp was dubbed the second worst flavor, receiving 25.12% of the votes. Third place was almost a tie between Espresso and White Chocolate Mocha, which received 12.81% and 11.99% of the votes, respectively. Caffe Vanilla was next, with 7.55% of people choosing it as their least favorite. Only 5.58% of people dislike the Mocha flavor the most and, in last place (aka the best option on the list), was the classic Caramel Frapp, earning just 4.76% of the votes.