Costco Shoppers Are Divided On These Chicken Burger Kits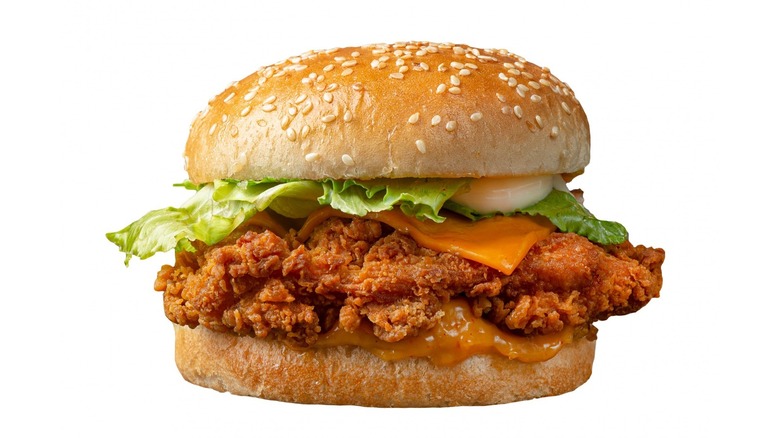 RSH_GRAPHICS/Shutterstock
You can't think of American cuisine without thinking of a nice juicy burger with all the fixings. We're pretty obsessed with patties — the United States Department of Agriculture reports that Americans consume some 50 billion burgers every year (via Yahoo) and a YouGov survey found that only 8% of people say they dislike burgers. There are hundreds (if not thousands) of ways to customize a burger, whether you prefer cheese, ketchup, mustard, grilled onions, or something else. You can even change up the patty itself. While plenty of people stick with basic beef, there's been a rise in burger alternatives, from plant-based burgers like the Impossible Burger to chicken burgers.
Speaking of the latter, if you want to make your own chicken burgers at home, Costco has an all-in-one kit you can buy that includes all the necessary ingredients. Seems like a great deal, right? However, it seems that this is one Costco find people can't agree on. A Reddit thread discussing the at-home chicken burger kits has shoppers arguing — here's why.
People don't agree on the price of the chicken burgers
A Redditor recently shared a photo of one of the Costco take-home build-your-own chicken burger kits. Their review? A 6 out of 10, saying that they didn't love the hot sauce as much as Frank's and they'd swap up out the ranch for Chick-fil-A sauce. However, the real sticking point has nothing to do with what's inside the pack but rather how much it costs. The original poster wasn't mad about it — saying "Feeding 4 people for $16.15 USD is a great deal!" — but a lot of other shoppers are of a different opinion. 
Many feel that the $20.69 price tag (which is in Canadian dollars) was a little too steep for what's included: four breaded chicken patties, four Brioche buns, ranch, hot sauce, and fries on the side. "Costco knows that many people think Costco automatically gives the best deals on everything," one commenter wrote. "So they take advantage of that and make products like this." Another person agreed, saying, "I stay away from their pre-made stuff for this reason." That said, you might not mind paying the price for convenience. "This seems a little expensive but is completely worth it in my eyes," the blogger at Costcuisine wrote in a review.