Instagram Is Swooning Over Guy Fieri's Birthday Shoutout For His Son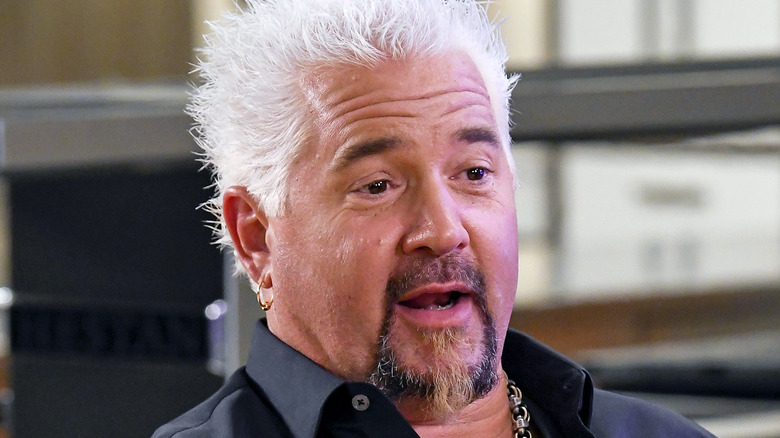 Steve Jennings/Getty Images
Many people know chef, restaurateur, and television personality Guy Fieri for his larger-than-life persona. Visually, it's a lot to take in — the frosted tips, the sunglasses on the back of his head, the flame-embellished outfits. His voice is also packed with personality, exclaiming his excitement over various dishes at high volumes with even higher levels of enthusiasm. However, though fans see one side of Fieri on television, from his many competition shows to the exploratory delight that is "Diners, Drive-Ins and Dives," there's a more private role that they don't see the celebrity chef take on too often — his role as a father.
Recently, Fieri gave fans a glimpse into that part of his world as he shared with his 1.8 million followers an adorable Instagram post celebrating his son Ryder's 16th birthday. The photo montage contained plenty of heartwarming images of Ryder and Fieri through the years, with Fieri tagging his son in the first image and singing his praises in the caption. The pictures show the duo on various adventures, from traversing stunning blue waters on a boat to hanging out on the set of "Guy's Grocery Games." They seemed to perfectly represent what Fieri said in the caption: Ryder "can do it all."
What Fieri fans are saying about this sweet father-son post
Fieri's family-centric Instagram post was a bit of a departure from his usual content, which frequently includes promotions about his various projects or silly clips that exemplify his on-screen persona. Nevertheless, fans couldn't get enough of this more intimate share. Many commenters took the opportunity to wish Ryder a happy birthday, with several fans adding a fist bump emoji as a tribute to Fieri's signature "knuckle sandwich." Seeing the milestone Ryder has reached, one fan was curious about whether he'd be given a special present to mark his 16th birthday: "Does this mean Ryder gets the Camaro?" 
Meanwhile, some fans got a bit more personal. One user opted to compliment Ryder's parents' parenting skills, writing, "It really seems as if you raised a compassionate intelligent child. Bravo to you and Lori for being exemplars of what kind people should be." Considering that Ryder surely celebrated his special day with friends and family, these social media comments represent just a few of his birthday wishes.