Who Is The New CEO Of KFC?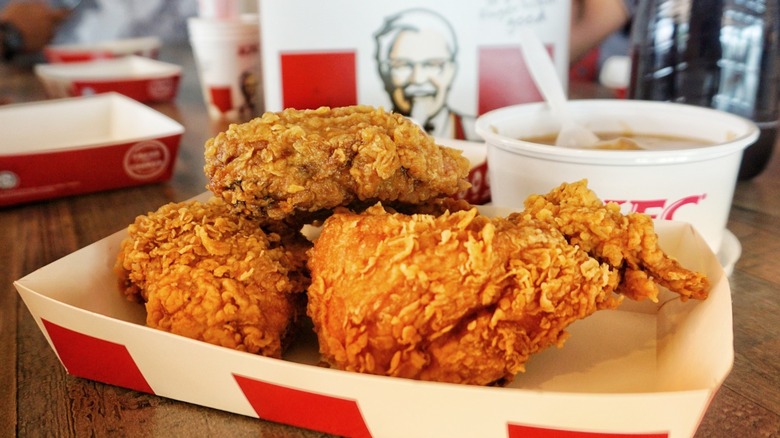 Credit: Sapadia Aku/Shutterstock
KFC has come a long way from the service station diner in Corbin, Kentucky, that served fried chicken to travelers who were in need of a fill-up (per The New Yorker). According to Forbes, in July 2020, KFC boasted a brand value of $8.3 billion, generated from the 22,6000 outlets it operates, 99% of them franchise-owned, in 135 countries. The face of Harland Sanders, who dropped out of school in the seventh grade, still graces the iconic red and white bucket sold by the company that has become the global leader in terms of chicken eateries. KFC opens a new franchise every six hours, according to a Yum! Brands press release (via Business Wire). It is the largest branch of Yum! Brands, Inc.'s food enterprises, which include Pizza Hut and Taco Bell.
Yum! has announced that KFC will now be led by a new CEO: Sabir Sami, who officially assumed the new role at the start of 2022. Sami's predecessor, Tony Lowings, will stay with the company to assist with the transition for the first quarter of 2022. Lowings was with KFC for more than 27 years and helmed the company since 2019. Sami steps in to the role of CEO from his previous position as Chief Operating Officer and Managing Director of KFC Asia. He has been with Yum! Since 2009, according to KFC Global.
New CEO, same chicken
Sabir Sami previously held management positions at Proctor & Gamble and Coca-Cola, per KFC Global. As a member of the Yum! team, he was involved with KFC's global efforts when he was GM of Yum! Canada. Born and raised in Pakistan, according to CX Global, he earned an MBA from the University of Karachi in 2009. His business career has led him to live and work in more than 10 different countries, including Singapore, Vietnam, Australia, and Canada, per an interview with IBA Alumni Magazine. The father of two and grandfather of one resides with his wife, Sara, in Toronto.
KFC, which, according to Contagious, launched its first-ever global campaign last year, has had some innovative responses to the worldwide pandemic and will continue to move forward under Sami's leadership. Yum! CEO David Gibbs said in a statement (via Business Wire) that "Sabir is an exceptional leader with deep expertise and knowledge of our business and has a strong, proven track record of growing KFC's physical and brand presence in markets around the world." Sami told IBA Alumni that the traits he values in a leader are "humility, compassion, passion, and intelligence," adding that "the best advice I ever received from a boss was 'Do the Right Thing, Always.'" AS KFC's secret blend of 11 herbs and spices is a heavily guarded trade secret, we're guessing that he will do the right thing (for the company) and keep that recipe under wraps.