Fans Are Divided Over This Viral Starbucks Boba Tea TikTok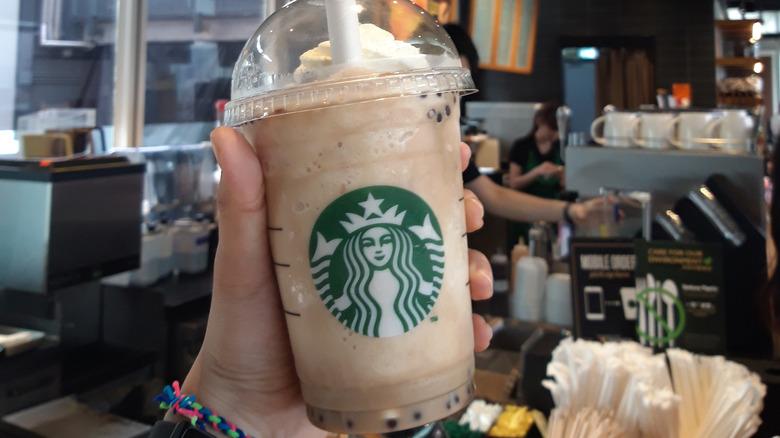 Fionylika/Shutterstock
Starbucks appears to be responding to its customers' demands by releasing a boba beverage. People have been creating their own secret menu versions of milk teas at the chain coffee shop when they get the itch for bubble tea (via Recipe Marker). Now, there might be an official drink for them to order. One TikTok user discovered that a Starbucks location was testing out a boba-like drink and shared a video about the experience. 
However, there are some things you should know about this new beverage before you get too excited, as the coffee chain's variation of boba might not be exactly what you expect. Most of us are familiar with boba made out of tapioca flour, which is derived from a plant named cassava (via Honest Food Talks). However, the drink offered at the location does not call the balls used in the drink by that name. In her TikTok video, the user showed a drink containing the boba-like ingredient, as well as the sign advertising them as "coffee popping pearls." In the video, she said that they were "awkward to drink" and tasted "oddly salty-sweet."
The product is getting mixed reactions
The TikTok user gave the coffee popping pearls another try and revealed the Palm Desert, California location where she ordered them in a follow-up TikTok video. Other people who had tried the new menu item agreed that it might not be worth the hype. One user commented, "I WENT YESTERDAY TO TRY THEM! My bf and I were not fans." However, many Starbucks and boba fanatics expressed that they hope this product will make it into stores nationwide. One TikToker joked about traveling to the location in the video and commented, "It's only three hours away BRB."
The arrival of this offering is reminiscent of when Dunkin' released their Popping Bubbles. The strawberry-flavored pearls were best enjoyed with the chain's Coconut Refreshers or lemonade, according to the brand's press release. The Starbucks coffee popping pearls are recommended to be enjoyed with an Iced Chai Tea Latte or the new signature drink called "In The Dark," which is made with cold brew and espresso (via VinePair).