The 14 Best Food Deals At Dollar Tree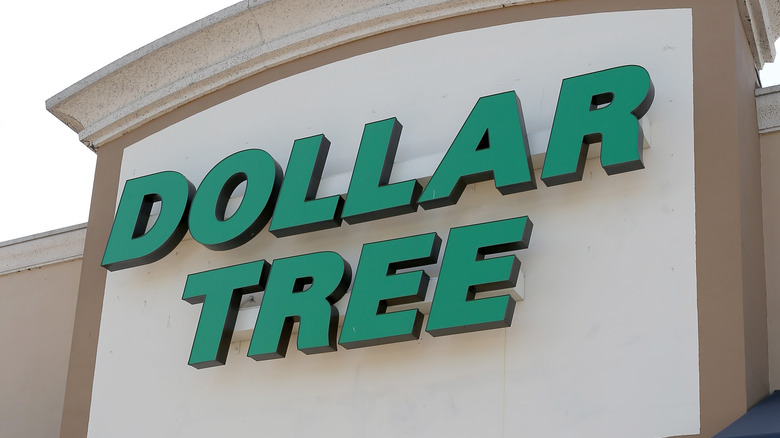 Joe Raedle/Getty Images
We may receive a commission on purchases made from links.
When it comes to saving money on food, Dollar Tree is one destination you don't want to miss. They stock a number of name-brand and private-label items that are a steal at the price point of just one dollar. Of course, Dollar Tree has been making waves in the news lately because of their upcoming price hike to $1.25, so you can expect all of these items to cost 25 cents more in the near future (via MarketWatch). Even at a slightly higher price, there are still tons of excellent deals to be had.
Be sure to double-check expiration dates to make sure your foods will last a while once you take them home, or at least so you'll know if you need to use them soon. According to WCPO, Dollar Tree carries some products that are close to or even past their expiration date. Sometimes these expiration dates come up quick, and there's no point in saving money on your food if you'll just end up tossing it. So be mindful of the details before you begin your scavenger hunt at Dollar Tree.
Keep in mind also that prices change all the time, and item cost and availability will vary by location. You may want to follow PC Mag's advice and use a price-checking app to ensure you're getting the best deal possible.
Nature Valley protein bars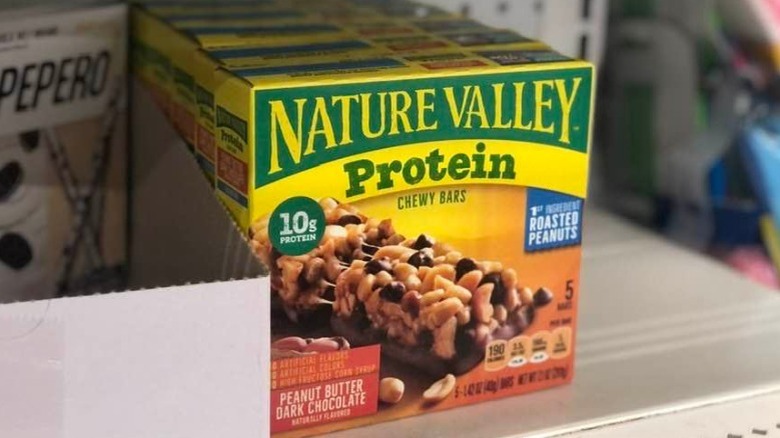 Cassie Thompson/Mashed
Most of us have grown to love Nature Valley protein bars because they are a perfect snack for days when you are hiking or just out and about running errands. Of course, most of us are also used to paying grocery store prices, meaning that generally, these will cost upwards of $4-5 per box at their suggested retail price (via Safeway). Even on sale, from what we've seen, you usually can't find these for less than $2. That makes them a great deal if you spot a box at your local Dollar Tree. You'll likely be paying only about half as much compared to what you would pay for the same item at a normal grocery store.
If you want to get a name-brand snack that is great for on-the-go days, Nature Valley bars from Dollar Tree are a great option. They tend to include 5 bars per box, so you'll be paying only about a quarter for each. Score!
Old El Paso World Taco Kit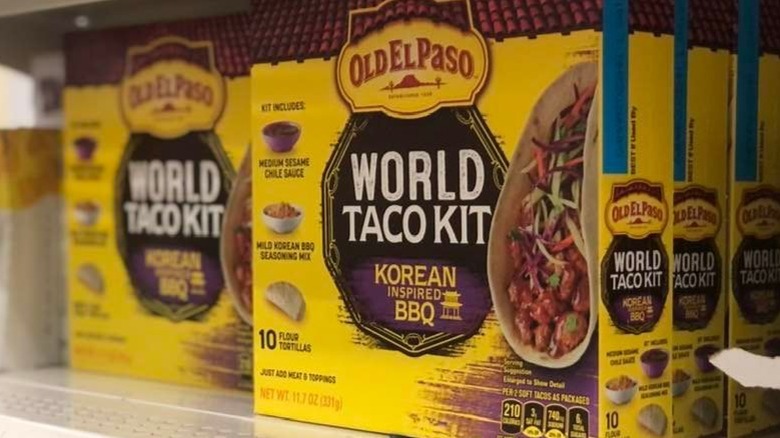 Cassie Thompson/Mashed
If you're a taco lover, you should check your local Dollar Tree to see if you can get your hands on one of these Old El Paso world taco kits. They generally sell for over $4 at retail price, so this is a great deal (via Walmart). The kits come with sauces and seasonings inspired by different cuisines, including Korean-inspired BBQ, Caribbean jerk, and Japanese teriyaki. This is a great way to introduce a little variety into your typical taco routine, while still having the name-brand Old El Paso tortillas that many of us love.
These kits are also a nice idea because they simplify the process of making tacos, giving you the seasoning, sauce, and tortillas in one convenient package. The ingredients are already paired and tested so that all the flavors come together nicely. It's an inexpensive way to spice up taco night and perhaps discover a new cuisine you might like to explore more.
Fiddle Faddle caramel popcorn with peanuts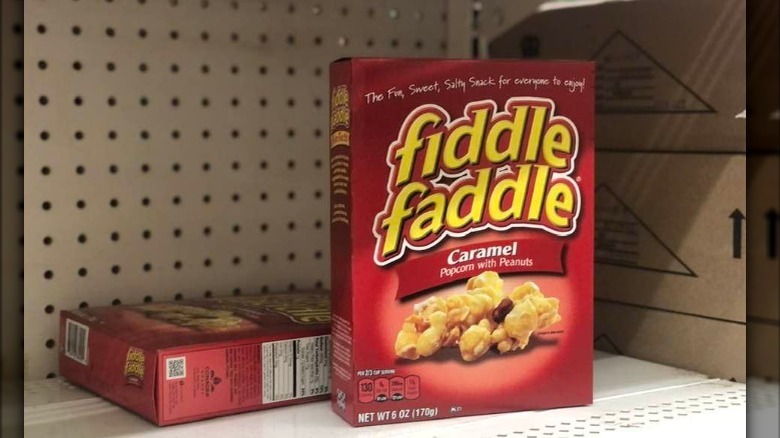 Cassie Thompson/Mashed
One tasty treat you have probably been eating since childhood is Fiddle Faddle popcorn. It comes in caramel flavor and butter toffee flavor, and your local Dollar Tree may carry either or both. Made from corn grown in the Midwest, according to their website, this beloved treat is right up there with Cracker Jack in the nostalgia department. It will also absolutely get stuck in your teeth, so keep a toothpick handy. It's worth it, of course.
Getting a box for about $1 is a great deal. Buying online will cost you significantly more for this product, with retailers like Amazon charging upwards of $4 per box. This is definitely one of those things that is best to buy in person, as it is significantly marked up for shipping. And since it can be a little hard to find at grocery stores, you're left with Dollar Tree locations to get the best deal on Fiddle Faddle.
Old Bay hot sauce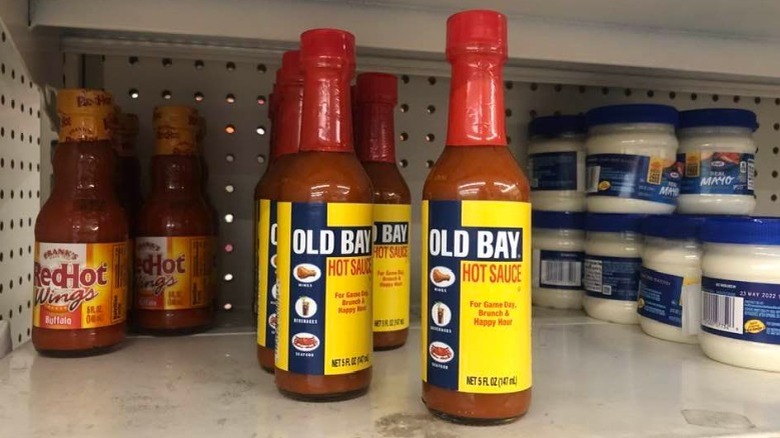 Cassie Thompson/Mashed
Marylanders are ridiculously proud of their cultural artifacts, which include the Maryland flag for one, and Old Bay for another. If you've ever had Old Bay seasoning, you'll know it's a delicious mix that works well on a number of foods, including seafood and french fries. If you want to step up your love for this distinctive blend of flavors, then you might want to head to your local Dollar Tree and see if you can find some Old Bay hot sauce.
According to USA Today, McCormick set the retail for this product at $3.49, but online it could cost double that, or significantly more. Essentially, you'll likely be saving a couple of dollars at least by purchasing this at Dollar Tree as opposed to another grocery store. Then you can impress all of your friends with this unique east coast hot sauce, and impress them again when you let them know you bought it for about a buck.
Olive Garden Italian salad dressing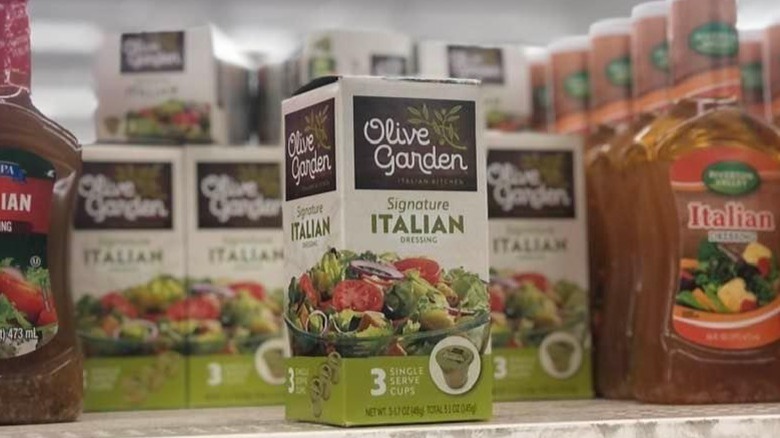 Cassie Thompson/Mashed
Those who love Olive Garden very likely also love their soup, salad, and breadsticks. You can take a part of this combination home by purchasing some of their signature Italian salad dressing. Although you can buy the dressing in a larger 16oz. container, this single-serve 1.7 oz. containers are great for picnics or taking your homemade salad to work. They can also be useful for portion control, as this is not a light dressing, according to the nutritional information provided by Olive Garden. It is totally delicious, though!
You could always try to imitate this dressing by making it yourself at home following our recipe, but it's definitely easier and less messy to just get the cups and get on with your day. The 16oz. bottle of Olive Garden Italian dressing retails for about $4 and is much easier to find than these single-serve cups. Price-wise, these are comparable and even cost a little less, but also give you the added convenience of being single-serve. When you can find them online, they'll usually cost quite a bit more than $1 (via Amazon).
Tevive teas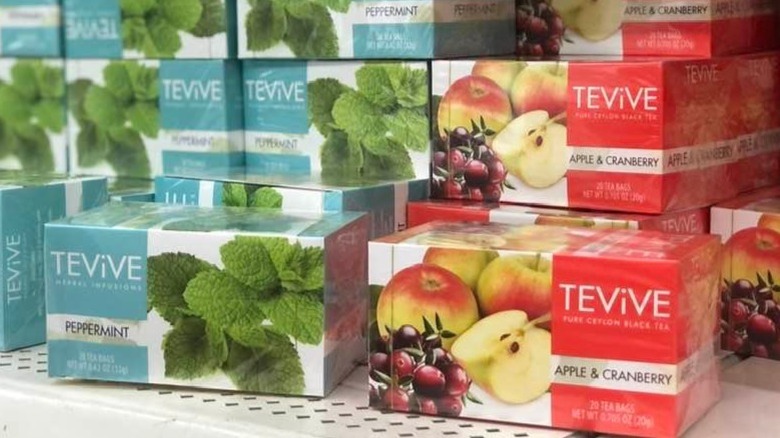 Cassie Thompson/Mashed
Well-known tea brands like Teavana and Twinings will usually charge at least $3 or $4 for a box of their teas (via Walmart). At Dollar Tree, you can find teas from Tevive that are great tasting and a nice alternative for a quality cup of tea at a steep discount. Aside from peppermint and apple cranberry flavors, Tevive also makes chamomile tea and others that may or may not be available depending on what your particular Dollar Tree location chooses to stock.
On RateTea, Tevive teas tend to get good ratings for their taste and quality. If you tend to go through a lot of tea, it may be worth it to give this brand a try and see if you can save some money on your tea habit. If you enjoy it, and aren't particularly concerned with being brand loyal, then it makes a lot of sense to make the switch to something less expensive. Your budget will thank you.
Italione bite-size vanilla wafers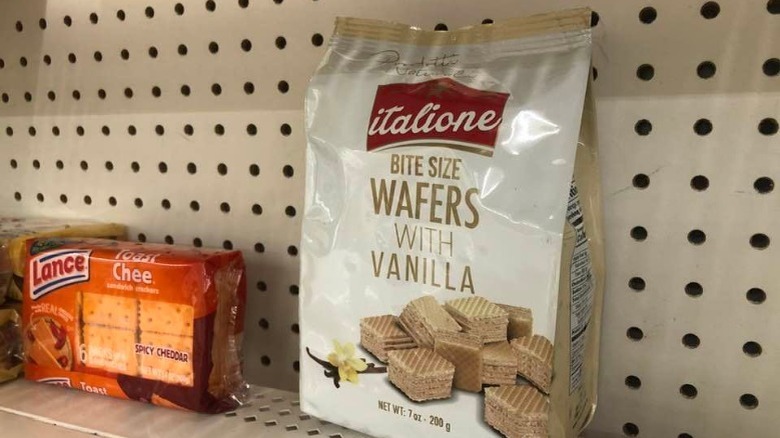 Cassie Thompson/Mashed
These wafers can go as high as $7 or $8 per bag on Amazon from sellers who inflate the cost. Another very similar product, Loacker Quadratini, sells for around $4 online. So, if you want to get a good deal on these, your best bet is to get them directly from Dollar Tree. Italione also offers products like cookie butter and other sweets that you maybe be able to find at your local Dollar Tree store. The wafers tend to get good reviews from customers on Amazon and Influenster, and compared to other wafer brands they definitely have a more premium look without costing more when you buy them from Dollar Tree.
They don't appear to be available in many other grocery stores, though it seems Family Dollar and Big Lots also stock this brand. If you want to get a great deal on sweet snack wafers, this is a good one to try.
Nature Valley granola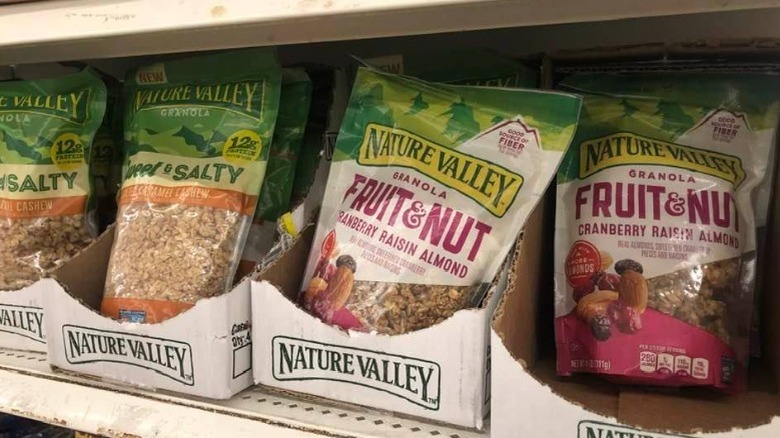 Cassie Thompson/Mashed
If you love acai bowls or just munching on some granola, keep an eye out for Nature Valley granola at Dollar Tree. As always, availability will vary, but considering that these bags retail for $3.89 at Target, you'd be getting a great deal by picking them up from Dollar Tree instead. The two options we found were the Fruit & Nut Strawberry Raisin Almond and the Sweet and Salty Caramel Cashew. Your local store may stock these or other flavors, but for about one dollar it seems like you may as well take your pick and see what you like.
Saving nearly $3 on one bag of granola may not seem like much, but it all adds up over time. Plus, this is a pretty healthy option, with each bag boasting about its fiber or protein content. With this brand, you don't have to worry too much that you're bringing home junk food. Again, be sure to check expiration dates so that you don't miss your window for freshness.
Dollar Tree cookies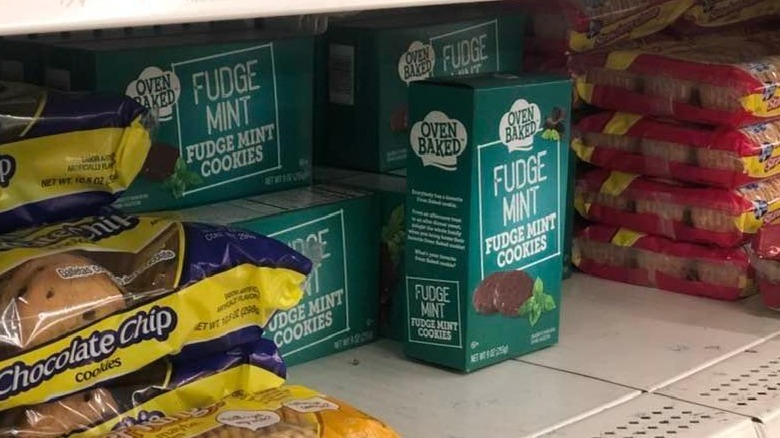 Cassie Thompson/Mashed
Some of the best food deals you can score at Dollar Tree are on cookies. They stock a number of flavors from private label brands like Oven Baked and Lil' Dutch Maid. According to The Budget Reviews, these Oven Baked fudge mint cookies taste almost identical to Girl Scout Thin Mints cookies, and they may even be made by the same company. They could also make a good substitute for Keebler Grasshopper cookies you can buy at most grocery stores. Since those boxes will cost you around $3-$4, if not more, that makes the Dollar Store mint cookies an awesome alternative that will save you a good amount of money (via Safeway).
Aside from the mint cookies, there are many other flavors to choose from, including chocolate chip, oatmeal cookies (both hard and soft), butter cookies, and even fudge-covered graham cookies. For the price, you'll be getting an impressively good package of cookies. Stock up next time you're having a party so you can feed your guests something tasty without spending too much. This is definitely one of the best deals at Dollar Tree, so be sure to swing through the cookie section on your next visit.
Healthy Choice soups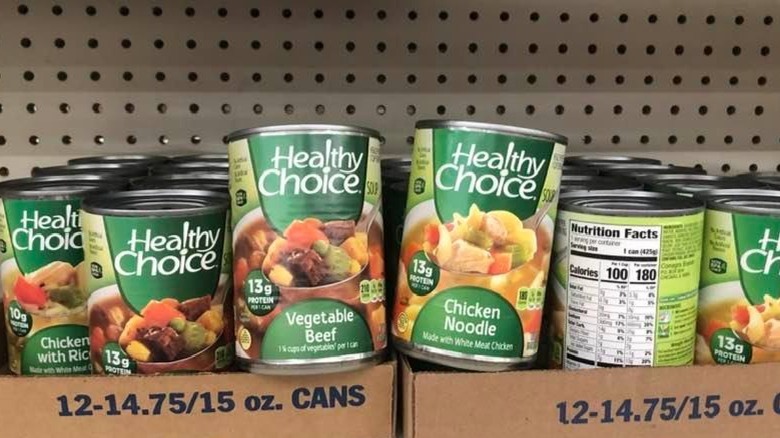 Cassie Thompson/Mashed
Healthy Choice soups are a great item to pick up if you see them at your local Dollar Tree. In other stores, they can to retail for $2-$3 per can, and in our experience, they are rarely found for less than $1.50 to $2 on sale (via Safeway). No matter what, you'll be saving money by purchasing these at Dollar Tree rather than at a grocery store. Plus, you don't have to wait for a sale to get a great price.
You can find a number of Healthy Choice soup flavors available, including vegetable beef, chicken noodle, and chicken with rice. Each can will tell you that these soups are great sources of protein, and are certainly one of the more nutritious options available at Dollar Tree. For the vegetarians, you can occasionally find Healthy Choice vegetable soup as well, which is a really tasty recipe and makes for an inexpensive meal.
When you see these, it's a great idea to stock up. Prices online tend to be much higher than in-store for heavy items like canned goods, so if you get the chance to haul a bunch of these home, your soup cabinet will be set for a while. This is a bargain you shouldn't miss.
Lil' Dutch Maid Saltine Crackers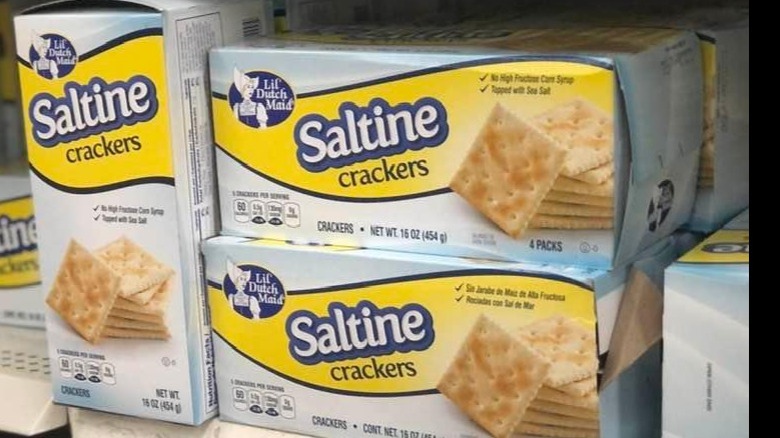 Cassie Thompson/Mashed
Once you've stocked up on soup, you'll probably be wanting to get some crackers as well. Saltine crackers generally aren't that expensive to begin with, but you can save about two dollars per box by opting for the Dollar Tree off-brand saltines from manufacturers like Lil' Dutch Maid. Compared with Nabisco's Premium brand saltine crackers which cost $3 at Target, these Lil' Dutch Maid saltines look and taste very similar, but cost quite a bit less.
Again, don't underestimate how quickly savings add up, even if you're saving only a dollar or two per item and it doesn't seem like much. Overall, it can have a big impact on your grocery budget, and if you're getting a comparable item, it's very sensible to make the change. If you're skeptical about the quality, why not pick up a box and see for yourself? You could even do a side-by-side comparison to decide whether the difference is noticeable enough to continue buying the more expensive crackers. You may even find that you prefer the ones from Dollar Tree.
Mum Mum Snax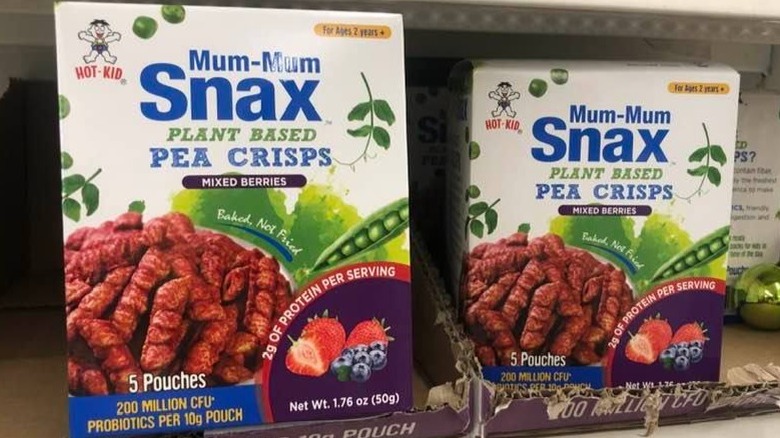 Cassie Thompson/Mashed
Sometimes you can find great snacks for your kids at Dollar Tree, like these baked pea-protein crisps. Marketed as a healthy snack option for young children, these Mum-Mum Snax come in flavors like mixed berries and apple cinnamon. They advertise 2g of protein per serving, and each box contains five individually wrapped pouches, making them perfect for packing into a lunchbox.
At Target, a box of Mum-Mum Snax retails for about $3 so you could be saving a couple of dollars per box by choosing to purchase these at Dollar Tree. Online you may be able to find these at a discount for about $2 from retailers like iHerb, but even so, you'd still be saving a good amount on each box by visiting the Dollar Tree to pick these up. If you have multiple children or go through a lot of snacks, it may be a good idea to stock up, and then you'd be saving significantly more overall. Any parent knows that the snack drawer doesn't stay full for long.
Lays Stax chips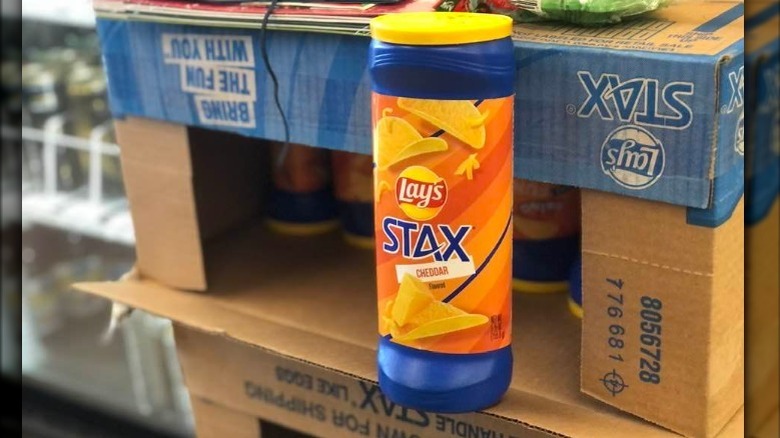 Cassie Thompson/Mashed
Dollar Tree is practically a holy grail destination for anyone who loves chips. Every Dollar Tree store carries chips for less than the retail price printed on the bag, and Lay's Stax chips are no exception to their rule of offering great deals on chips. With flavors like cheddar, sour cream and onion, and mesquite barbeque, plus their classic original, Lay's Stax gives you a lot of options to love. No matter which is your favorite, they'll all cost you less money when you buy them at the dollar store. It's rare for these chips to be on sale for less than you can buy them for at Dollar Tree, and most stores sell them for about $1.50 (via Target).
Compared with the even steeper prices at stop and shop locations like the convenience stores and gas stations, you'll be saving even more by buying these at Dollar Tree. From our experience, those places tend to charge closer to $3 for each container of Lay's Stax chips. The fact is, buying these from Dollar Tree as opposed to other stores and grocers will likely ensure you get the best price.
Supreme Tradition spices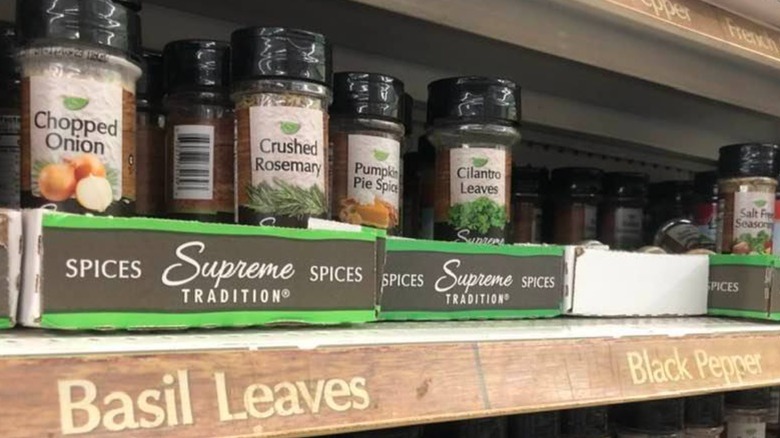 Cassie Thompson/Mashed
One last food staple you don't want to miss buying from Dollar Tree are their Supreme Tradition spices. Whether you need rosemary, cilantro, salt, pepper, powdered onion, or anything else for your spice rack, the Dollar Tree likely carries just what you need. They have a number of spice options that are comparable in quality to bigger brands but will only cost a fraction as much. Especially when you're in a pinch, pardon the pun, the spices they stock are a great option for putting the finishing touch on your dish without spending a lot.
Well-known brands like McCormick and Lawry's ten to charge at least $2-$3 for their spices. Plus, the spices at Dollar Tree tend to come in fairly large quantities, so you'll be set in the kitchen for a while with just the one purchase. In terms of quality, for most people there doesn't seem to be much of a difference. It's worth giving these a shot to see if you can save money by getting a deal on your spices with Dollar Tree from now on.