Lay's New Chips Are Layered For The Perfect Bite Size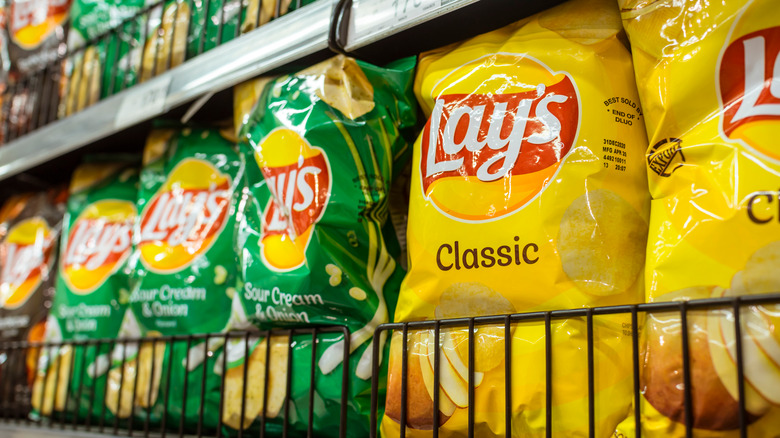 MDV Edwards/Shutterstock
If you are one of the many people who prefer savory snacks over sweet ones, nothing beats curling up on the couch and ripping open a bag of potato chips. Salty, flavorful, and compulsively delicious, experiencing that first crunchy bite is a feeling that can't be beat. Let's face it, there's a reason you can't have just one (unless you're Jennifer Aniston, of course). From Cheetos to Doritos to Pringles to Fritos, the world is truly your oyster when it comes to these salty snacks. In fact, more often then not, entire grocery store aisles will be dedicated to just chips, chips, and more chips. 
Though there are countless potato chip options out there, Lay's is undeniably the king of this realm. What other chip brand has a worldwide presence and over 200 different flavors? Whether you're craving a more traditional flavor like Salt & Vinegar, or you're in the mood to experiment with an out-the-box variety like Cappuccino or Biscuits & Gravy, Lay's truly has it all (via Spoon University). Now, there's even more Lay's to choose from. According to Stockhouse, the brand recently debuted a new line of chips unlike anything you've seen (or tasted) before.
Lay's Layers are a groundbreaking new way of snacking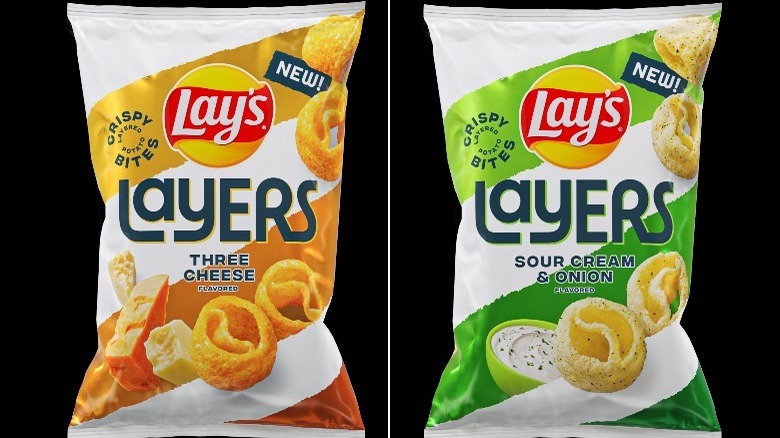 Lay's
Salty fiends, rejoice! Rather than introducing yet another new flavor to its already vast selection, Lay's is mixing things up by unveiling a new addition to the potato chip-verse (step aside, Stax). According to Stockhouse, joining Lay's Baked and Lay's Kettle Cooked is a new variety known as Lay's Layers. These unique potato chips are circular, multi-layered, and supposedly offer a more flavorful experience than any other Lay's chip. The best part? These conveniently-sized chips can be easily consumed in a single bite. Thanks to Lay's Layers, we can say goodbye to pesky chip crumbs for good.
"Lay's fans are known for finding joy in the everyday — no matter what life throws their way — and this multi-faceted approach to life helped inspire Lay's Layers," Melissa Miranda, Frito-Lay North America's senior director of marketing, said in a press release (via Stockhouse). Lay's Layers is debuting in two classic and familiar flavors: Three Cheese and Sour Cream & Onion. Three Cheese features a blend of cheddar, parmesan, and gouda, while Sour Cream & Onion consists of the classic mix between the two flavors.
Potato chip lovers, welcome to a groundbreaking new way of snacking. If you're already itching to get your hands on a bag (or three) of these salty snacks, Lay's Layers will be available at retailers across the country starting in mid-January.