Here's What A Sober Bar Is And What To Expect If You Go To One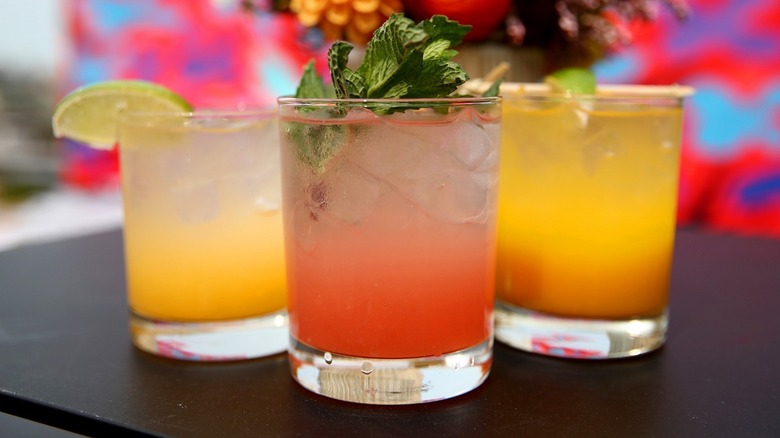 Cindy Ord/Getty
If you're kicking off 2022 by doing Dry January, you may feel at a loss when Friday night rolls around. If you used to head straight to the bar for happy hour, how are you going to fill your time now? Sure, some people will tell you to go for a nice and healthy hike, but it's January, it's dark, and it's cold, so, yeah, no. You could also go out to eat, but if you're afraid you'll be tempted by the cocktail menu or side-eyed by a disappointed server when you stick to soda, your options may be limited to places that dish up round-the-clock breakfast fare. Worry not: When you're in the mood for a more adult-friendly atmosphere minus the booze, you just might want to check out a sober bar.
Sober bars — which serve, you guessed it, non-alcoholic beverages only — are a fairly new phenomenon. Sans Bar in Austin was an early adopter that opened in 2017, per its website. More recent additions to the scene include Denver's Awake, which 5280 says opened last May; Unimpaired, which opened in Iowa City, Iowa, in November (via The Gazette); and Inmoxicated, which opened in Racine, Wisconsin, in December, per TMJ4. Sober bars still aren't found on every block, but they're growing in popularity as a safe space for people to socialize without feeling pressured to drink alcohol, explains USA Today.
Sober bars aren't necessarily for kids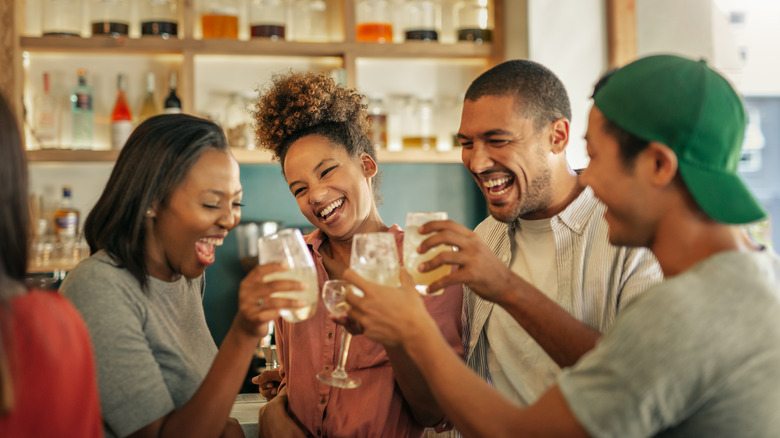 mavo/Shutterstock
Even though sober bars don't serve the types of beverages that require valid proof of identity, not all of these places cater to an all-ages clientele. At Inmoxicated, for example, you still need to be 21 or older to get through the door. The reason for this, as TMJ4 explains, is so the space can maintain the same kind of vibe that you'd get in a bar serving the hard stuff. As manager Jeff Gustin puts it, "What we want to do is bring that bar atmosphere, that bar style life that people know, to a non-alcoholic setting."
Some sober bars, however, may choose to cater to younger guests. Fountain Hills Recovery notes that all-ages sober bars do exist, and they also endorse such bars as a way for people in recovery from alcohol abuse to expand their social circles to include a diverse group of non-drinking friends. Still, since these establishments are few and far between, it's best to plan ahead; if you have people under 21 in your party and the bar's website doesn't explicitly state its age policy, it's best to give it a call before you go.
Sober bar menu options go way beyond Shirley Temples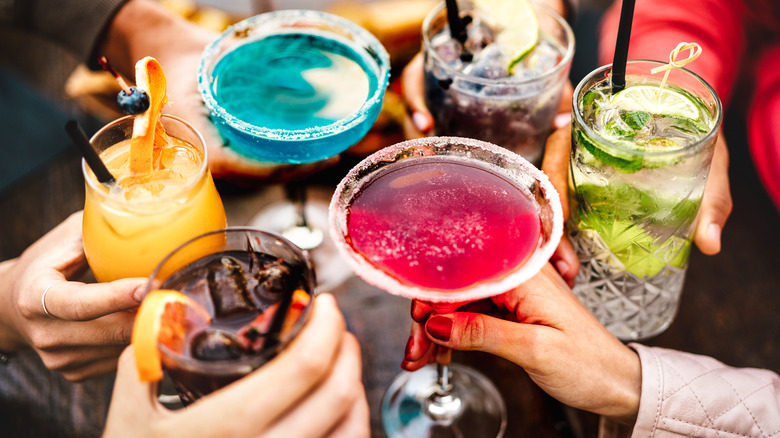 View Apart/Shutterstock
Not only do sober bars strive to provide a bar-like feel, complete with amenities such as dart boards, pool tables, air hockey, and live music, but they also have menus that go beyond the simple sodas that many restaurants offer non-drinkers. The Sobriety Collective notes that some of the creative options you might find at a sober bar include not mainstays like non-alcoholic beers and wines in addition to craft-brewed shrubs, switchels, artisanal sodas, and kombuchas. According to USA Today, venerable St. Louis dive bar Pop's Blue Moon has gone alcohol-free on Saturdays, but you can still catch a buzz off of what its Facebook page touts as "the most progressive cannabis drink menu in the world."
When it comes to mocktails, the menu at Denver's Awake is a real standout. The sober bar's hand-crafted creations are about as far from the standard "kiddie cocktails" that you could possibly imagine. One of Awake's winter drinks is Hestia's Dream Draught, made with hemp-infused Aplos (a non-alcoholic spirit) and Kin Euphorics Dream Light mixed with oat milk and flavored with chocolate and peppermint. Another intriguing offering is the Blood Moon Solstice, which contains the booze-free bitter aperitif Ghia, lime, mango, vanilla, cayenne, and an alcohol-free red wine float. These are certainly adult beverages in every sense despite the fact that they are 0% ABV.