Reddit Is Swooning Over This New Trader Joe's Location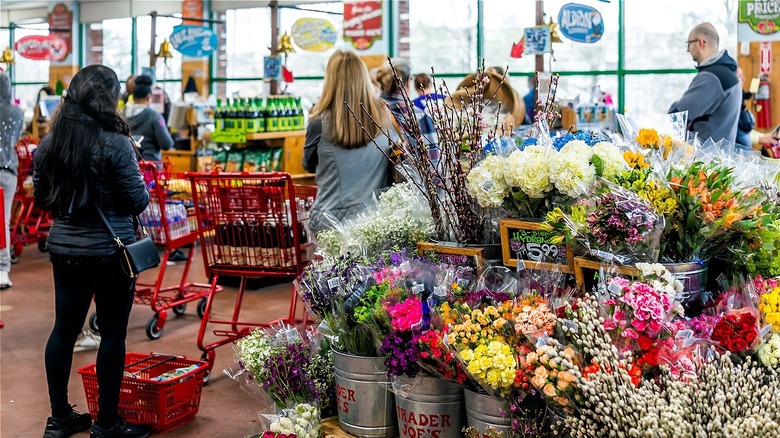 Kristi Blokhin/Shutterstock
If you're lucky enough to live near a Trader Joe's, you're well aware of just how great this national grocery retailer is. Whether you're shopping the vast selection of unique cheeses and snacks or perusing the frozen food aisle that everyone raves about (definitely don't miss out on the cauliflower gnocchi or chocolate-covered Gone Bananas!), it seems that there's something for everyone — and at affordable prices to boot. According to Eat This, Not That!, there are currently around 530 Trader Joe's locations across the country in 43 states.
While most of the stores may look like regular grocery stores, there are some that are a little more interesting in terms of their designs. Trader Joe's compiled a list of its top 10 "most intriguing" locations on their website, which includes stores like one in Houston, Texas, which is actually inside of an old movie theater, complete with the marquee. Another Trader Joe's location worth adding to the list is a recently opened spot on the Upper East Side of New York City that people can't stop talking about, mostly for its visual appeal.
It may be the prettiest Trader Joe's store
When you think of grocery stores — especially the budget-friendly Trader Joe's — you might not think of something really fancy. But that's exactly what the retailer's new Big Apple location could be described as. Of course, leave it to the Upper East Side to make even your average grocery store look like a million bucks — we could totally see even Carrie Bradshaw shopping here! 
A Redditor recently shared photos of the both the inside and outside of the new retail outlet, and it's simply gorgeous. According to commenters, it's where the old Food Emporium used to be, which explains the classy exterior. Open the doors, and you'll find a very spacious layout and, most impressively, a stunning domed ceiling, which one person says is a Gustavino vault (similar to what's under the Queensboro Bridge). Eater reports that the store is a roomy 20,000-square-feet and is open from 8 a.m. to 9 p.m. daily so there's plenty of time to gawk at it.
Those who have already been inside give it high marks. One person dubbed it a "10/10 shopping experience," while another said, "It was magical. There was a live band playing and they gave us free bags as we entered. Very high ceilings and lots of room to walk around."