White Castle Just Debuted 2 New Menu Items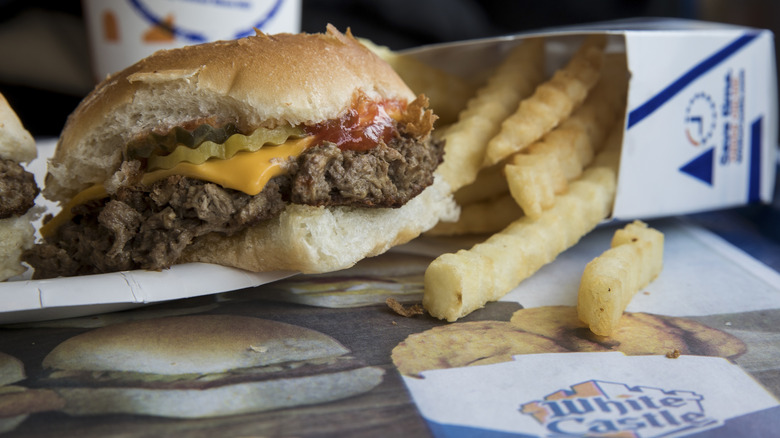 Drew Angerer/Getty Images
After 100 years, White Castle's tiny, craveable sliders are still going strong. Decades before you were able to frequent a Burger King or McDonald's, people hankering for a quick bite were chowing down on miniature burgers at this casual joint. And while there are numerous fast-food chains that revolve around the simple pairing of a beef patty and a bun, only White Castle can claim to be the chain that invented the fast-food hamburger, per the official White Castle website.
With 357 locations across the country, this Ohio-based brand has garnered a loyal cult following, per Rentech Digital. Not only have there been White Castle weddings, with one featuring a slider-shaped cake, but there's even a movie named after this historic burger chain. And let's not forget about the song "White Castle Blues," written by The Smithereens. 
If you, like many, are a longtime fan of this beloved chain, we've got some good news for you: White Castle is bringing back two fan-favorite items and introducing two new items to its menu, per a press release from the chain. Get ready to feel "the Crave!"
White Castle is gracing the new year with some old and new Sloppy Joe-inspired items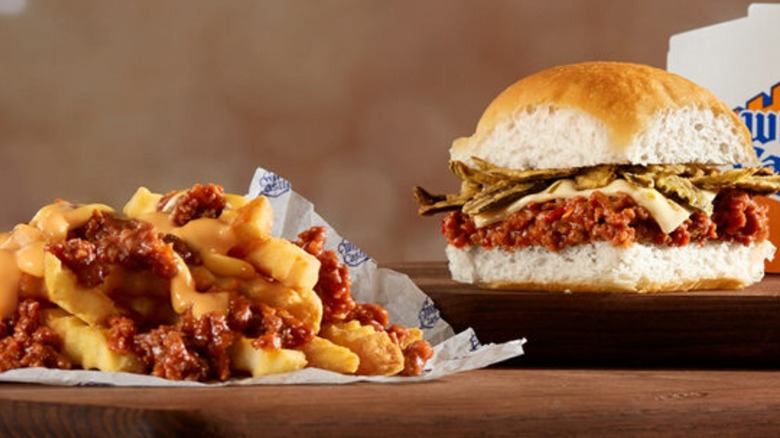 White Castle
Per a White Castle press release, White Castle is debuting two deliciously messy meals on its slider-centric menu. Partnering with White Castle on this endeavor is hip hop artist, Fat Joe. Remember those devoted White Castle fans we mentioned earlier? Fat Joe is one of them. The two menu items that White Castle is unveiling are the Spicy Joe Slider and Sloppy Fries. A regular Sloppy Joe with a tangy twist, the Spicy Joe Slider also features spicy jalapeño cheese along with some jalapeño crisps. Sticking with the Sloppy Joe theme, the Sloppy Fries feature the brand's crinkle-cut fries with a zesty Sloppy Joe sauce and melted cheese. Make sure to have your napkins at the ready before feasting on these new menu items.
To keep the good news coming, White Castle's Sloppy Joe Slider and Smoky Joe Slider are also making a comeback. If you aren't familiar with these fan-favorite menu items, the Sloppy Joe Slider is made with lean ground beef, onions, tomatoes, and bell peppers, combined with a sweet and spicy sauce. Similar to the Spicy Joe Slider, the Smoky Joe puts a spin on the traditional dish by adding smoked cheddar cheese and crispy onions on top. 
All Sloppy Joe menu items will be available through February 19 at participating White Castle locations.