Dunkin' Used To Be Owned By A Company In The UK
Arguably, Dunkin' is one of the most popular coffee chains in the Northeast. According to MyRecipes, people from this region of the country, particularly New England, get super passionate about their allegiance to the chain. This shouldn't come as a major surprise — the first Dunkin' was first opened in Quincy, Massachusetts, in 1950 (via Dunkin'). Since then the company has evolved to over 11,300 locations across the globe, and some menu items might look different depending on where you are in the world. In China, you can get a dried pork and seaweed doughnut, according to Taste of Home. This differs from what you can buy at a location in Peru, where you can get a doughnut filled with manjar blanco, a custard that tastes like dulce de leche.
The coffee chain's options appear rather different on the U.K.'s menu, as noted in a YouTube video from Food Insider. For example, the portion sizes for their drinks differ: There are four size options in the U.S. compared to the U.K.'s two. Although the menu is not exactly the same, the brand used to be owned by a British company.
Dunkin' was British for 16 years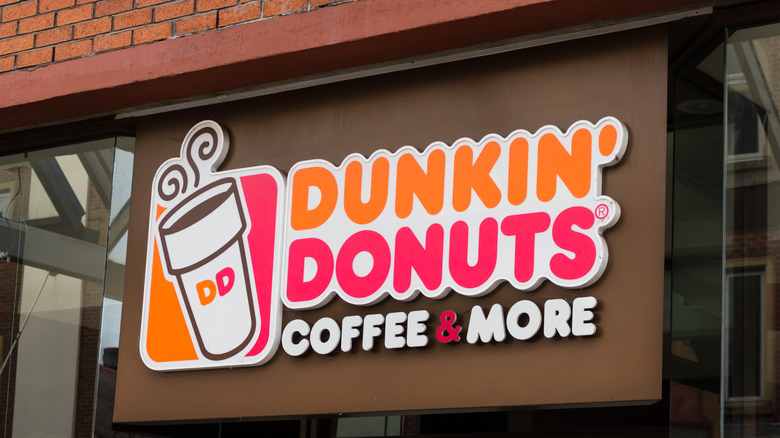 Dom J/Shutterstock
Interestingly, Dunkin' actually has some connections to the U.K. According to Eat This, Not That, the popular coffee chain was bought by Allied-Lyons, a British food and beverage company, in 1989. It remained under the food conglomerate's ownership for 16 years until the chain was sold to a group of three American equity firms in 2005. The sale was prompted when Allied-Lyons came under the control of the French company Pernod Ricard.
This turn in Dunkin' history is especially surprising because the coffee shop didn't successfully open locations in the U.K. until 2013, after a failed attempt in the mid-1990s (via Marketing Week). The chain did not attract British consumers at first, but according to The Guardian, doughnuts have become all the rage across the pond. In addition, British consumers are following the American trends and increasingly turn to iced espresso drinks and cold brew (via World Coffee Portal). While there might be some differences in the menu, we're sure Dunkin' iced coffee tastes just as delicious.