This 'Milkshake' Musician Is Now A Chef
popout/Shutterstock
We may receive a commission on purchases made from links.
"My milkshake brings all the boys to the yard" is one of the most nostalgia-inducing lyrics to anyone who was tuned into the radio and collecting CDs in the early 2000s. And let's not forget the iconic order-up counter bell chime that sends shivers down the listener's spine throughout the song. (You can hear it now, can't you?) "To me, a milkshake itself represents the essence of a woman. It's that thing that men are drawn to about women and what separates one sex from the other," Kelis said about the Grammy-nominated song that propelled her to the top of the charts nearly two decades ago (per Genius). The artist behind the tasty 2003 track has had quite a journey since her stardom began.
Kelis Rogers, who is most commonly known mononymously as Kelis, has a lot more than just R&B singer-songwriter listed on her resume. In fact, her passion for food led her to become a Le Cordon Bleu alumnus and chef — smack dab in the middle of her music career.
Kelis combines her love of music and food in creative ways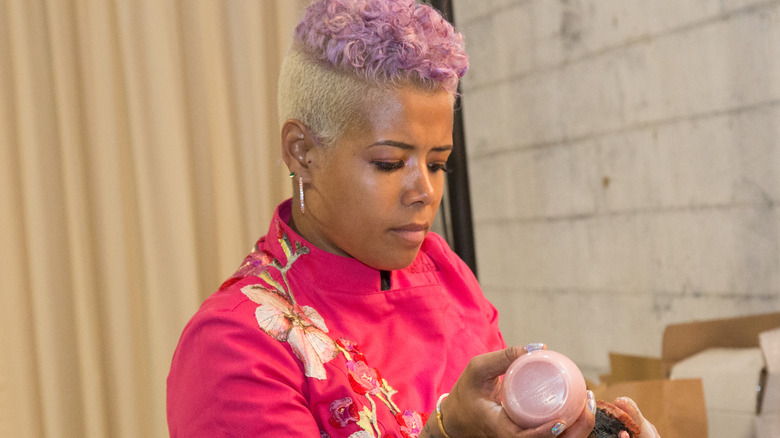 Brian Stukes/Getty Images
Born and raised in New York City, the "Bossy" singer is the daughter of a musician and chef. "I think music and food come from the same part of your brain and your heart. I do. I genuinely believe that," she told Tastemade. During her early touring days, she would travel around the world to perform. In these far-off places, she had the opportunity to try global cuisines and fell even more deeply in love with food. This likely explains why she has so intently infused the culinary arts into both her music and life. Two of her albums, "Tasty" and "Food," include songs entitled "Breakfast," "Jerk Ribs," "Biscuits N' Gravy," and, of course, "Milkshake" (per AllMusic).
Kelis took a hiatus from her music career in 2008 and enrolled in Le Cordon Bleu full-time to become a classically trained saucier. "Cooking school revolutionized everything in my life," she told The Guardian. Today, Kelis is the owner and operator of Bounty & Full, a lifestyle and sauce brand. She even hosts a virtual class on Skillshare, where she teaches course attendees how to make delectable sauces and express themselves via homemade meals. You can also snag a copy of her cookbook, "My Life on a Plate," and this past October she released "Midnight Snacks," her first single in seven years (via Rolling Stone). Damn, right!