The Sweet Reason Alex Guarnaschelli Gave A Shout-Out To Harold Moore's Coconut Cakes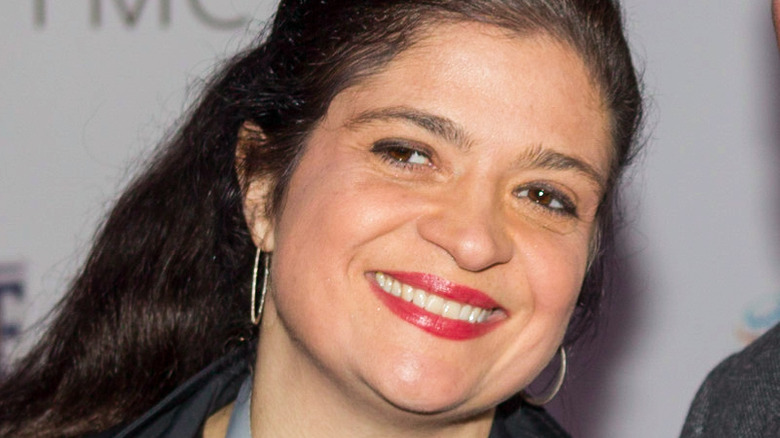 Jamie Lamor Thompson/Shutterstock
Alex Guarnaschelli loves a good cause. According to Serendipity Social, the judge on Food Network's competition show "Chopped" has a big heart and a lot of compassion for others and their struggles. She's an advocate for organizations like Alex's Lemonade Stand, Wellness in the Schools, and Share Our Strength. Per E! Online, she also supports causes like the nonprofit Vitamin Angels, which provides prenatal vitamins and nutritional items to pregnant women on a global scale. The celebrity chef told the outlet that when she was asked to get involved and help the organization raise awareness, "It's the kind of call you love to get."  
Guarnaschelli went on to further explain, "Because I know when I was pregnant, I was like, 'I'm a chef, shouldn't I know what I should [eat]?' But how do you know? How do you feel good? I feel like when you're pregnant or you're the parent to a small child, you have so many questions. Now imagine if you were in a remote community with limited resources. I can't imagine." The culinary expert definitely has a great perspective, and now the cooking star has taken to Instagram to give her buddy Harold Moore and his delicious coconut cakes a shout-out for a sweet reason that speaks her love language of giving back and supporting those in need.
A delicious cake for a great cause
Alex Guarnaschelli shared on her Instagram profile that, by purchasing one of Harold Moore's coconut cakes, you are helping make the wish come true of a child with a serious or life-threatening disease. Guarnaschelli wrote, "@haroldmoore is a restaurant friend of over 20 years. Do you know this man? If you do, you know catching him SMILING with his signature coconut cake is a MIRACLE. He is baking these and ALL (100 %) proceeds go to @makeawishamerica so hit him up on his page and buy one. The cake brings joy and Make-A-Wish speaks for itself in its amazingness." 
If you are interested in supporting Make-A-Wish in this yummy manner, visit Moore's social media page to learn how you can order this "cake for a cause." It costs $100 if you want to pick it up at his Times Square shop in New York City, while those wanting to ship the cake will need to pay a bit extra. Still, all of the proceeds go to Make-A-Wish foundation and that makes it worth it. Instagram is definitely on board with this cake, too, with one of Guarnaschelli's followers summing up all of our feelings, writing,"That CAKE!!!!! ... I MUST HAVE THAT CAKE!!!!!" While another shared, "My son is a cancer survivor and recipient of a wish from @makeawishamerica. It was a bright light for our entire family during one of our darkest times. Bless you both! I'll be ordering!"