Why 2022 Might Be The Year Of Edamame Toast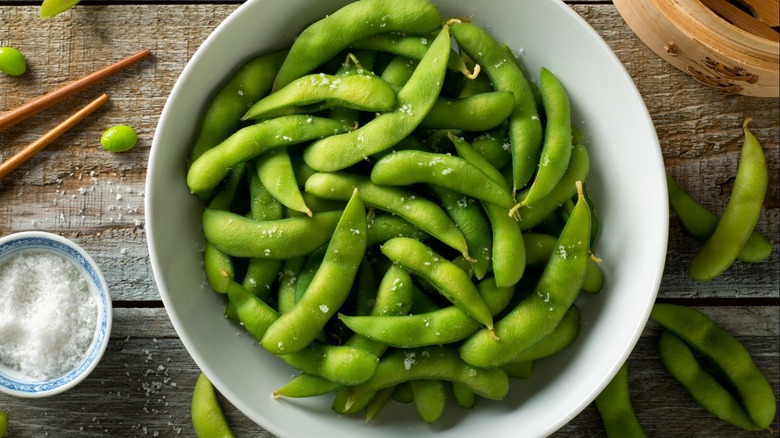 Foodio/Shutterstock
Toast might seem like one of the most basic dishes — after all it is, at its core, just a slice of crisp bread — but it's risen to new culinary heights over the last few years. It all began with avocado toast, which was the top breakfast trend of 2017, according to Insider. You could hardly find a menu without it featured — not only did Starbucks come out with avocado spread, there were places selling avocado toast for as much as $19 a pop (via Washington Post). Since then, people have found all different ways to dress up their bread, from ricotta cheese to lox.
With new takes on the classic breakfast staple popping up just about everywhere, there's no denying that toast is one of the trendiest foods right now. It's even become a sensation on TikTok, amid food crazes like whipped coffee, pancake cereal, and baked feta pasta. One of the newest fads to pop up on the social media platform? Edamame toast. Here's why the veggie-packed bite could be one of the things to eat in 2022.
TikTok is already obsessed with edamame toast
If plain old butter just isn't cutting it, and you think you'll scream if you see one more influencer gushing about their daily avocado toast, it might be worth trying out TikTok's latest fad: edamame toast. While you might have previously only associated edamame with Friday night sushi dinner, it turns out that the slender green soybean pods are also an acceptable topping for bread. "Edamame can literally do no wrong," TikToker @justine_snacks captioned her post, which now has more than 117,000 likes. In her video, she scoops a mixture of edamame, basil, olive oil, Parmesan cheese, and preserved lemon onto her fluffy focaccia bread before blissfully chowing down.
Fans are really into it, giving their approval of what Thrillist dubs "a perfect lunch for when you don't feel like turning on the oven." Most like how simple it is, and that most of the ingredients you likely already have on hand. "I saved this last night and just made it for lunch, and I can confirm, it's amazing," one person commented, while another added, "I want this, you creative goddess!"