TikTok Is Loving This McDonald's Apple Pie Hack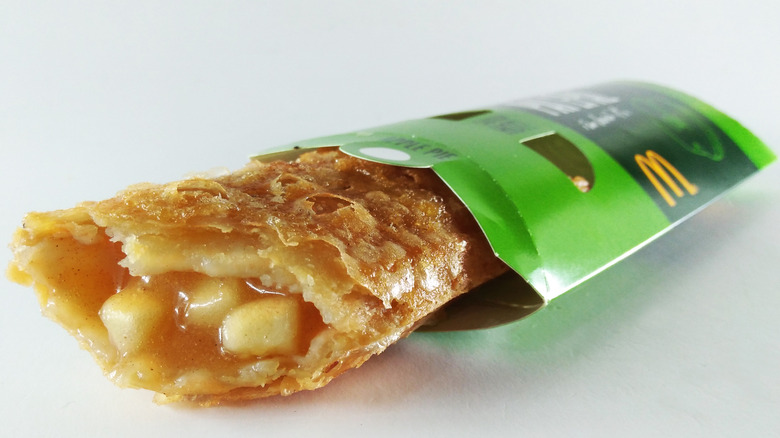 Ayah Raushan/Shutterstock
There's never a bad time for dessert, and if you're on the go when the hankering for something sugary hits, McDonald's is one place to get your fix. The chain's dessert menu features a number of options, including their signature hot apple pies and soft serve McFlurries, which Insider reports debuted in 1968 and 1995 respectively, and have become "Mickey D's" staples in the decades since.
Either sweet treat will make an excellent follow-up to a Big Mac and fries — though we wouldn't blame you for ordering both delicacies at the same time. If that's the route you're going to take, TikTok has a number of clever hacks to elevate your double dose of desserts to the next level. You may have seen the video one TikToker posted in which they created a DIY version of the secret menu's Apple Pie McFlurry by smashing one of the baked goods up in the creamy blended treat.
We have no doubt the result was delicious. However, creating the fall-inspired concoction can get a bit messy, not to mention difficult if you're confined to the car. Fortunately, Sydney, Australia-based TikTok user @adrianwidjy has another ingenious trick to help you enjoy all the deliciousness of combining these two famous desserts together with even less effort.
This McFlurry-stuffed apple pie is 'heaven'
McDonald's is notorious for their ice cream machines being broken, so if you happen to visit one of the chain's locations when it's up and running, you shouldn't think twice about treating yourself to a delicious McFlurry. Grab an apple pie while you're at it, so you can use the duo of sweet treats to re-create @adrianwidjy's clever menu hack as demonstrated in a post last month.
In the now-viral video, the TikToker can be seen ordering an apple pie and an Oreo McFlurry before opening up one side of the baked good and proceeding to stuff spoonfuls of the McFlurry inside of it, creating a stuffed apple pie. "Just trust me. Heaven! Seriously!" the user said before taking a bite into the hybrid dessert that has caught the eyes of more than 17,000 people since being shared. The post has also racked up 679 likes and several comments from fans who certainly seem on board with the unique mashup.
Some tagged their McDonald's-loving friends to alert them of the genius trick, while others expressed excitement to recreate it on their own. "YUM I NEED TO TRY," commented one follower whose enthusiasm has us ready to head to the nearest McDonald's and try it out as well. Hopefully, the ice cream machine is up and running if you're thinking of doing the same. If it's not, you could always try out these other TikTok McDonald's hacks instead.