Instagram Is Loving Martha Stewart's Run-In With Pete Davidson And Antoni Porowski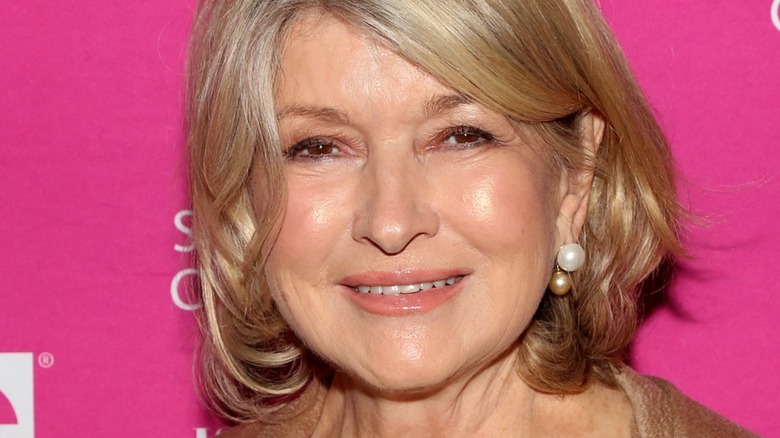 Bruce Glikas/Getty
Martha Stewart recently shared a fun update on Instagram: She came across comedian Pete Davidson and TV star Antoni Porowski at Nobu restaurant in Malibu, California. The unexpected meeting was a surprise for Stewart and her followers, who posted some hilarious comments about the incident. 
Some fans may recall that Stewart was slightly miffed with Porowski in 2020. He posted several Instagram photos from Stewart's holiday party but didn't tag her in any of them (via Insider). In fact, she even commented on the post, "Dear Antoni: This is Martha Stewart. You did not tag me on this photo of my stable, nor the photo of my beautiful dogs, Han, Qin, Bete Noir, and Creme Brulee." Porowski later apologized to the chef and made sure to tag her in the pictures (via Instagram). 
As for Davidson, Martha Stewart joked around with him at the Comedy Central "Roast of Justin Bieber" back in 2015 (via TIME). Safe to say, the trio had a rather unexpected but fun reunion at Nobu. 
Fans have a lot to say
Martha Stewart shared a sweet Instagram picture of herself with Pete Davidson and Antoni Porowski outside Nobu and wrote, "Never know who you'll bump into at @noburestaurants @nobumalibu @petedaveidson having dinner with friends." She cheekily added, "No not @kimkardashian," and wrote that she's been fairly busy but is "never too busy for good friends." The celebrity chef also made a reference to the 2015 Justin Bieber roast and mentioned that Porowski will be starring in the newly released season of "Queer Eye." 
A fan posted an encouraging comment and wrote, "The type of updates we need." Another wondered whether Pete Davidson, who loves to take dates to great restaurants, is actually funny in person. Someone, of course, couldn't help pointing out the chef's sly comment, "Martha lmao ... 'No not Kim.' " For context, Stewart may have been referring to the multiple rumors surrounding Davidson and Kim Kardashian's romantic relationship (via Hollywood Life). Some of her followers even joked that she needs to be careful around someone as charismatic as Pete Davidson. One person wrote, "Don't look into his magical, charming eyes, Martha!"