What Starbucks' 2022 Valentine's Day Cups Actually Look Like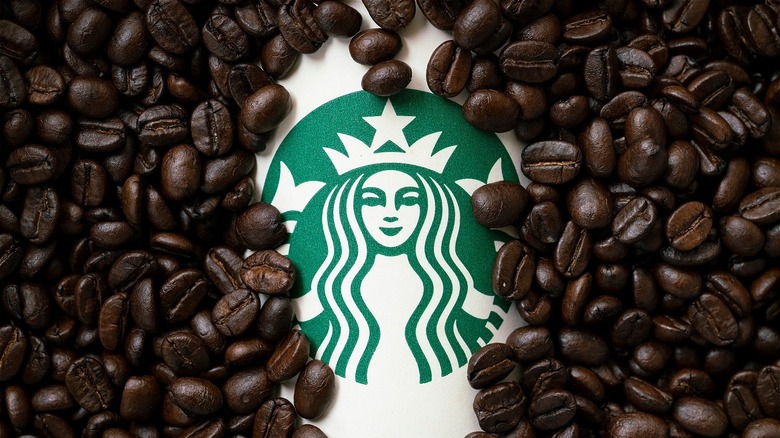 Chutima Chaochaiya/Shutterstock
For all the talk about the coffee that Starbucks offers, from seasonal Pumpkin Spice Lattes to the most expensive drinks, there seems to be even more chatter about the cups they serve the beverages in, including to-go options the brand sells in stores. Not only have fans clamored for the limited-edition holiday cups every year, but Starbucks also has several collectible year-round drinkware collections, such as color-changing cups that people went wild for when they were released last summer.
Now that the holidays are officially over, that means the next Starbucks cup launch will be for Valentine's Day. The new collection of mugs and tumblers is already popping up at Starbucks locations around the country (via Taste of Home), even though the company has yet to release their latest drinks menu for the occasion. But, anything that you enjoy from Starbucks during this season will feel like it's Cupid-approved when you're sipping it from one of these adorable new cups.
Choose between hot and cold Starbucks Valentine's Day cups
Whether you prefer traditional hot brewed coffee or a Pink Drink, there's a perfect Starbucks Valentine's Day cup in the new 2022 collection for you. TikToker @TargetOverEverything posted a video showing off some items in the new collection, including a clear glass mug that has a hollow handle filled with pretty confetti; a red glitter cold drink tumbler with purple, pink, and red hearts on it; a slender water bottle tumbler that features pink and metallic red hearts; and a clear red ombre water bottle (also seen on Instagram) featuring the Starbucks logo. There's even a reusable hot beverage cup that looks like a Starbucks paper cup, but it's decorated with pink, purple, and red hearts that change colors to pastel pink and white when your hot beverage is added inside.
Other folks on Insta spotted a red soft-touch tumbler with heart decorations (it comes with a flat or domed top), and yet another find was a red cup with a 3D diamond texture (seen in this post). But don't fret if you don't see them in your location just yet. Although the launch was supposed to be January 4, several commenters on social media reported that the stores near them said shipments of the Valentine's Day products had been delayed — likely due to ongoing supply issues every brand seems to be experiencing. Others noted that they had more success finding the new items in Starbucks locations that are inside of other retail outlets, like Target and Vons. If you do find any of the 2022 Starbucks Valentine's Day cups, act fast, because they tend to sell out quickly.