Hostess' New Baby Bundt Cakes Can Be Your Valentine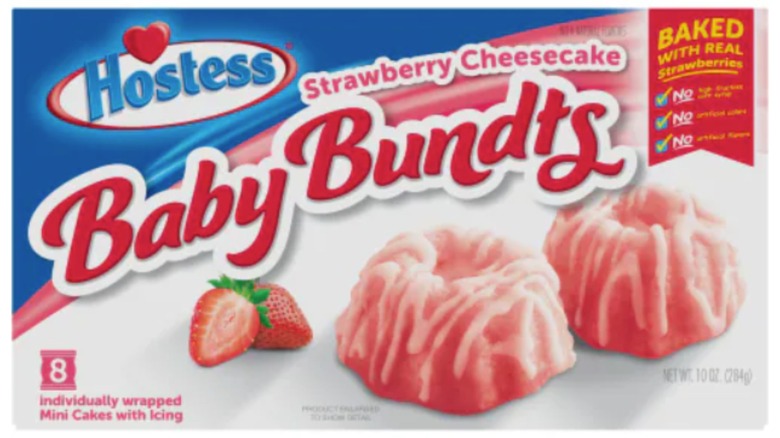 Hostess
There's a good chance that at some point in your life, you've eaten a Hostess snack. At the very least, you've seen them at the grocery store or in the vending machine. The company, which first started in 1849, is famous for its iconic packaged snacks, like Twinkies, Ding Dongs, Donettes, and Honey Buns (via Bakery and Snacks). Hostess also makes a dizzying array of coffee cakes, donuts, danishes, cupcakes, and more. According to Today, the brand produces more than 1,100 Twinkies per minute. That's a lot of snacks!
In February 2021 (almost exactly a year ago today) Hostess came out with a new treat: Mini Bundt Cakes (via Best Products). While the doughy domes were previously only available in two flavors — Lemon Drizzle and Cinnamon Swirl — you can now find them in a new flavor perfect for the upcoming season. Just in time for Valentine's Day, the snack brand has released Strawberry Cheesecake Mini Bundt Cakes, and people can't wait to scoop up a pack... or two or three. Here's what you need to know about the new drop.
The new cakes are made with real strawberries
Everyone knows that Valentine's Day is a time to indulge in all the sweets, chocolates, and candies. That's where the new Hostess Strawberry Cheesecake Baby Bundt Cakes come into play. They're made of fluffy strawberry cake (baked with real strawberries!) and topped with a cheesecake-flavored drizzle. 
"Our newest bundle of joy," the Hostess website declares. "Fresh strawberry notes with the sweet tanginess of cheesecake." Each box comes with 8 individually wrapped Baby Bundts. According to Hostess, the tiny cakes are a delicious dessert, mid-afternoon snack, or even "the perfect grab-and-go breakfast" if you have an early morning sweet tooth. You can currently find the Strawberry Cheesecake Baby Bundts at select grocery stores across the country.
An Instagram post by @rednecksnack revealed that some of the new cakes are packaged in festive Valentine's Day-themed boxes, complete with red hearts dotting the outside. If you want even more seasonal sweets, the same Instagram post shared that Hostess has also come out with Mixed Berry Twinkies and Valentine Ding Dongs for February.