Aldi Shoppers Are So Excited To Grab These Jarred Pestos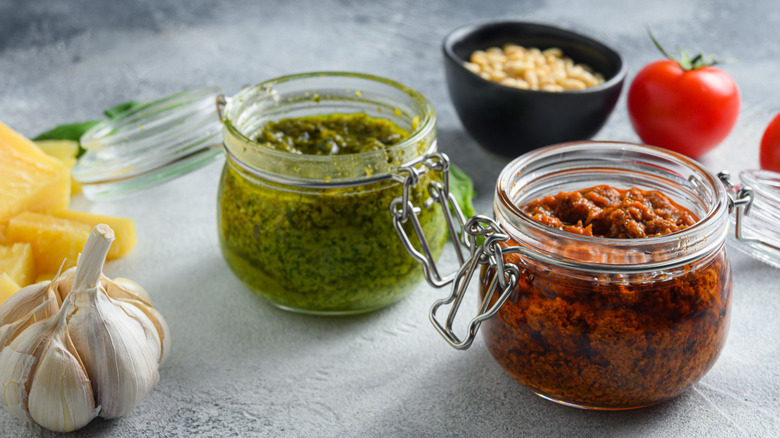 Ilia Nesolenyi/Shutterstock
Pesto seems to have been pretty trendy lately, and it's easy to see why: Its fresh taste and versatility is fairly unbeatable. You may have seen (and tried) the TikTok hack of cooking eggs in pesto, or perhaps you jumped for you when you saw Trader Joe's tomato-based pesto on the store's new items shelf a couple of months ago. And if you're more into making your own pesto from scratch, you've probably figured out a ton of ways to incorporate it into your daily meals.
Common ways to use pesto (besides on pasta) include adding it into simple salad dressings or employing it as a marinade for meat and fish for an extra punch. Considering the countless brands and varieties of pesto on the market, there's a product out there for everyone. Die-hard Aldi fans, however, will want to hear about the budget-friendly grocery chain's two new jarred pestos.
What's so special about Aldi's pesto?
This week, @aldiforpresident, an Instagram account for all things Aldi finds, recently posted a look at Aldi's newly unveiled jarred pestos. One is green pesto alla Genovese, the original Ligurian version of the condiment featuring basil, pine nuts, and grated Italian cheeses (via Eataly). The other is called pesto rosso and appears to incorporate tomatoes in the mix for a vibrant red color. Both are from the Simply Nature brand and labeled USDA Organic.
The Instagram account @dventuresinaldi posted a similar announcement about the new products, noting, "I love anything pesto so I was excited to see these two organic options at my store!" Followers of the two profiles gushed about their excitement, with one saying, "Their pestos are top tier. I love to use them as sandwich spreads." Another said,  "I love this pesto!" And one user has us ready for lunch with this recommendation for Aldi's pestos: "Ciabatta roll with turkey, cheese, spinach arugula mix, red pepper strips with a smear of the green pesto, you're welcome!"