Campbell's Soup Fans Will Love These New Scented Candles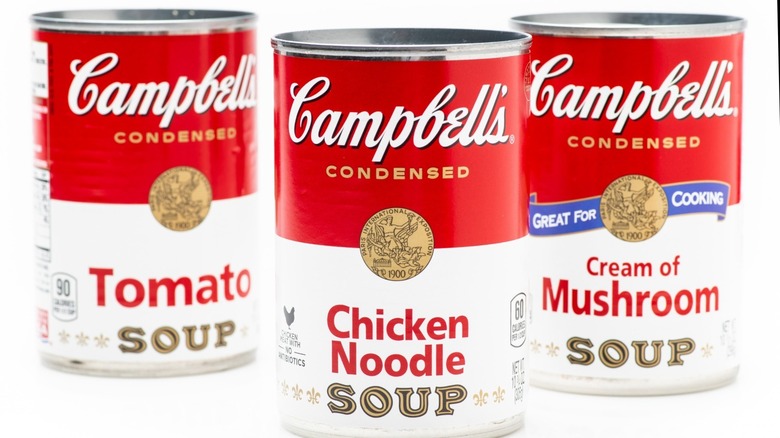 calimedia/Shutterstock
Walk down the canned soup aisle at any grocery store, and you're bound to see bright red and white Campbell's labels dotting the shelves. The iconic cans are a nostalgic sight for many people, bringing to mind memories of slurping up bowls of piping hot chicken noodle soup or dunking grilled cheese into tangy tomato soup. Campbell's started back in 1869, per its website, and has grown to become a household name in the United States. Its current portfolio includes hundreds of varieties of soup, including classics like the aforementioned, along with condensed soup (looking at you, cream of chicken) and low-sodium options (via Campbell's).
If you're a fan of Campbell's soup — or just soup in general — you're in luck. Now you can have your soup and smell it, too. In a headline-making move, Campbell's just announced that it's coming out with soup-scented candles this month. Here's what scents (or should we say flavors?) are currently available, along with where you can find the unique candles for your own home.
Campbell's candles come in two soup-inspired scents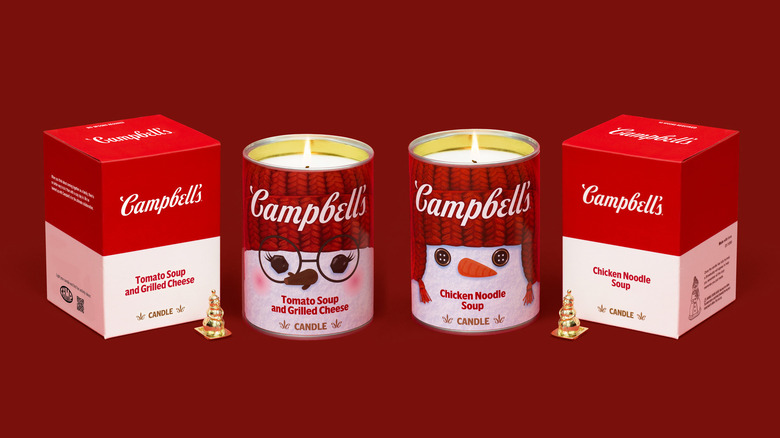 Campbell's
In a press release, Campbell's announced that it partnered with CAMP, The Family Experience Company, to come out with two soup-scented candles for fans of all things cozy and warming. The two scents are inspired by two of Campbell's' most popular soup flavors: Tomato Soup and Grilled Cheese and Chicken Noodle Soup. The Chicken Noodle Soup candle has notes of "notes of savory chicken, cloves and buttery crackers," while the Tomato Soup candle evokes "roasted tomato, peppercorn and gooey grilled cheese." Of course, each candle is shaped just like a can of soup.
The limited-edition items are currently available for purchase on CAMP's website or in CAMP stores in New York, New Jersey, Dallas, and Connecticut. Each costs $24, and 10% of the net proceeds will be donated to Feeding America, which is a nonprofit that works to eliminate hunger in the United States. That's not all: According to Campbell's, once you burn the candle, you'll get a special surprise: a tiny Snowbuddy figurine that you can keep well after your candle is gone.