Heart-Shaped Waffles Recipe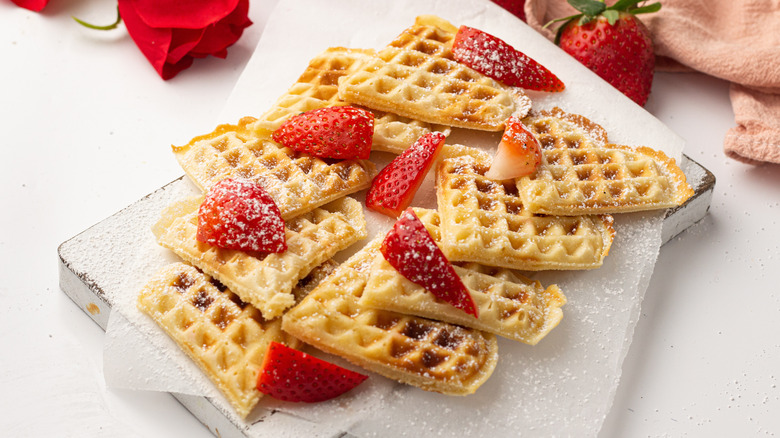 Susan Olayinka/Mashed
Waffles are good no matter how you make them, but this recipe for heart-shaped waffles really has our hearts (no pun intended). Recipe developer Susan Olayinka of The Flexible Fridge came up with this tasty dish that will satisfy all of your breakfast cravings. The batter is easy to make and tastes fluffy and delicious once you put it in the waffle press. And the fact that it's shaped like a heart just adds the perfect finishing touch. These would be great to serve to kids, and they would be wonderful to make the week of Valentine's Day, though we think it's always a good time for heart-shaped waffles. Just keep in mind, you do need a waffle iron with the right shape to create these special hearts, such as the CucinaPro or Euro Cuisine brands. 
There are many things to love about these tasty breakfast treats. "It was so easy to make!" Olayinka raves. "I usually make them for my husband and son on a Saturday morning." We think that weekends are great for waffles! 
Keep reading to find out how to make these sweet treats that will have everyone asking for seconds. 
Gather the ingredients for your heart-shaped waffles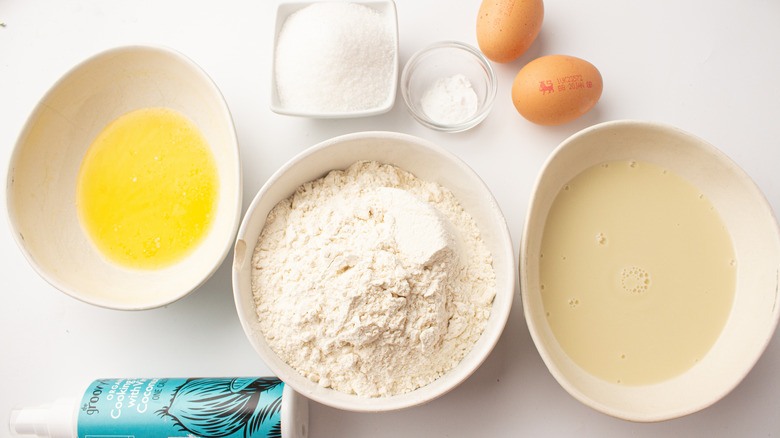 Susan Olayinka/Mashed
The first thing you will need to do is head to the grocery store and fill your cart with all of the ingredients you will need. Start by swinging by the cold section and picking up some milk and butter. While you have dairy on the brain, you can also pick up some eggs. You can find most of the remaining ingredients you need in the baking aisle. Be sure to pick up some all-purpose flour, baking powder, and white granulated sugar.
Last but not least, get spray oil. That's all you will need to make these tasty waffles.
Mix the wet ingredients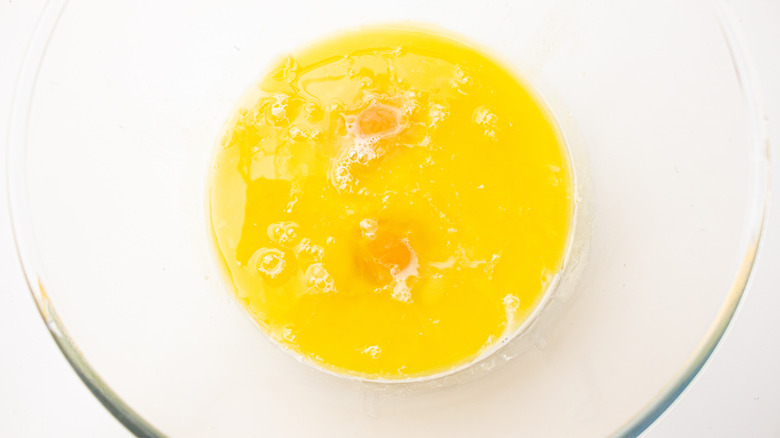 Susan Olayinka/Mashed
Now that you have all of the ingredients, we can get right down to the prep work. If you've made waffles before, then you probably know the drill. If you haven't, don't sweat it ... it's easy!
Grab a bowl and start to add your wet ingredients. Pour in the milk first, followed by the butter. As a reminder, you should have melted the butter ahead of time. You can do so by simply putting it in a microwave-safe dish. Then, toss in the eggs and mix everything. Set the bowl to the side; you will need it in just a second. 
Mix the dry ingredients and combine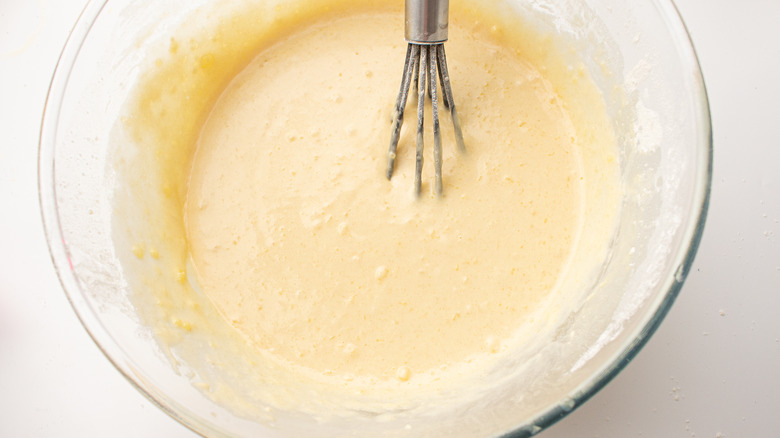 Susan Olayinka/Mashed
Using a separate bowl, toss in your dry ingredients, aka pretty much everything that you picked up in the baking aisle. This includes all-purpose flour, baking powder, and granulated white sugar. Give everything a few good mixes to combine. There's a good reason why you need to do this separate from the wet ingredients. "So the flour doesn't get all clumpy," Olayinka shares. 
Then, pour the wet ingredients in with the dry ingredients and mix them thoroughly. "A manual whisk is fine," Olayinka says. Now, you have your batter.
Turn on the waffle iron and make waffles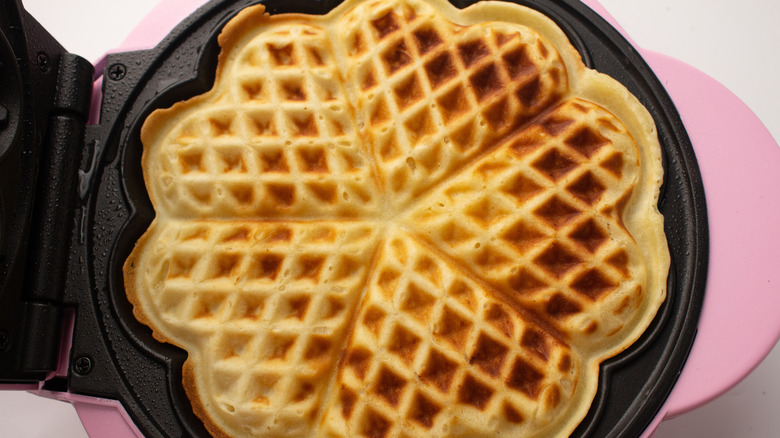 Susan Olayinka/Mashed
Turn the waffle iron on high once you finish making the batter, and let it get nice and hot. Spray a little bit of the spray oil on the grates to help prevent the batter from sticking. This is in important step because it can make or break (literally) your waffles, so don't skip it! 
Once it's good to go, add about ½ cup of waffle mixture to it at a time. The recipe yields about five whole waffles or 30 waffle hearts. Repeat the steps with the remainder of the batter.
Cut waffles and enjoy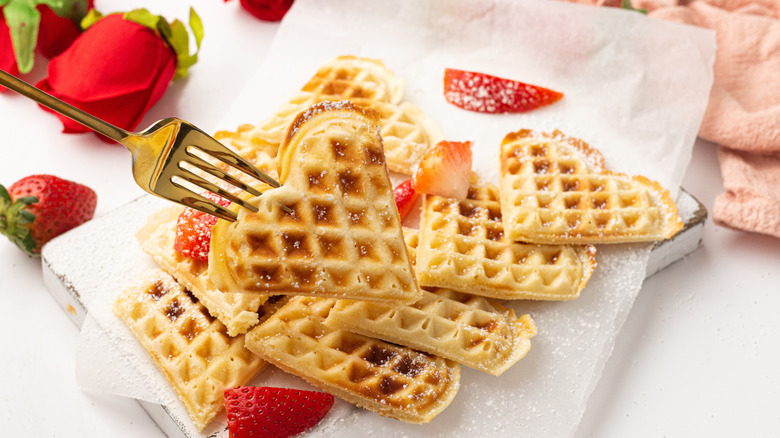 Susan Olayinka/Mashed
Once you finish cooking the waffles, cut them into hearts. Voila, that's it! 
If you'd like, you can sprinkle with icing sugar and chopped strawberries. Another great thing to add as a topper is whipped cream. Of course, if you want to keep it really simple, you could just serve with butter and syrup. Traditional is still delicious, right?  Olayinka also recommends serving "with melted chocolate, or with fruit like banana, or yogurt." 
Any leftovers? They will keep "2-3 days. Pop it in the toaster to warm up!" Olayinka says. We hope you love these sweet waffles. 
Heart-Shaped Waffles Recipe
Skip the regular waffles and make these delicious and beautiful heart-shaped waffles for Valentine's Day or a morning date with your love.
Servings
30
heart waffles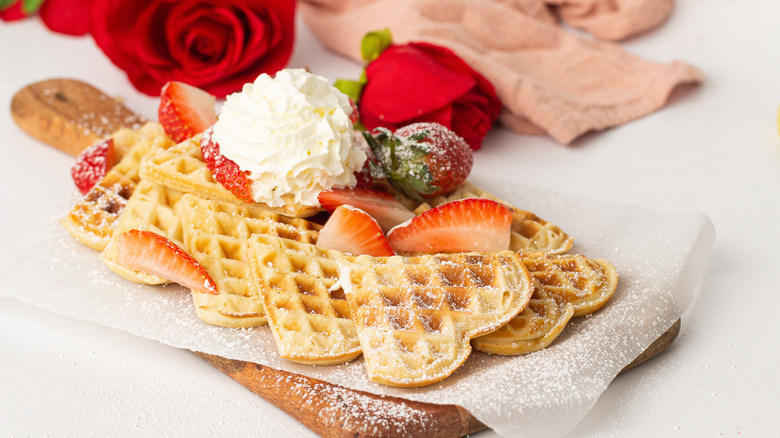 Ingredients
1 ½ cups of milk (any)
¾ cup of melted butter
2 eggs
2 cups of all-purpose flour
1 teaspoon baking powder
¼ cup of white granulated sugar
spray oil
Optional Ingredients
powdered sugar
chopped strawberries
whipped cream
Directions
Begin recipe by combining the milk, melted butter, and eggs together.
In a separate bowl combine the all-purpose flour, baking powder, and granulated white sugar together and mix.
Combine the wet mixture and dry mixture together until well-incorporated. Turn on the waffle iron to high.
Pour ½ cup of waffle mixture at a time onto the waffle iron. It will produce 5 large waffles.
After the waffles finish cooking, cut the waffles into hearts, sprinkle with optional powdered sugar, chopped strawberries, and whipped cream. Serve immediately.
Nutrition
| | |
| --- | --- |
| Calories per Serving | 93 |
| Total Fat | 5.8 g |
| Saturated Fat | 3.3 g |
| Trans Fat | 0.2 g |
| Cholesterol | 24.1 mg |
| | |
| --- | --- |
| Total Carbohydrates | 8.7 g |
| Dietary Fiber | 0.2 g |
| Total Sugars | 2.3 g |
| Sodium | 22.2 mg |
| Protein | 1.7 g |