Not Everyone Is On Board With Ryan Seacrest's Girl Scout Cookie Hack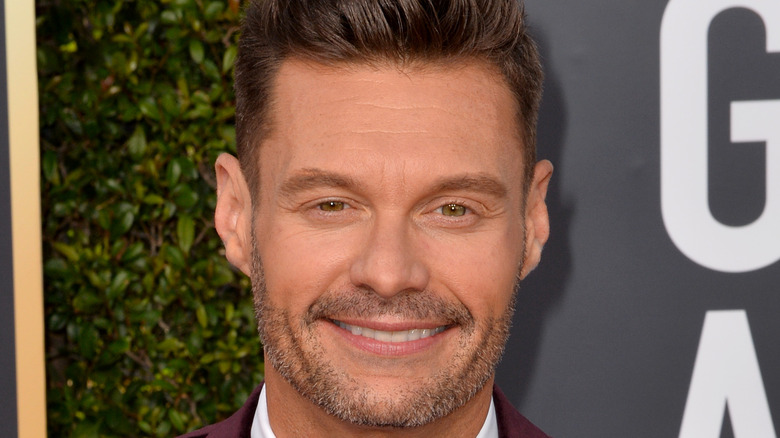 Featureflash Photo Agency/Shutterstock
Many cookie lovers can't resist the urge to buy a few boxes of Girl Scout cookies whenever they spot a troop selling them in front of a grocery store or going door-to-door in their neighborhood. And, while everyone has their opinion about their favorite and least favorite type of cookie, Thin Mints reign supreme as the best-selling variety, according to Girl Scouts of the USA.
Television personality Ryan Seacrest is apparently a Thin Mint enthusiast, but he has a slightly different way of enjoying them that has some people — including his "Live With Kelly and Ryan" co-host Kelly Ripa — questioning his eating habits. Seacrest shared his preferred way of indulging in those mint chocolate treats on the January 12 episode of the show, and anyone looking to try it out will have to buy two more crucial ingredients: Grape Nuts and milk.
Seacrest's unique method for chowing down on Thin Mints started when he was a kid participating in his own adventures in scouts (via People). As Seacrest explained, he would take a cereal bowl and put in a layer of Thin Mints, top it with milk, and add cereal. Seacrest's cereal of choice was Grape Nuts, and the simple addition of the cookies "changed the milk to ... the greatest flavor ever," as he admitted in a clip shared on Twitter.
What Ripa — and others — thought of Seacrest's "hack"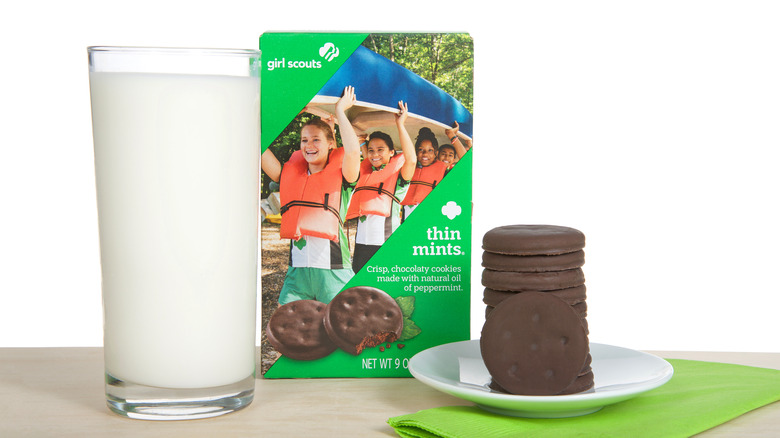 Sheila Fitzgerald/Shutterstock
Though Ryan Seacrest enjoys his Girl Scout cookie hack with pride and called it "life-changing," his co-host Kelly Ripa was definitely not on board, as seen in a video clip on Twitter. The moment Seacrest shared his minty cereal creation, she incredulously asked, "You want mint-flavored cereal?" A few fans seemed to agree with Ripa. One person shared the short clip with the simple comment "I may never get over the way Ryan Seacrest likes to eat Thin Mints," following that up with a screenshot that perfectly captured Ripa's disgusted expression. Another user chimed in, writing, "SOMEONE ARREST THIS MAN."
While not everyone loves the idea of minty, milky cereal, there just might be a few people who wouldn't mind trying Seacrest's creation. For example, Chowhound has a recipe for a milkshake that's intended to mimic the minty grasshopper cocktail. In addition to crème de cacao and mint chocolate chip ice cream, it includes a few crushed "chocolate-mint wafer cookies," with the recipe description listing Thin Mints as an ideal option to use. And, a survey from YouGovAmerica revealed that 8% of US adults surveyed indicated mint chocolate chip was their favorite ice cream flavor. Perhaps Seacrest is onto something.