Starbursts Are The Main Ingredient Of This Pancake Recipe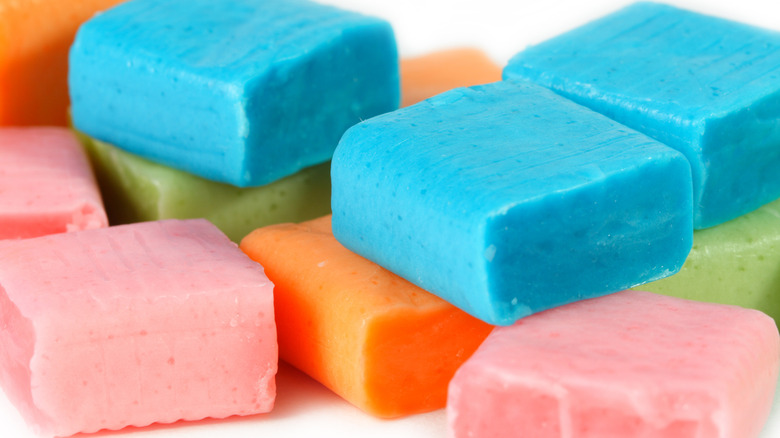 Felix Mizioznikov/Shutterstock
We all need an energy boost in the morning — especially on a first day back at work. Whereas for some, a breakfast kick might involve a healthy dose of fruit and oats, for others nothing is better at prompting their reluctant brain back to life than the deliciousness of fried food. 
No matter your current favorite morning meal, Starburst pancakes are a game-changer. Although traditional pancakes are unquestionably tasty, they might lack the thrills to entice much excitement during the early hours of the day.
The addition of Starburst candies to the humble pancake changes that. The incredible Starburst pancakes — shared by HelloGiggles — feature a vibrant color scheme of orange, pink, red, and yellow, which is surely enough on its own to generate some pre-work enthusiasm (if not, the sugar will likely sort that out). Plus, despite its innovativeness, the Starburst pancakes recipe is surprisingly simple to follow.
You can make 24 pancakes with this Starburst pancakes recipe
Starburst may seem like an unusual recipe ingredient, but it has actually featured in several successful creations by food innovators. These include Starburst cookies (via Scrappy Geek) and even an entire Starburst cheesecake (via Kelly's Thoughts on Things). So, pancakes are no issue for the chewy candies.
To make HelloGiggles' pancakes, you first need four bowls and four Starburst colors (20 each of red, orange, yellow, and pink — the ultimate choice, according to Mashed research). Unwrap the Starburst and put one color into a saucepan on medium heat, adding one-quarter of a cup of milk and one-quarter of a cup of cream. When everything has been mixed and melted, repeat with the three remaining colors.
Once cooled, each bowl needs three-quarters of a cup of pancake mix added to it, along with food coloring that corresponds to each bowl. Heat a flat-surfaced skillet to 300 degrees Fahrenheit, add cooking spray, and place the mixture from each bowl to make pancakes of the size you want. Bon appetit!