Duncan Hines' New Cookie Kits Are The Perfect Valentine's Day Treat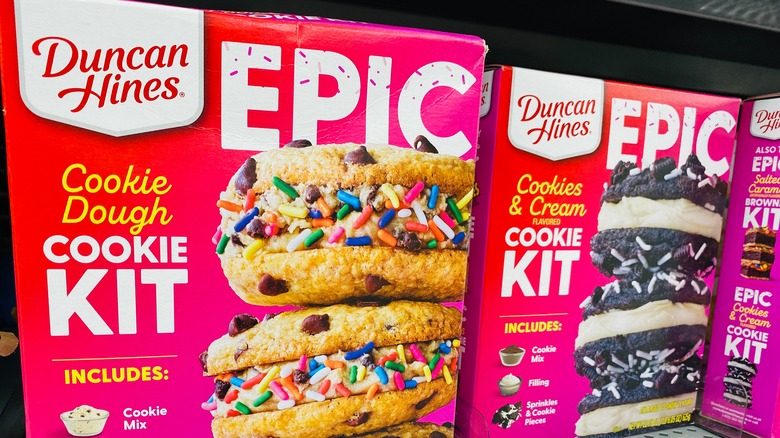 ZikG/Shutterstock
Most people enjoy a good cookie, but there's something extra special about a fresh, homemade batch that's still warm from the oven. To help cookie lovers enjoy that sweet, freshly-baked experience, even if stretched for time, the baking brand Duncan Hines has launched a line of tasty, easy-to-make EPIC Baking Kits. But they aren't just for baking cookies, there are also brownie and cake mixes to enjoy.
Per PR Newswire, the brand first released the EPIC Baking Kits at the beginning of 2021 with five fun varieties: Fruity PEBBLES Cake, Salted Caramel Brownie, S'mores Brownie, Cookies & Cream Cookie, and Cookie Dough Cookie.
Duncan Hines has rolled out a new flavor, just in time to help consumers celebrate the most romantic holiday of the year. The brand-new Valentine's Day themed EPIC Chocolate Sandwich Cookie Kit has been introduced to retailers nationwide (per Chew Boom). These decadent kits will feature a rich chocolate cookie mix, delectable frosting, and decorative heart-shaped sprinkles for a charming finishing touch.
These Chocolate Sandwich Cookies are easy to make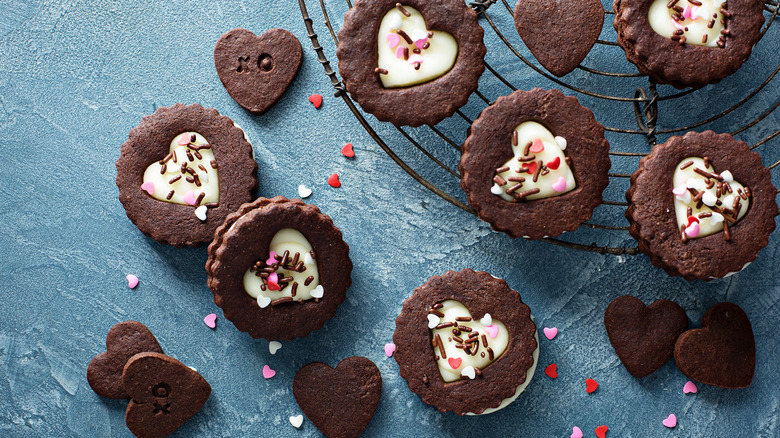 Elena Veselova/Shutterstock
These creative new cookie kits are the perfect way to help add in some Valentine's Day sweetness with your loved ones. Whether baking together with your family or whipping up a batch for that special someone, these cookie kits offer a bit more than the common candy heart you can pick up at the local grocery store. 
And if you aren't a savvy baker, don't let that stop you. In just a few simple steps, you can bake a batch of rich chocolate cookies and make them into sandwiches using the creamy frosting and festive sprinkle hearts. Each EPIC Chocolate Sandwich Cookie Kit can be a fun treat to share with your sweetheart, bestie, or even used as a colorful and fun Instagram post, according to Erin Tamm, Duncan Hines senior brand manager. "Our new EPIC Baking Kits are over-the-top delicious, social-media worthy and fun to make with just 4 easy steps," Tamm shared (via PR Newswire).
The kits are on sale now for a suggested retail price of just $4.99 at participating grocery and retail stores nationwide, including Walmart (via FOODBEAST).