Instagram Is Swooning Over Hershey's New Vanilla Frosting Easter Kisses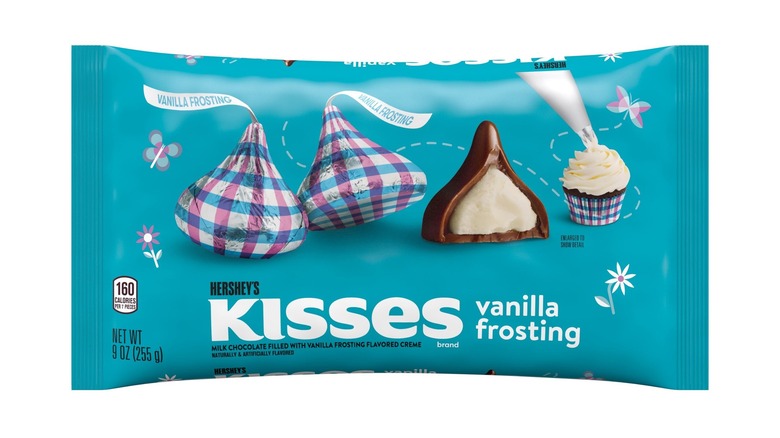 The Hershey Company
Calling all chocolate lovers: New products from the Hershey Company are overwhelming the internet. In a recent press release, the confections brand announced the return of several Valentine's Day goodies, from lava cake Kisses to heart-shaped Reese's cups. Although February 14 has not yet passed, Hershey's is also preparing for Easter with some springtime treats.
According to Instagram user @candyhunting, a new Hershey's Kisses flavor has hit store shelves at supermarkets such as Kroger. Featuring milk chocolate on the outside and a vanilla frosting creme on the inside, the limited-edition dessert seems perfect for those whose favorite part of any cupcake is the frosting. Based on the comments on the post, fans cannot wait to grab a bag of the plaid- foil-wrapped seasonal treats. "Wow wooooooooow!! Vanilla frosting kiss!?!?! I'll say it again, WOW!!" one excited user wrote, while another said, "These sound really simple but they're probably gonna be so good."
Hershey has more Easter products on the way
The Hershey Company
Not everyone was excited by @candyhunting's Instagram post about the vanilla frosting Kisses. Comments from a couple of skeptical fans included, "They are losing ideas at this point," and, "That's a hard pass for me." Others likened the spring Kisses to the popular hot chocolate Kisses, which are a big hit around the winter holidays. Nevertheless, these fans may find something to look forward to in Hersheys' other offerings for spring, as listed in a company press release. Per Hershey, this year's Easter-ready lineup also includes returning favorites: Hershey's Cookies 'N' Creme Polka Dot Bunnies and Eggs, as well as Whoppers Bunny Tails. 
Classic Easter treats — such as Reese's Peanut Butter Eggs, Cadbury Mini Eggs, and Cadbury Crème Eggs — will also be making a reappearance on shelves in the coming months for a limited time, the announcement reads. Catch us stockpiling Cadbury eggs in the discount candy aisle after April 17.