White Castle Just Broke This Old Valentine's Day Tradition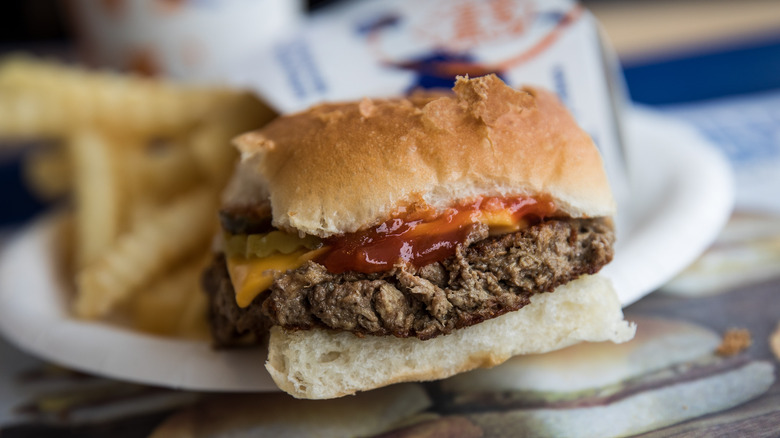 Drew Angerer/Getty Images
When pondering a place to make a romantic dinner reservation for two on Valentine's Day, a fast food restaurant probably isn't the first destination that comes to mind. While the holiday typically conjures up images of boxes of chocolates and bouquets of roses, White Castle likes to think that the big day is really about burgers and fries. According to a company press release, the slider chain has been taking Valentine's Day dinner reservations each year since 1991, trading its casual atmosphere for a full-on fine dining setup with table-side service and, as Eater reports, white tablecloths, printed menus, and live cello music.
Last year, White Castle kept the tradition alive during COVID-19 with a drive-in version of the service that accommodated social distancing. This year, the chain announced that it won't be taking reservations at all. If you still want White Castle's famous sliders, however, you can still get them as part of a special Valentine's offer.
White Castle is doing a 'Love Cube' meal for Valentine's Day instead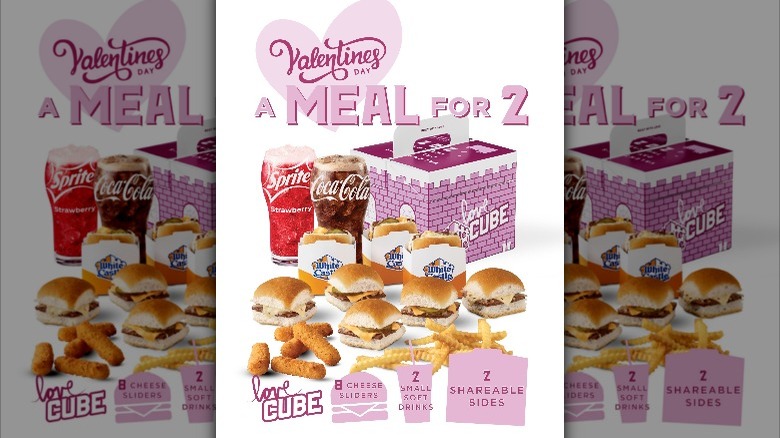 White Castle
In a company press release, White Castle called the decision to skip its reservation tradition this year "difficult," adding that it felt necessary for health and safety reasons. Nevertheless, it's still celebrating the holiday by offering a Love Cube meal for two on February 14 only. 
The box is filled with eight sliders with cheese, two drinks, and two sides of your choice. It costs $14.99, so if you'd like to take advantage of the chain's other Valentine's Day deal — free delivery for orders of $15 or more — you might as well give it a try and tack on a dessert for good measure. White Castle is also introducing a new sweet for the holiday: strawberry swirl cheesecake, which has a strawberry filling and cookie crust and is served on a stick. Each of these new menu items is also available via drive-thru and carry-out.